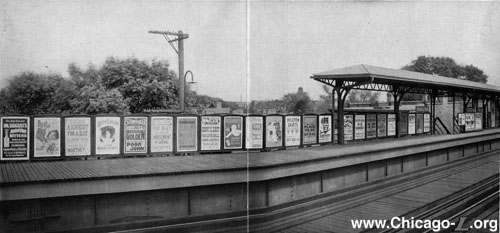 One of the platforms at Princeton station is seen circa the 1910s. The photo was included in the brochure Bird's Eye View of the Elevated Railroads, Parks and Boulevards of Chicago, issued by the Chicago Elevated R.R. Advertising company to promote poster advertising along the elevated system, which explains the abundance of advertising posters in this view. For a larger view, click here. (Photo from the JJ Sedelmaier Collection)
Princeton (6100S/200W)
Princeton Avenue and 61st Street, Englewood
Service Notes:
| | |
| --- | --- |
| | South Side Division, Englewood branch |
Quick Facts:
Address: 242-44 W. 61st Street
Established: December 10, 1905
Original Line: South Side Elevated Railroad, Englewood branch
Previous Names: none
Skip-Stop Type: n/a
Rebuilt: n/a
Status: Demolished
History:
The Englewood branch of the South Side Rapid Transit began construction in 1903. It opened in segments, beginning November 3, 1905 with a shuttle from the main line at 58th Street to State Street. By December 10 it was extended to Wentworth and Princeton (actually 61st Street) on January 11, 1906. By July 13, 1907, the rest of the line was opened to its terminal at Loomis Blvd.
Princeton, like some other Englewood stations, had a mezzanine-level station house even though the right-of-way beneath the structure was not used as a public thoroughfare. Stairs from the street brought passengers to the mezzanine fare controls, then flanking staircases brought riders to one of two side platforms. The platforms were typical of those on the Englewood branch, with wood decking on a steel structure. The canopies were supported from the back of the platform, with steel arched supports and latticework along the back and a hipped corrugated metal roof. Railings were simple and without ornament.
The station was one of 23 Howard, Jackson Park, Englewood and Ravenswood stations closed (including 18th, 26th, 29th, 31st, 39th, and Parnell, among others) August 1, 1949 as part of the CTA's institution of A/B skip stop service on the North-South Route. It was eventually demolished.
| | |
| --- | --- |
| | This Chicago-L.org article is a stub. It will be expanded in the future as resources allow. |