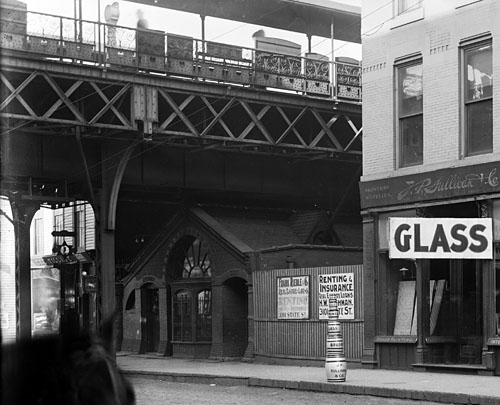 The original 31st Street elevated station house is seen looking northwest in this view circa 1903. The masonry station house featured a front bay with arched window above it, and extensive terra cotta ornamentation. Photos of the original South Side Rapid Transit station houses are fairly rare -- they were all demolished in 1907, just four years after this photo -- but this one is quite interesting for not only showing the station house but also neighborhood context around it, as well as the original ornamental platform railings above it. For a larger view and more information, click here [off-site link]. (Photo by Rudolph Michaelis, Newberry Library Collection)
31st (3100S/1E)
31st Street near State Street, Douglas
Service Notes:
| | |
| --- | --- |
| | South Side Division |
Quick Facts:
Address: 16 E. 31st Street
Established: June 6, 1892
Original Line: South Side Rapid Transit
Skip-Stop Type: n/a
Rebuilt: n/a
Status: Demolished
History:
31st Street was one of the original ten stations of Chicago's first "L" line, the South Side Rapid Transit, built in 1892. The original station building was a ground-level structure on the north side of the street with a brick exterior, a large bay in the center of the front elevation, and extensive terra cotta ornamentation on the front facade. The station house interior included a ticket office (situated in the front bay), waiting area, and concession/newsstand.
The station had dual side platforms, which consisted of a wood deck on a steel structure. The original canopies were humped-shaped, typical of the original South Side Rapid Transit designs. The metal railings included ornamental scrollwork panels.
In 1907, as part of an ordinance to allow the South Side Elevated to install a third track for express service, all stations north of 43rd Street, including this one, were required to replace their ground-level station facilities with mezzanine-level stations, clearing the space beneath the track to become open for public access. Between 18th and 39th Streets, the third track was added on the east side of the existing elevated structure, with the new track becoming the new northbound track and the old northbound track becoming a bidirectional express track. This resulted in the relocation of 31st's northbound platform. The replacement of the street-level station house with a mezzanine facility required the the elevated structure to the raised at the station (with grades of up to 1.44% at some stations to compensate for the change in elevation) as the city ordinance permitting the work required that there had to be sufficient clearance under the mezzanine for vehicles to pass. This created roller coaster-like humps in the structure -- the occasional rise and descent can still be seen in the South Side Green Line's tracks.
The 1907-built mezzanine station house was a fairly simple structure, constructed of steel and clad in sheet metal with simple ornamentation. The mezzanine facility was located on the north side of 31st Street, set about 50 feet back from the street, with a stairway from each side of the mezzanine down to the sidewalk for access.
The station was one of 23 Howard, Jackson Park, Englewood and Ravenswood stations closed (including 18th, 26th, 29th, 31st, and 39th, among others) August 1, 1949 as part of the CTA's institution of A/B skip stop service on the North-South Route. It was eventually demolished.
In December 1993, while the CTA was considering various plans for the Green Line renovation, one was to close stations at 35th, Indiana and others, but open a new one at 31st Street. This never came to pass.
| | |
| --- | --- |
| | In return for allowing the addition of a third express track, the city required the demolition of the original brick station houses north of 43rd Street and substitution of mezzanine-level facilities. 31st Street is a representative sample. (Photo by Charles E. Keevil, from the Walter R. Keevil Collection) |