Left: The Madison-Monroe mezzanine, seen here looking west on May 18, 2004, is still largely intact, with its original wall finishes, agent's booth, and some signage. However, the north half of the mezzanine is fenced off and has farecard and soda machines along it. For a larger view, click here. (Photo by Graham Garfield)

Right: The Monroe-Adams mezzanine, seen looking east on May 18, 2004 as well, has had more modifications. One of the agent's booths has removed following a fire and it has had a lot of high barriers, rotogates, and swinging gates installed from the days when it was a part-time station. For a larger view, click here. (Photo by Graham Garfield)
| | | |
| --- | --- | --- |
| Monroe | | (26S/1E-1W) Madison-Monroe |
| | | (128S/1E-1W) Monroe-Adams |
Monroe Street and State Street, Loop

Service Notes:
| | |
| --- | --- |
| | Red Line: State Street Subway |
| | Owl Service |
Quick Facts:
Address:

26 S. State Street (Madison-Monroe mezzanine)

128 S. State Street (Monroe-Adams mezzanine)

Established: October 17, 1943
Original Line: State Street Subway
Previous Names: none


| | | |
| --- | --- | --- |
| Skip-Stop Type: | | Station |

Rebuilt: n/a
Status: In Use
History:
Monroe is typical of all the downtown State Street subway stations, consisting of two mezzanine entrances feeding each end of the stop, which is a designated portion of a long "continuous" platform that stretches the length of the Loop. Monroe is in the middle point along the 3,500 foot long platform, which is in the Guinness Book of World Records as the world's longest subway platform, located between the Madison-Monroe and Monroe-Adams mezzanines.
The architecture of the station, described at the time as of a "modern design", was streamlined Art Moderne with some Art Deco elements, simple and austere compared to earlier subways in New York, London, Paris or other systems but very much in the style and fashion of the period in which it was designed. An informational book published in October 1943 by the Department of Subways and Superhighways entitled Chicago Subways, describe the stations this way:
Utility and beauty are blended in the modern design of mezzanine stations. Fluorescent lighting, used for the first time in any subways, provides unexcelled illumination without shadows and glare. The concrete walls of the mezzanines are covered by structural glass, and floors are red non-slip concrete.
At street-level, the entrances were very simple, consisting of stairs down from the sidewalk surrounded by simple tubular railings with a smooth identification pylon at the back with Deco rings around the top. The fare controls were at a lower mezzanine level beneath State Street. The station mezzanines had broadly curving walls, which served to both reinforce the Moderne, streamlined architectural style employed in the Initial System of Subways station as well as to direct passenger flow through subtle design cues. The walls were clad in gray structural glass and the relatively open mezzanine was punctuated by two rows of black marble-faced structural columns. The floors and ceilings were smooth concrete, red for the former and a neutral color for the latter. The fare control booths had an angled Deco design and were made of stone walls with a small ventilation grate near the bottom and glass windows on all four sides, allowing for maximum visibility of the mezzanine for the station agents. Turnstiles were steel, with some angled toward the entrances and a number of self-serve coin-operated models for efficient traffic circulation. The mezzanines were largely symmetrical across both axis. Each mezzanine also had several amenities for the use of passengers, such as public phones, lockers, restrooms, and concessions.
The island platform had red no-slip concrete floors, curved, barrel-vaulted concrete ceilings and a row of I-beam steel columns along each platform edge. Unlike some of the more ornate subways in other cities, the walls along side the tracks in the stations were left as unfinished concrete rather than tiled. To aid in station identification, each station had a color scheme that was used in the accents like tile borders, platform column color, and signage lettering and background. The colors blue, red, green, and brown were rotated in sequence beginning up at North & Clybourn. Monroe's accent color was red. A specially-designed Futura typeface was used throughout the subway on metal, tile, and backlit glass signs. Fluorescent lights and illuminated station signs hanging from the ceilings finished the decoration.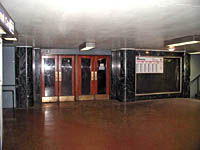 Like many downtown subway stations, Madison-Monroe had a direct entrance to the basement level of the Carson Pirie Scott department store. Seen here on May 18, 2004, the entrance is still intact, including its stone wall finishes, display window and doors, but like nearly all direct entrances it has been closed for many years. For a larger view, click here. (Photo by Graham Garfield)

The Madison-Monroe mezzanine had a direct entrance to the adjacent Carson Pirie Scott department store, one of many such direct entrances to adjacent stores and buildings in the Chicago subways. Completion of direct entrances like this and others, however, was delayed by a materials shortage due to World War II. In fact, if the steel escalators and turnstiles hadn't been ordered before the war, they'd have been unobtainable as well.

Mayor Byrne announced the Subway Renovation Program on Friday, May 7, 1982,which would have included the continuous platforms on State between Lake and Congress and on Dearborn between Randolph and Van Buren, the 14 mezzanines along these platforms, and the four pedestrian passageways connecting the State and Dearborn Subways. Work was scheduled for completion in 1987 but renovations at Monroe/State and most other facilities never come to pass.

The service hours of the Monroe-Adams mezzanine entrance to the station was reclassified as a part-time entrance in 1984 as a cost-saving measure. Beginning on January 8, Monroe-Adams was open for entrance from 1200-1900 hours only Monday-Saturday, closed for entry at all other times. Thanks to a series of barriers and rotogates, it was available for exiting 24 hours a day, however. This situation continued for about 15 years. This operating plan was reversed at a press conference on Monday, June 5, 2000, when CTA President Frank Kruesi announced that beginning Saturday, June 10th and Sunday, June 11th, six downtown area "L" and subway stations and seven station entrances that were closed late at night or on weekends would be open at all hours that trains are in service. One of the seven secondary part-time entrances to be reopened was Monroe-Adams. Starting at 0600 hours Saturday, June 10th, Monroe-Adams entrance returned to 24-hour operation. Opening these stations and entrances is just one of the components of a $539,000 service improvement package that was passed by the Chicago Transit Board in May 2000.

Monroe has many of its original elements intact, untouched from the 1940s, such as agents booths, concession spaces, some auxiliary signage, and some illuminated sign boxes. The Madison-Monroe mezzanine is largely intact, with it original wall cladding, both agent's booth, entrance to Carsons, and some signage. The north agent's booth is no longer in use and the fare controls on this side are replaced with high metal fencing against with the TransitCard Automated Vending Machines (AVMs) and soda machines are placed. The Adams-Monroe mezzanine has had more modifications. When it was a part-time entrance, it has a series of tall barrier, rotogates, and swinging gates installed so that the fare control area could be closed off, but people on the platform could still exit. The north agent's booth is missing as a result of a fire in 1984. Today, this allows the TransitCard turnstiles to be centered in the mezzanine in a way they cannot be in other station. The south booth remains, however, and is the primary CA booth now. The station also has older (but not original) fluorescent lights and other modifications and elements of general fatigue.

Recent Developments and Future Renovation

Continuing to upgrade and replace some of the oldest escalators in the "L" system, the CTA embarked in 2003 on a project to replace several downtown subway escalators. Decisions on which escalators receive rehab or replacement were based on the age of the escalator, the condition of the escalator and the volume of customers passing through the station. The escalators pegged for replacement included seven on the Red Line at Monroe, Jackson and Harrison stations, and two on the Blue Line at Washington and Monroe stations. At Monroe, three were replaced, all at the Monroe-Adams entrance: the platform-to-mezzanine escalator, and both mezzanine-to-street escalators. On June 4, 2003, the Chicago Transit Board approved a $642,569 design contract for the escalator replacement project. Chicago-based Globetrotters Engineering Corporation was selected to provide architectural and engineering services for the project following a competitive bidding process. Construction work took place in 2008-10; the platform-to-mezzanine escalator was returned to service March 19, 2009, while the two mezzanine-to-street escalators were returned to service on September 28, 2009 and May 19, 2010. The total project cost was $28.8 million, with a construction cost of $17.7 million. The Regional Transportation Authority and the Federal Transit Administration (FTA) provided capital funding for the design contract, while construction used FTA funds.

In addition to the escalator replacement, the stairway between the platform and mezzanine at Monroe-Adams was also significantly rebuilt. The treads and risers were refurbished, and new stainless steel handrails were installed. In addition, the walls surrounding the stairway and escalator were remodeled, finished in the light blue skyline-motif tiles used by the Chicago Department of Transportation (CDOT) in their State Street Subway renovation projects. However, only this escalator/stairway area was so refurbished; the tiles were not applied anywhere else at platform or mezzanine level as part of the project.

On September 20, 2011, Chicago Mayor Rahm Emanuel and CTA President Forrest Claypool announced a new CTA station renewal initiative designed to provide a facelift to 100 CTA rail stations over the following 12 months. The initiative, performed by work crews called the 'Renew Crew' comprised of different trade workers, focuses on providing repairs in a more efficient way, creating a cleaner, brighter and more appealing station that improves the customer travel experience. Different stations will receive different scopes of work depending on their needs and the available resources, but generally will fall into two categories: basic renewals and expanded renewals. Stations receiving a basic renewal will see more general maintenance-type activities, such as cleaning and power-washing; paint touch-ups; minor repairs to concrete, masonry, metalwork, or woodwork; signage replacement; cleaning or re-lamping of light fixtures; and cleaning and repair of drains and gutters.

Monroe recieved a 'basic renewal' in January 2012, and as part of the work the unused second ticket agent's booth in the north half of the Madison-Monroe mezzanine was removed.

At a future date, Monroe will join the group of subway stations being renovated by the Chicago Department of Transportation. The work represents another piece of an extensive campaign to renovate nearly all of the Red Line subway stations, from Roosevelt/State on the south to Clark/Division on the north. The renovations under this program have typically included granite floors, ceramic tile walls and ceilings, new acoustical panels, improved lighting, new signage, security cameras, and changes to provide full ADA accessibility. Designs for Monroe station have not been finalized, however.

Reconstruction was at one time estimated to begin, pending funding, in 2013 on the Madison-Monroe Red Line stop, according to CDOT; however, this never came to pass and no revised estimated timeframe for renovation has since been publicized.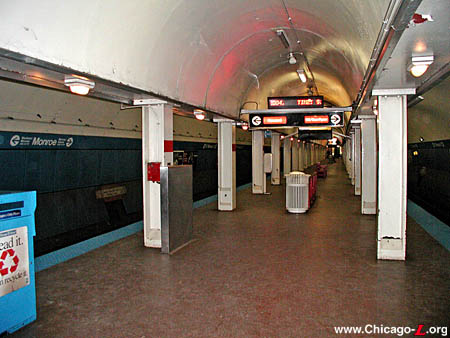 The Monroe stop in the State Street Subway is seen looking south on January 19, 2004. Except for the addition of new signage, tactile edging, and A/V readouts, plus a whitewash over the red columns and acoustical panels on the bare concrete walls of its as-built design, the platform has changed little in 50 years. For a larger view, click here. (Photo by Graham Garfield)
---

monroe-state-P-8_50sSignNB.jpg (274k)
monroe-state-P-8_50sSignSB.jpg (258k)
These "symbol signs", as CTA calls them, the northbound and southbound sides of the Monroe/State island platform is of a type implemented beginning in the mid-1950s. The design of these signs is typical of this type: large first letter of the station name with the full name under it; the skip-stop letters on color-coded bands (red was used for 'A' stations and green used for 'B' stations on through-routed services; at A/B stations, the word "STATION" in the band was replaced with the name of the route/service) in the middle; and the destination at the bottom (on most designs, this was accompanied by an arrow pointing in the direction of travel [possibly omitted here because these were posted in both sides of platform columns, which would have required two variants with arrows in each direction to point the same way when back-to-back] and the cardinal direction of travel and terminal [the latter omitted for being redundant with the destination being present in the colored bands].) Artwork for these signs from the CTA Staff Engineer's Office is dated April 6, 1956, but interestingly the actual signs as photographed differ slightly from the artwork sheet -- the artwork includes the standard arrows on the bottom, which were omitted on these signs, while the "M Monroe" module at the top is smaller on the actual sign than on the artwork. Perhaps it was revised after the artwork or an initial set were produced. (Signs in IRM Collection, photos courtesy of Bill Wulfert)

monroe-state02.jpg (139k)
A North-South Route train of 6000-series cars stops at Monroe station in 1968. The many vending machines, concession kiosks and other devices that populated the downtown subway platforms are evident on the left. The columns are painted red, Monroe's signature "color" in he Initial System of Subways scheme. (Photo by Miles Beitler)

monroe-stateSign.jpg (23k)
Monroe station column sign, from after the Howard Line was repaired with the Dan Ryan Line in 1993. (Sign from the collection of Graham Garfield)

monroe-adams02.jpg (201k)
During the winter holiday season, the Greater State Street Council decorates the subway entrances along State Street downtown. The stairs (foreground) and escalator (background) down to the Monroe-Adams mezzanine are seen looking northwest on December 18, 2003. The globes on both types of entrances are replaced with green and red domes, while the sloping curved escalator kiosks are decorated with garland, baubles, and reindeer running up them. (Photo by Graham Garfield)

Monroe-SBto95th.wav (136k): "This stop is Monroe. This is a southbound train, making all stops to 95th." (Sound courtesy of Tony Coppoletta)