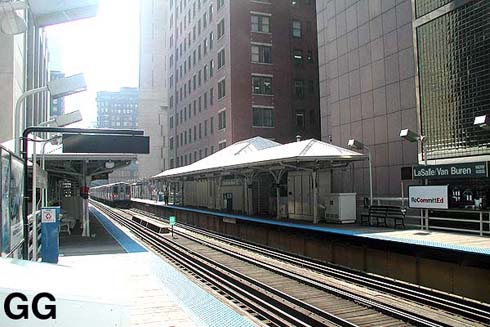 The LaSalle/Van Buren station, looking east from the Inner Loop platform in July 2001. Except for new signs and lights and the AV informational sign, the platforms look largely as they did then the station opened 104 years before. For a larger view, click here. (Photo by Graham Garfield)
LaSalle/Van Buren (140W/400S)
LaSalle Street and Van Buren Street, Loop
Service Notes:
| | |
| --- | --- |
| | Orange Line: Midway |
| | Brown Line: Ravenswood |
| | Purple Line: Evanston Express |
| | Pink Line: 54/Cermak-Loop |
| | Transfer to Metra: Rock Island District |
Quick Facts:
Address: 121 W. Van Buren Street
Established: October 3, 1897
Original Line: Name
Previous Names: Pacific Avenue


| | | |
| --- | --- | --- |
| Skip-Stop Type: | | Station |

Rebuilt: n/a
Status: In Use
History: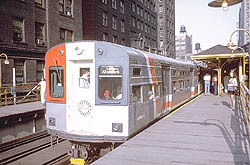 A pair of Bicentennial 6000s are assigned to the Loop Shuttle, seen here at LaSalle/Van Buren on July 7, 1975. Note that a "new style" A/B symbol sign has already been installed on the Outer Loop platform, seen across the tracks. For a larger view, click here. (Photo by Doug Grotjahn, Collection of Joe Testagrose)

By the end of 1895, the only section of the Union Loop without a franchise was its southern leg. Levi Z. Leiter, owner of much Loop property along Van Buren, strenuously objected to this alignment. Uninterested in compromise, Charles Tyson Yerkes created a new company, the Union Consolidated Elevated Railroad with its purpose not only to build the gap between Wabash and Wells, but also the connection to the Metropolitan West Side Elevated. Unable to sway the opinion of Leiter and his associates, Yerkes announced that he'd build the Van Buren leg from Wabash to Halsted Street, a distance of one mile. The western half of this included mostly warehouses and industry who were at best excited and at least indifferent to the presence of the elevated. Their consent signatures coupled with those already obtained east of Market Street were all Yerkes needed to proceed. Of course, Yerkes never intended to actually build the structure west of Market. Construction east of Wells began in late 1896.

Like all other legs of the Loop, the Van Buren stations had a uniform design, unique to their section. Although hardly high-style architecture, its rectangular form, gable roof with small dormers, smooth Tucson posts, fluted pilasters, large double-hung windows, and unique ornamentation in the pediment lend it to the Colonial Revival style. This architectural style can not be found anywhere else on the "L" and is unusual for its execution in sheet metal and tin. This station and the Loop as a whole was activated October 3, 1897, first served by the Lake Street Elevated. The Metropolitan followed in October 11, with the South Side trailing on October 18.

The station was originally called Pacific Street station, for its namesake street, whose named changed in the early years of the 20th century.

LaSalle/Van Buren has a history of importance. An ad published by the Metropolitan West Side Elevated urging citizens to take the Met's trains to the south side White City amusement park (despite the fact that Met trains went no where near 63rd and South Park) instructed passengers to change trains at LaSalle/Van Buren for the south side. What they failed to tell them was that they had to pay a second fare when transferring. An advertisement of the New York Central Railroad urged customers to use the LaSalle/Van Buren "L" station to reach their terminal at the nearby LaSalle Street railroad station. The station is also a block away from Chicago's financial district and is next to the Board of Trade.

By 1942, as part of an ongoing platform lengthening effort, the platforms of all three Van Buren stations had been extended to the point of being continuous from State to LaSalle. Trains still made separate stops along it, though. Today, it is an independent station again.

The station has suffered relatively few serious alterations. Still intact are the original station houses complete with woodwork and pressed tin ceilings, the station amenities like utility closets and fare collection booths and the platform canopies. If restored like Quincy/Wells, this station could provide another fine example of early "L" architecture.

At a press conference on Monday, June 5, 2000, CTA President Frank Kruesi announced that beginning Saturday, June 10th and Sunday, June 11th, six downtown area 'L' and subway stations and seven station entrances that were currently closed late at night or on weekends would be open at all hours that trains are in service. One of the stations that was a Part-Time Station -- closed Sundays and Holidays -- was LaSalle/Van Buren. Starting at 0700 hours Sunday, June 11th, LaSalle/Van Buren returned to full-time operation. Opening these stations and entrances is just one of the components of a $539,000 service improvement package that was passed by the Chicago Transit Board in May 2000.

LaSalle/Van Buren is the last of the original Van Buren stations left. Dearborn/Van Buren was closed in 1949 and State/Van Buren was closed in 1973, both demolished in the 1970s. In 2016, LaSalle/Van Buren station made Preservation Chicago's 2016 "Most Endangered" list. The inner and outer Loop station houses are both included in the dubious honor.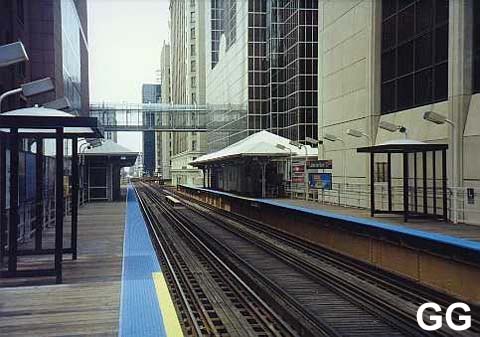 The LaSalle/Van Buren station, looking west from the Outer Loop platform in 2000. (Photo by Graham Garfield)
---

lasalle-vanburen01.jpg (28k)
An inbound North Shore Electric Line Silverliner unloads a few passengers at LaSalle/Van Buren. Note the transfer bridge (now gone) and old-style sign to the left of the train. (Photo from the Racine County Historical Society and Gerald Karwowski)

lasalle-vanburen04.jpg (76k)
The trackside ticket windows are still in place in both station houses, as seen here on the Inner Loop station house in April 2002, though there are no longer windows that the agent (now customer assistant) can talk through. (Photo by Andrew Stiffler)

lasalle-vanburen05.jpg (64k)
The interiors of the LaSalle/Van Buren station houses have incredibly good historic integrity, still retaining much of their original features such as the pressed tin walls and ceiling seen at left in April 2002, tongue-in-groove chair-rail wood paneling and oak doors and moldings. (Photo by Andrew Stiffler)

cta4273.jpg (128k)
Car 4273 brings up the rear of a four-car Evanston Express train as it approaches LaSalle/Van Buren on October 3, 1972. (Collection of Joe Testagrose)

cta4283.jpg (166k)
Car 4283 leads an Evanston Express at LaSalle/Van Buren on October 3, 1973. The sign on the left directs transferring passengers to the LaSalle Street commuter station to catch Rock Island suburban trains. (Collection of Joe Testagrose)

tour00k.jpg (77k)
The 2200-series 2nd Annual Historic Station Tour charter train stops at LaSalle/Van Buren while the group walks around the Outer Loop platform and hears a historical and architectural talk inside the vintage station house. (Photo by Graham Garfield)

lasalle-vanburen_SignInner.jpg (69k)
A KDR-type symbol sign from the LaSalle/Van Buren Inner Loop station, with its blue background denoting its status as an AB or All-Stop station. The KDR symbol signs on the Loop were different in that they simply spelled out the entire station name at the top rather than using a large first letter of the station name (the "symbol", so to speak) with the name below that. They also denoted whether the station was on the Inner or Outer Loop. With only Evanston services serving this platform when the sign was made, the Inner Loop station was typically closed except during rush hours. (Sign from the Andrew Stiffler Collection)

cta5122_5041.jpg (265k)
Two 5000-series trains pass on the Van Buren side of the Loop on October 18, 2013, as a Harlem-bound Green Line Looper led by car 5122 approaches Harold Washington Library-State/Van Buren station, leaving a Pink Line train trailed by car 5041 at LaSalle/Van Buren station. This is the last day that certain Green Line trains would circle the Outer Loop in the evening rush period -- the service pattern was a weekday-only variant during the Red Line South Reconstruction Project, and the project would be over two days later, Sunday, October 20. (Photo by Graham Garfield)

cta4271m.jpg (264k)
On April 14, 2013, the CTA's historic 4000-series cars, 4271-72, were moved from Linden Shop to Skokie Shop for storage, because Linden Shop was being reactivated for maintenance use for the duration of the Red Line South Reconstruction Project, whose closure of the Dan Ryan branch would cut off access to 98th Shop. The cars were taken from Linden to Skokie "the long way around" via the Loop, to give the cars, which do not operate often, a chance to stretch their legs and keep the components exercised and in good working order. The 2-car train led by car 4271 is at LaSalle/Van Buren on the Loop. (Photo by Mark Wolodarsky)

LaSalle-VanBuren.wav (173k): "This is LaSalle and Van Buren. Transfer to Metra trains at LaSalle and Van Buren." (Sound courtesy of Tony Coppoletta)