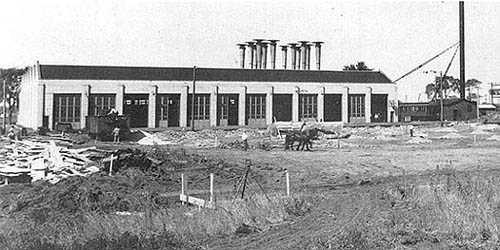 In this 1930 photo, the Skokie Shops "complex" consisted only of one building. Site clearance and excavation for the second building is still underway using "horse" power in the most literal sense! This original Skokie Shops building lasted until 2000, when it was demolished after a new shop facility was finished. (Photo from the Chicago Transit Authority Collection)
Skokie Shops
Oakton Street and Hamlin Avenue, Village of Skokie
Service Notes:
Located:

Yellow Line: Skokie Swift

Services:

All routes
Quick Facts:
Address: 3701 W. Oakton Street
Established: 1926
Shop Area: 236,700 square feet
Yard Area: 1,412,625 square feet
Rebuilt: 2000
Status: In Use
Rail vehicles' regular maintenance - inspections, cleaning, etc. - can be carried out at one of the eleven shops located at the end of nearly every line. But for heavy repair work and overhaul, rapid transit equipment must be taken to the famous Skokie Shops.
Rail maintenance takes the equivalent of about 1,760 people, or just under two persons per vehicle during peak hours. About 3/4 of staff are assigned to vehicle maintenance and the other 1/4 to non-vehicle maintenance, though due to contract work and materials, cost is equally divided among these functions.
In 1925, the Niles Center Line of the Chicago Rapid Transit opened, running from west from Howard through largely unbuilt portions of Evanston and Niles Center (later Skokie), then north to a terminal at Dempster. In 1926, the North Shore Line's Skokie Valley Route joined the CRT on those tracks, running north of Dempster to Waukegan, Milwaukee, Libertyville and Mundelein. The "L" was always in need of new, larger maintenance facilities and the wide-open spaces around the Niles Center Line seemed an ideal location.
In the late 1920s, a paint shop was built at Niles Center, between the tracks and Oakton Street, and between the North Shore Sanitary Canal and East Prairie Road. This was the first of ten buildings to eventually occupy the 15-acre site. When completed, the shop complex was able to handle all overhaul and heavy maintenance work which was, at the time, spread out at the four division's widely-spaced facilities: Hamlin Shops (Lake Street Division), Wilson Shops (North Side Division), 61st Street (South Side Division), and Throop Shops (Metropolitan Division). In 1930, a second building was constructed to handle general rehabilitation activities. The Depression put a stop to further plans for expansion.
When the CTA® took control of the CRT's physical plant, the tools and facilities for maintenance and rehabilitation were outdated and were an immediate target for improvement. The most modern facility they acquired were the Skokie Shops, then already over a two decades old. The outlying shops were even worse, the oldest of which dated from the 1890s. Skokie was only equipped to do painting and basic car body work (chiefly limited to carpentry). The tools for maintenance and rebuilding were scattered around the four outlying shops and were almost of the same vintage as the shops.
One of the CTA's® first moves was to relocate the best of the heavy maintenance tools and machinery to Skokie, as well as all the skilled union craftsmen that came with them. There was a considerable influx of personnel and equipment into Skokie Shops around 1952, which allowed some of the heavy maintenance tasks at the other locations (Wilson, Hamlin, 61st, etc.) to end. Some Surface Division stock was also handled at Skokie Shops, which may have been an attempt by CTA® management to blur the lines of distinction between the surface and rapid divisions in the newly merged authority, an attempt to create "one big, happy family". Over the years, bus work has been done at Skokie, including painting of motor buses and trolley buses. As late as the late 1970's, GM buses were still at Skokie for body and paint work. Shortly thereafter, the regular flow of bus work to Skokie dissipated.
Over the years, they concentrated on updating and modernizing the tools and facilities. In addition, with the new types of cars that the CTA® took on over the decades, the transition was made from carpentry and blacksmithing to aluminum and stainless steel fabrication and welding; from the slow, primitive wheel turning that required the wheel and axle sets to be disassembled from the trucks to a modern, computerized, under-the-floor wheel turning machine that can reprofile all wheels on a train in place in just a matter of a few hours. Propulsion control, signaling and auxiliary system packages have progressed from simple electromechanical devices to modern, sophisticated electronic and microprocessor technology.
In the mid- to late-1990s, the CTA® embarked on a major renovation and modernization of the Skokie Shops. A new administrative building was constructed, along with new shops for parts overhauling and rebuilding. A new inspection and maintenance building was added with state-of-the-art facilities for painting, rewiring, rebuilding, and most other heavy maintenance work. Unfortunately, as part of this modernization, the original 1926 shop building was demolished to make room for additional parking.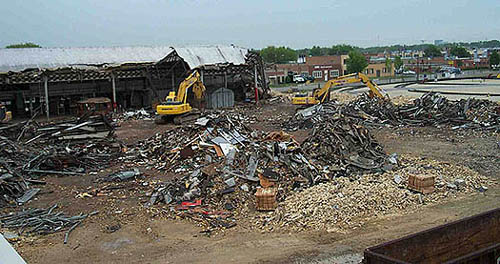 In the Spring of 2000, the oldest of Skokie Shop's buildings, dating to the complex's opening, was razed. The facility had long since ceased to handle cars, having been replaced with a new car maintenance facility. A parking lot has been built on the site. (Photo courtesy of the Chicago Transit Authority)
---

skokieshops01.jpg (68k)

The new machine shop at Skokie. Repair and fabrication of various electrical and mechanical components is done here. (Photo by Graham Garfield)

skokieshops02.jpg (63k)

The inside of the new car maintenance facility, with cars 3099 and 2947 in for work, in August 1999. (Photo by Graham Garfield)

skokieshops03.jpg (71k)

A mix of cars inside the Skokie Shops car maintenance building - a 2400-series, a rehabbed 2600-series, and an unrehabbed 2600-series - in August 1999. (Photo by Graham Garfield)

skokieshops04.jpg (53k)

Inside the old car maintenance building, used for various mechanical repairs in its final days. (Photo by Graham Garfield)

skokieshops05.jpg (33k)

Outside the original Skokie Shops maintenance building in August 1999, with less than a year until demolition. (Photo by Graham Garfield)

skokieshops06.jpg (64k)

A 2400-series car inside the modern maintenance facility at Skokie Shops in August 1999. (Photo by Graham Garfield)

skokieshops07.jpg (55k)

Car 2652, back from its rehab, and car 2948 are in for a little maintenance in August 1999. (Photo by Graham Garfield)

skokieshops08.jpg (82k)

The original Skokie Shops meets the wrecking ball in May 2000. (Photo courtesy of the Chicago Transit Authority)
Due to the large number of additional photos of trains at Skokie Shops, a separate rolling stock photo page has been established. To see photos of rolling stock in Skokie Shops and Skokie Yard, click
here
.