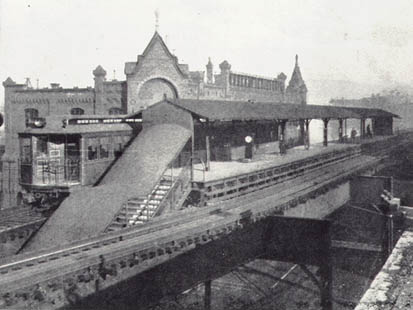 A westbound Lake Street train stops at Canal Street circa 1898. (Photo from the Robert D. Heinlein Collection)
Canal (500W/200N)
Canal Street and Lake Street, Near West Side
Service Notes:
| | |
| --- | --- |
| | Lake Street Elevated |
Quick Facts:
Address: 500 W. Lake Street
Established: November 6, 1893
Original Line: Lake Street Elevated
Previous Names: none
Skip-Stop Type: n/a
Rebuilt: n/a
Status: Demolished
History:
The Canal station was built in 1892-93 when the Lake Street "L" first opened. It was one of the few outside of downtown on Lake Street that did not have the typical Victorian design seen at such stations as Ashland, Homan, Sacramento and Halsted.
Before the Lake Street "L" began passenger service on November 6, 1893, a dedication was held on November 4, attended by more than 1000 guests. An inspection train left Madison & Market terminal and, after turning around at Homan, the attendees were treated to a brief lunch at Canal, including sandwiches, pickles, cold meats and cheeses, washed down with expensive champagne. The food and drink were arranged on tables set up on the platform, with temporary canvas walls erected to shield guests from the Autumn winds.
On September 22, 1895, when the downtown leg of the Lake Street "L" (which would become the north leg of the Loop) was opened and trains were routed there from Market Street terminal, shuttles were instituted from this station to what became the Market Stub. The station survived past the turn of the century, but was replaced by a new depot one block west at Clinton Street, which opened October 16, 1909.