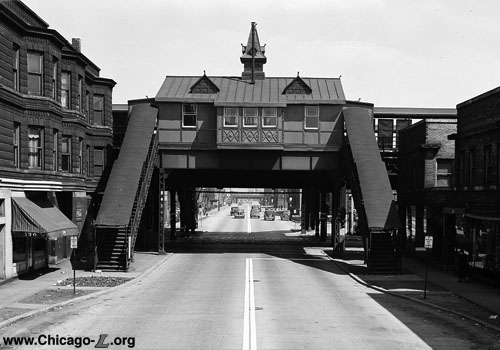 This view of the Sacramento station was taken on May 3, 1935 by the Chicago Park District Traffic Section, apparently as part of a survey of street and traffic conditions at various intersections on the park boulevard system. The design of the Sacramento station was typical of the Victorian-style station houses originally built for the Lake Street Elevated in 1893-94. For a larger view, click here [off-site link]. (Traffic Intersection at Sacramento Blvd and Lake (image 01), Illinois Department of Transportation Chicago Traffic photographs, Department of Special Collections, The University Library, The University of Illinois at Chicago)
Sacramento (3000W/200N)
Sacramento Boulevard and Lake Street, East Garfield Park
Service Notes:
| | |
| --- | --- |
| | Lake Street Division |
Quick Facts:
Address: TBD
Established: March 1894
Original Line: Lake Street Elevated Railroad
Previous Names: none
Skip-Stop Type: n/a
Rebuilt: n/a
Status: Demolished
History: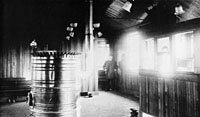 The interior waiting room of a typical Lake Street "L" station. Note the wood burning stove. Most Lake Street station houses were the exactly the same. For a larger view, click here. (Photo from the Krambles-Peterson Archive)
Sacramento Boulevard station was typical of those built in 1892-93 for the Lake Street Elevated Railroad -- similar to stations at Ashland, Homan and Halsted, among many others -- designed by its engineering staff and built by the Lloyd and Pennington Company.
The station had twin station houses and side platforms for boarding inbound and outbound trains. The station houses are designed in a Queen Anne style with a Victorian Gothic influence. The station houses had gabled roofs with two windowless gabled dormers each. Each roof was topped with a unique square cupola with a diamond pattern and a steeply hipped roof with a small gabled dormer in each of the four sides. These structures represent a unique attempt to apply the Queen Anne architectural style.
The station had side platforms, covered by tin-covered peaked-roof canopies supported by a row of steel center posts. The posts had decorative elements cast into them, most notably in the top angle bracket that supported the canopy braces. The Lake Street Elevated stations also originally had elaborate railings on the platforms with decorative scroll metalwork.
The station was closed in 1948 when the CTA revamped service on the Lake Street Line -- the first of a series of line-by-line service overhauls -- by closing 10 little-used stations and implementing A/B skip-stop service to speed up trains on the route. The station, along with Morgan, Racine, Damen, Oakley, Campbell, and Kostner, was demolished in early 1949. Prior to the start of wrecking work, all usable equipment, such as newer lumber, doors, and newer railings were removed for reuse elsewhere. Platform girders from the dismantled stations were reused to lengthen platforms at other "L" stations. In spring 1949, during the demolition of the station, a boom on a derrick used in dismantling the structure fell off its dolly onto the "L" structure. The eastbound track was blocked, but a single track was set up to preserve service. To clear the boom from the "L" structure, the wrecking crew used a system of slings, chains, and pulleys in combination with jacks and a streetcar, which was used for towing.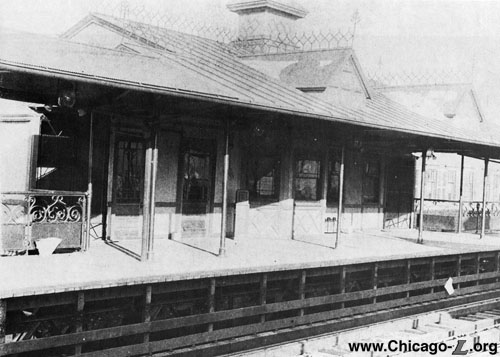 This view shows the platform of a typical Lake Street "L" station -- of which Sacramento was one -- in 1892. Note the decorative railings on the left and the characteristic roof adornments. For a larger view, click here. (Photo from the Krambles-Peterson Archive)
---

sacramento01.jpg (234k)
A 1924-vintage 4000-series car leads a three-car Lake Street Local train at the Sacramento station in on October 24, 1942. (Photo by Jim J. Buckley)