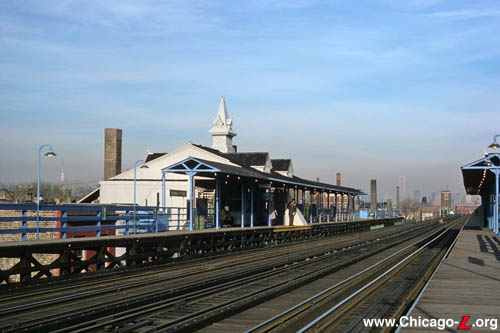 The Homan station is seen looking east on April 2, 1976. The use of the light blue color for the platform railings, lights, and canopy was consistent with the CTA's use of bright colors to paint stations in the 1970s and '80s. The original 1890s Victorian station houses are still intact, if in an aged condition. Note the metal drum barriers in the middle of the platforms, to corral customers whose fares would have to be collected onboard to the middle of the platform. The station has an early version of KDR-style signage, and a somewhat unusual shape of gooseneck platform lights. For a larger view, click here. (Photo by Art Peterson)
Homan (3400W/300N)
Homan Avenue and Lake Street, East Garfield Park
Service Notes:
| | |
| --- | --- |
| | Green Line: Lake |
Quick Facts:
Address: 3400 W. Lake Street
Established: March 1894
Original Line: Lake Street Elevated Railroad
Previous Names: Garfield Park


| | | |
| --- | --- | --- |
| Skip-Stop Type: | | Station |

Rebuilt: n/a
Status: Deconstructed, moved
History:
Garfield Park station -- later renamed for Homan Avenue -- was typical of those built in 1892-93 for the Lake Street Elevated Railroad -- similar to stations at Ashland, Halsted and Sacramento, among many others -- designed by its engineering staff and built by the Lloyd and Pennington Company.
The station had twin station houses and side platforms for boarding inbound and outbound trains. The station houses are designed in a Queen Anne style with a Victorian Gothic influence. The station houses had gabled roofs with two windowless gabled dormers each. Each roof was topped with a unique square cupola with a diamond pattern and a steeply hipped roof with a small gabled dormer in each of the four sides. These structures represent a unique attempt to apply the Queen Anne architectural style.
The station had side platforms, covered by tin-covered peaked-roof canopies supported by a row of steel center posts. The posts had decorative elements cast into them, most notably in the top angle bracket that supported the canopy braces. The Lake Street Elevated stations also originally had elaborate railings on the platforms with decorative scroll metalwork.
Closure and Relocation
When the Green Line, which includes the Lake Street "L", was closed in 1994 for renovation, this station was shut down. When the line reopened for service in 1996, Homan did not. It sat boarded and abandoned on the elevated trestle, its roof rusting away and its trackside face covered in graffiti. The track-level station sides bore ironic signs that said "NOT A STATION", instructing motorman not to stop.
In 1997, the CTA unveiled a plan to deconstruct the station and reassemble its outer shell two blocks west at Central Park Avenue, which would give the line's stations proper spacing, but which lacks a bus route (but which Homan has). (Links to articles can be found below.) Marcel Acosta, then-CTA Senior Vice President of Planning, stated that the CTA was in negotiations with the Illinois Historic Preservation Agency at that time as to whether their plans conform to the station's historic landmark stipulations.
On September 15, 1999, the CTA finally announced a timeline to relocate the historic Homan station house to Conservatory Drive to serve visitors to the Garfield Park Conservatory. The structure would be restored and rebuilt with all the modern amenities and in the same architectural style as the Ashland Green Line station. These amenities include elevators, tactile edging, an ADA graphics package and audiovisual signs that alert customers when trains are approaching.
Homan station was completely deconstructed in spring of 2000 and put into storage to be later reconstructed at Central Park. All that remains are the four columns, one on each street corner at Homan and Lake, that once supported the station house over the intersection. The Conservatory-Central Park station, with its reconstructed station houses from Homan, opened in June 2001.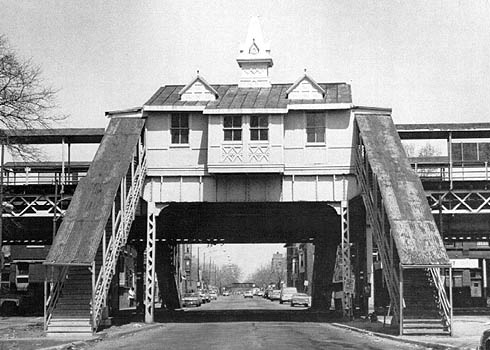 The Queen Anne Homan station, looking north in 1985. Although it had not been heavily modified since its 1893 opening, maintenance, especially in the CTA era, had been sparse. (Photo by Olga Stefanos)
---

cta2177.jpg (124k)
Car 2177 takes up the rear of a two-car Lake-Dan Ryan All-Stop train stopped at Homan on August 16, 1970. (Photo by Joe Testagrose)

cta2218.jpg (135k)
Car 2218 trails a two-car West-South Route train at Homan on August 16, 1970. Note the old-style A/B symbol sign on the right. (Photo by Joe Testagrose)

homan-P-8_KDRsignWB.jpg (242k)
This "KDR"-style symbol sign from the outbound platform at Homan is mostly typical of this type and vintage -- large first letter of the station name with the full name under it; a "KDR arrow" pointing in the direction of travel with the direction and destination in the middle; and the skip-stop station type at the bottom. What is unusual is the color -- in the KDR signage system, green was used for 'B' station signs; blue backgrounds were for 'AB' or All-stop stations. It is not clear why the symbol signs installed at Homan in 1985 were blue instead of green -- especially given that the station name signs installed about the same time were green -- although the symbol signs at other 'A' and 'B' Lake Street stations east of Homan made around the same time were also blue instead of red or green, respectively. (Records indicate that while both installed at Homan in 1985, the green station name signs were designed in 1977 but their implementation deferred for unknown reasons, while the symbol signs were designed in 1981 closer to installing, perhaps accounting for a difference in policy or standards in the intervening years; if true, though, it's interesting that the color of the station name signs would not have been changed to match before being installed.) It is perhaps notable that other station name and symbol signs installed around the same time also used blue for 'A' or 'B' stations, such as those installed on the Jackson Park branch at University, Cottage Grove and King Drive in 1982 -- it is known that when CTA moved to a "Modified KDR" standard in the early 1990s the color-coding was dropped and all station name and symbol signs were blue (CTA's corporate color), but perhaps this suggests the retrenchment of the color-coding may have started earlier in the 1980s. It is also interesting that these were not the first KDR station name and symbol signs Homan had received, they are a second generation; the first generation was installed in the early 1970s soon after the standard's introduction and were much more similar to the original implementation on the Dan Ryan, including both sign types having a green background, as seen in this 1976 photo. (Sign courtesy of Bill Wulfert)

| | |
| --- | --- |
| | |