.
Historic "L" Station Tour 1999
On November 13th, 1999, the first of a series of annual tours of historic "L" stations was conducted with great success.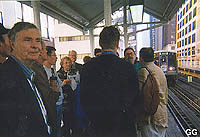 Tour participants listen to a lecture at the Madison/Wabash station as a Green Line train approaches. Tour leaders Keith Letsche (tan jacket) and Kent Haag (back turned, navy jacket) stand on the right. Not pictured: tour leaders John Craib-Cox and Graham Garfield. For a larger view, click here. (Photo by Graham Garfield)

The tour, led by Graham Garfield (Site Administrator of Chicago-L. org), Kent Haag (Chicago Programs Coordinator, Illinois Historic Preservation Agency), John Craib-Cox (Landmarks Preservation Council of Illinois), and Keith Letsche (an Assistant Attorney-General of Illinois), started at the historic Monadnock Building in the Loop, then proceeded to the "L" where CTA trains were used to reach many of the CTA's oldest and rarest stations.

Participants paid a $10.00 admission price, which included a CTA one-day unlimited ride fun pass. Using the pass, the tour hopped on and off regular in-service revenue trains, traveling from station to station on the historic elevated transit system. At each station, talks and lectures were given on the history, operations, architecture, and significance of the station to "L" and community history, as well as on the history and architecture of the surrounding neighborhood.

The following stations were visited on the tour, in order:

After the conclusion of the tour, participants were able to use their one-day passes to ride home or one more station east to return to Library, where the tour began. (Participants also had the option of leaving the tour early from another station, if necessary.) In all, approximately twenty people participated in the first tour, with many asking for information on when the second tour would be held!

To see the handout that was provided for all tour participants, click here!
---

tour99c.jpg (69k)
Tour participants view the magnificent Beaux Arts architecture of the 1923-built Wilson station on the Red Line. (Photo by Graham Garfield)

tour99d.jpg (64k)
Keith Letsche speaks to the tour group at the 1906 grade-level Rockwell station on the Brown Line. (Photo by Graham Garfield)