.
Historic "L" Station Tours
Beginning in 1999, Chicago-L.org sponsored and participated in regular tours of Chicago's historic rapid transit stations. Although there had previously been charters and tours on the "L", Chicago-L.org's tours were the first to become a regularly repeating event and were unusual in that they catered to fans of general Chicago history, urban history, and architectural history, in addition to railfans.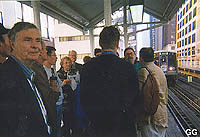 1999 Tour participants listen to a lecture at the Madison/Wabash station as a Green Line train approaches. For a larger view, click here. (Photo by Graham Garfield)

Each tour visits several of Chicago's oldest, most unique, and most architecturally interesting rapid transit facilities, with tours and lectures given at each site.

The 1999-2001 tours were also sponsored by the Illinois Historic Preservation Agency, in cooperation with and the Chicago Design Consortium. Beginning in 2002, Chicago-L.org assumed sole proprietorship of the annual tours.

Beginning in 2005, Chicago-L.org forged a partnership with the Chicago History Museum to conduct the tours through the museum's tours and events program, allowing the tours to be accessible and marketed to a larger number of people and decreasing Chicago-L.org's administrative responsibilities, thereby allowing more than one tour per year to be conducted.

At present, Chicago-L.org is not conducting any scheduled tours, though we do participate in tours given by other groups and organizations throughout the year. For tours given by other organizations, please see the Upcoming Tours section below.

NOTE: Tours require climbing and descending several flights of stairs, plus several blocks of walking.

Chicago Architecture Foundation

The Chicago Architecture Foundation began a new series of "L" tours in summer 2010, following their successful Loop Tour Train of the 1990s and early 2000s.

Explore Chicago's amazing architecture from the unique perspective of the elevated trains and station platforms. Learn about the history of the famous "L" system and how it has shaped the development of the surrounding buildings and districts within the Loop. By being over 20 feet off the ground, you'll see architectural details that are missed by most pedestrians at street level.

Visit CAF's Web site for up-to-date information about their latest tours and for registration information.

Chicago History Museum

The Chicago History Museum conducts several "L" tours each year. Most are tours of specific lines, led by CHM docents taught by museum staff and Chicago transit historians and experts, including Chicago-L.org contributors.

Want to take one of the Chicago History Museum's tours? Click here for up-to-date information about their latest tours and for registration information.

Below are photos and descriptions of some of our past tours:
Historic "L" Station Tour 1999

The first historic station tour took place on November 13, 2000 and visited nine stations. Traveling on in-service CTA trains, participants were treated to lectures and tours of numerous transit landmarks!

The second tour took place on November 19, 2000. For the first time, a pair of 2200-series cars were chartered for the tour, which visited several stations.

The third annual tour took place on November 4, 2001. Several new stations were visited using chartered cars.

The fourth annual tour took place on October 20, 2002. Several stations on the North Side and Evanston were visited using chartered cars 3201-02.

The fifth annual tour took place on October 26, 2003. This tour was entirely on the Blue Line and visited stations of many different vintages from the 1890s to the 1970s using a set of 2200-series cars, the oldest the CTA uses in passenger service.