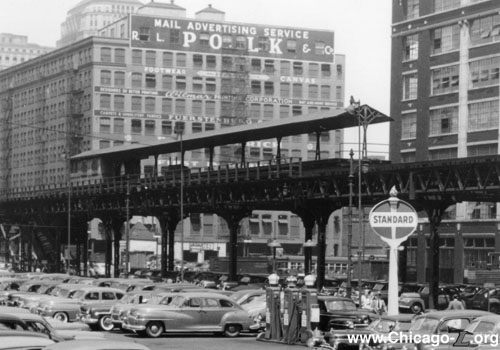 Randolph & Market station is seen looking northeast from Washington Street west of Market. The design of the platform canopy is typical of those built for island platforms by the Lake Street Elevated in the 1890s. For a larger view, click here. (Photo from the CTA Collection)
Randolph & Market (146N/360W)
Randolph Street and Market Street, Loop
Service Notes:
| | |
| --- | --- |
| | Lake Street Line, Market Stub |
Quick Facts:
Address: TBD
Established: November 6, 1893
Original Line: Lake Street Elevated Railroad
Other Names: none
Skip-Stop Type: n/a
Rebuilt: n/a
Status: Demolished
History:
Like the Congress Stub terminal of the South Side Rapid Transit, the Lake Street Elevated initially ended its run at a terminal outside downtown in the days before the Loop Elevated. The company's initial franchise allowed construction only as far east as Canal Street on the west side of South Branch of the Chicago River. In early 1893, the Lake Street Elevated received a charter to build a branch extension into the outskirts of downtown to the corner of Madison Street and Market Street. Although this was still blocks short of the heart of downtown, it may have been chosen because Market was a wide boulevard and the owners of its factories and warehouses were generally receptive to the idea of transit access. The franchise was adopted with little difficulty.
The Randolph & Market station was the only intermediate station on the Market Street segment. The station had a single island platform with a peaked canopy between two stub tracks. A mezzanine station house was located under the elevated structure, which ran down the middle of the wide Market Street thoroughfare.
When the Lake Street "L" received permission to construct a segment from Market Street to Wabash Avenue (which would eventually become the north side of the Loop) in mid-1894, a clause in the franchise required the Market Stub be demolished, but even after the opening of the Loop in 1897 the city took no action to force its removal. In 1895, all trains were routed to the Lake/Wabash leg and shuttle service from Canal Street was instituted to Market Terminal for overflow traffic. When the Loop reached capacity, the traffic to the Market spur was greatly increased. The city did try to force its removal with a 1914 ordinance, but it was generally ignored.
When the Chicago Transit Authority look over in 1947, the Lake Street Division was only running overflow express trains to the Market stub, with Austin-to-Market local-expresses (express Hamlin to Oakley, then local to Madison/Market) in the morning and Market Stub-to Forest Park local-expresses (local to Oakley, express to Hamlin, local to Forest Park) in the afternoon and evening. The Lake Street Line was targeted as the first to have its operations overhauled and on April 5, 1948 it was the first line to receive the CTA's new A/B skip-stop scheme. This streamlined operation did not require the Market Stub, which the city desired to get rid of anyway. Service to Randolph & Market and the rest of the Market stub was withdrawn on April 4, 1948. The city lost little time in demolishing the stub after service was withdrawn, making way for the construction of the double deck Wacker Drive.