.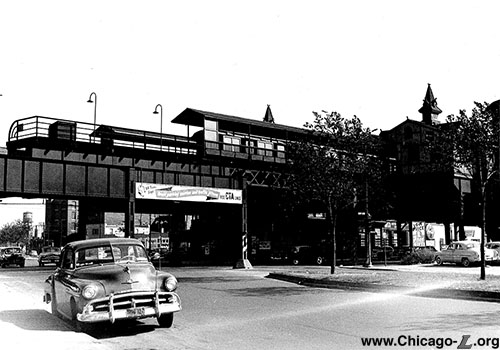 The Loomis & Ogden station is seen peaking out behind some trees, looking northeast on Ogden Avenue on August 30, 1952, during the three-year period when it won a reprieve from closure. The station houses, typical of the design of the original Lake Street Elevated stations, are actually on Loomis, as Ogden did not extend through here when the "L" was built. For a larger view, click here. (AW Johnson photo, Krambles-Peterson Archive)
Loomis (1400W/200N)
Loomis Street and Lake Street, Near West Side
Service Notes:
| | |
| --- | --- |
| | Lake Street Division |
Quick Facts:
Address: TBD
Established: November 6, 1893
Original Line: Lake Street Elevated Railroad
Previous Names: Sheldon Street, Loomis & Ogden


| | | |
| --- | --- | --- |
| Skip-Stop Type: | | Station |

Rebuilt: n/a
Status: Demolished
History:
Sheldon Street station was typical of those built in 1892-93 for the Lake Street Elevated Railroad -- similar to stations at Ashland, Homan and Sacramento, among many others -- designed by its engineering staff and built by the Lloyd and Pennington Company.
The station had twin station houses and side platforms for boarding inbound and outbound trains. The station houses are designed in a Queen Anne style with a Victorian Gothic influence. The station houses had gabled roofs with two windowless gabled dormers each. Each roof was topped with a unique square cupola with a diamond pattern and a steeply hipped roof with a small gabled dormer in each of the four sides. These structures represent a unique attempt to apply the Queen Anne architectural style.
The station had side platforms, covered by tin-covered peaked-roof canopies supported by a row of steel center posts. The posts had decorative elements cast into them, most notably in the top angle bracket that supported the canopy braces. The Lake Street Elevated stations also originally had elaborate railings on the platforms with decorative scroll metalwork.
Sheldon Street station was renamed Loomis Street by the early 1930s, when the street it served was renamed. Some signage and maps later referred to the station as Loomis & Ogden, adding the diagonal thoroughfare that was later extended and crossed Lake Street near Loomis Street.
In 1948, the CTA revamped service on the Lake Street Line -- the first of a series of line-by-line service overhauls -- by closing 10 little-used stations and implementing A/B skip-stop service to speed up trains on the route. Loomis remained open, as did Lake Street Transfer station about three blocks to the west where passengers could transfer between Lake Street trains and Milwaukee branch trains on the Metropolitan Division, but Ashland station between the two closed. Loomis also became an "A" station in the skip-stop scheme.
Loomis station closed a few years later on February 25, 1951, when the Milwaukee trains were rerouted through the Dearborn Street Subway and Lake Street Transfer was no longer needed. To make the station spacing more regular, Loomis station also closed, with Ashland reopening and taking over for both stations as an "A" stop. This, however, did not sit well with local politicians and after some pressure was applied, Loomis reopened on March 5, 1951, only nine days after it closed. Loomis again became an "A" station, with Ashland becoming a "B" station (thus creating the troublesome stopping pattern of two "B" stations in a row -- Ashland and California to the west). This was clearly not a logical stopping pattern and, after an auxiliary entrance to Ashland was opened at Justine Street a short distance from Loomis station, Loomis was closed again April 4, 1954. Loomis station was subsequently demolished.