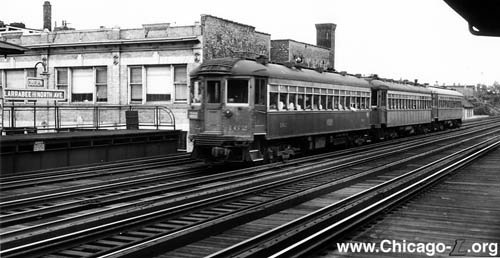 A three-car North Shore Line train assigned to the Shore Line route passes the Larrabee & Ogden station, led by car 162. The "Ogden" name board, separate and above the one that says "Larrabee and North Ave.", indicates that the station's name changed after it opened. The change came between 1926 and 1930. The station was closed in the CTA service revision of 1949. Today, nothing of the station in this picture but the tracks remains. For a larger view, click here. (Photo by Fielding Kuniecke, from the Scott Greig Collection)
Larrabee (1600N/600W)
Larrabee Street, Ogden Avenue and North Avenue, Cabrini-Green (Near North Side)
Service Notes:
| | |
| --- | --- |
| | North Side Division, Main Line |
Quick Facts:
Address: 1540 N. Larrabee Street
Established: June 6, 1900
Original Line: Northwestern Elevated Railroad
Other Names: Larrabee & North Ave, Larrabee & Ogden
Skip-Stop Type: n/a
Rebuilt: n/a
Status: Demolished
History:
The path of the initial section of the Northwestern Elevated Railroad, from Lake and Wells Streets to Broadway and Wilson on the what was then the far North Side, was cleared in 1895 and erection of the steel was begun January 23, 1896. Financial difficulties delayed construction several times, necessitating extensions of deadlines for commencement of service in the company's franchise with the city. All-night shifts were eventually required to complete the structure on Christmas Day 1899, days before their deadline to begin service. But most of the stations were incomplete December 31 and, after some negotiating, another extension was obtained. Northwestern Elevated service between the Loop and Wilson began on May 31, 1900. However, due to a two-week strike construction was not complete at all stations1. As a result, seven stations, including Larrabee, opened 1-2 weeks after the inauguration of "L" service. Larrabee station finally opened for service on June 6, 19002.
The only line in Chicago to do so, the Northwestern "L" built four tracks north of Chicago Avenue to allow for both local and express service. Some stations, like Larrabee, were built with platforms on the outside tracks (for locals only), but some had two island platforms to facilitate both express and local trains.
The original brick station house was similar to those still at Chicago, Sedgwick, Armitage and Fullerton. Their architecture was standard for brick ground-level station houses built on what was the Northwestern mainline. They were designed by William Gibb and constructed entirely of brick with terra-cotta trim and stone. The bold modeling of the details is characteristic of Italianate work of the late 19th century, though these station might better be classified as Classical Revival.
The dual side platforms at Larrabee were covered in the center by two peaked-roof canopies of steel supports with gently-curved brackets and intricate latticework, covered by a corrugated metal roofing. As built, these covered about half the platform length. The railings consisted of tubular frames and posts with panels of decorative, ogee patterned metalwork inside.
Although maps bore only the name Larrabee, the station's platform signage referred to the stop as "Larrabee and North Ave." Later, after the street was completed, the name was changed to Larrabee & Ogden and a sign saying only "Ogden" was placed above all the others denoted the changed name. This occurred some time between 1926 and 1930.
Larrabee briefly survived the CTA's 1947 takeover, but was one of 23 stations closed in their North-South Route service revision August 1, 1949, which included the closing of several other stops on this line including Division, Oak, Schiller, Halsted, Webster, Wrightwood and more. The concept of "local" stations, of which Larrabee's low usage was only suited, was not a part of the A/B skip stop concept and the station was closed. Today, the entire station is gone and nothing of it remains.
---

ROW@Ogden01.jpg (150k)
Looking east on April 18, 2003, the Brown Line (North Side Main Line) elevated structure crosses Larrabee Avenue in the background. The steel girders between the tracks are part of the bridge structure installed in the 1920s for the extension of diagonal Ogden Avenue northeast through Lincoln Park, since vacated. Formerly beyond these girders was the Larrabee & Ogden station, closed in 1949. (Photo by Graham Garfield)
1. "ENDS STRIKE ON NEW "L"." Chicago Daily Tribune, 8 May 1900: 1.
2. "BOYS MEDDLE WITH "L" TRACK." Chicago Daily Tribune, 7 June 1900: 12.