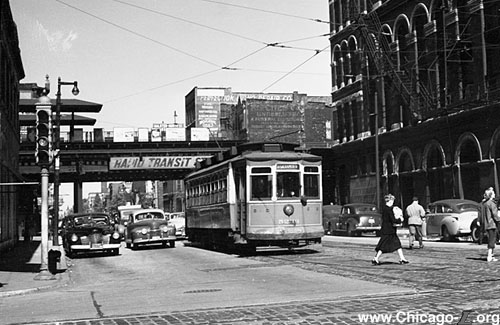 Big Brill streetcar 5233 has just passed under the North Side main line elevated tracks and Halsted station platforms on its way to 111th and Sacramento on September 25, 1948. The streetcar is approaching North Avenue, with the famous Yondorf Block and Hall -- the Gothic-Victorian building, built in 1887, was an important community center for several generations of Chicagoans of German descent and was landmarked by the city in 2001 -- on the right. The Hasted station's platforms extend over the street, but the platform canopies just peak out from the west building line, so a large sign was erected over the street to provide better visibility and system identity. The station would be closed less than a year after this photo was taken. For a larger view, click here. (Photo by Fielding Kunecke, W. R. Keevil Archive)
Halsted (800W/1600N)
Halsted Street and North Avenue, Lincoln Park
Service Notes:
| | |
| --- | --- |
| | North Side Division |
Quick Facts:
Address: 1618 N. Halsted Street
Established: May 31, 1900
Original Line: Northwestern Elevated Railroad
Previous Names: Halsted & North
Skip-Stop Type: n/a
Rebuilt: n/a
Status: Demolished
History:
Halsted was built as part of the original main line of the Northwestern Elevated in 1900. The only line in Chicago to do so, the Northwestern "L" built four tracks north of Chicago Avenue to allow for both local and express service. Some stations, like Halsted, were built with two island platforms, each between two of the four tracks, to facilitate both express and local trains and cross-platform transfers, but some had only side platforms on the outside tracks (for locals only).
The headhouse was one of several stations built from a design by William Gibb on what is now the Brown Line. Constructed entirely of brick with terra-cotta trim, the Classical Revival design was inspired by the work of the great 16th century Italian Renaissance architect Andrea Palladio. The bold modeling of the details, especially the columns and segmented arched windows, is characteristic of Italianate work of the late 19th century. The interior featured plaster walls with extensive wood detailings in the door and window frames, ceiling moldings, and tongue-in groove chair rail paneling. The brick station house was similar to those still at Chicago, Sedgwick, Armitage and Fullerton.
The dual island platforms at Halsted were covered in the center by two peaked-roof canopies of steel supports with gently-curved brackets and intricate latticework, covered by a corrugated metal roofing identical to those still at Sheridan and Sedgwick (the latter formerly having four tracks), and previously at Belmont and Fullerton.
Halsted was joined by a second station, North & Clybourn, just a half block south when the State Street Subway opened in 1943. Two stations in the same catchment area were more than sufficient for the area, especially given its declining population. The station survived the CTA's 1947 takeover, but was one of 23 stations closed in their North-South Route service revision August 1, 1949, which included the closing of several other stops on this line including Oak, Schiller, Division, Webster, Wrightwood and more. Today, the entire station is gone and all that remains as evidence of its existence is the gaps between the tracks where the island platforms once were.
---

ROW@Halsted01.jpg (161k)
As the Brown Line (North Side Main Line) elevated structure crosses Halsted Street, the tracks spread and there are large gaps between Tracks 1 and 2 and between Tracks 3 and 4 (1 and 4 now being out of service). The spaces between the tracks were formally for dual island platforms, now removed, for the former Halsted station. This view looks east toward Halsted Street on April 18, 2003. (Photo by Graham Garfield)

ROW@Halsted02.jpg (150k)
Car 3210 brings up the rear of an inbound Brown Line train near Halsted, looking east on April 18, 2003. The spaces between the tracks were formally for dual island platforms, now removed, for the former Halsted station. (Photo by Graham Garfield)