History: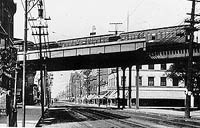 A street-level view of the platform shows the once vibrant 63rd Street commercial district. For a larger view, click here. (Photo from the Richard E. Buike Collection)

The Harvard station opened November 3, 1906. The station was simple by 1906 standards, but the platform contained what would now be considered quite elegant: decorative latticework, porcelain enamel wood-framed station signs and wooden advertisement cases (reproductions of which can be seen at the Quincy/Wells loop station). The station house was a mezzanine level facility beneath the tracks on the south side of the street. When the station opened in 1906, it was named for 63rd Street. By 1909, its name had already changed.

The short Normal Park branch, less than a mile long and opened in 1907, departed from the Englewood branch west of Harvard station at Stewart Junction. From 1907 to 1949, Normal Park cars were coupled to and from Englewood trains at Harvard station for the trip north and to return to the branch. This practice continued until 1949. On August 1 of that year, the CTA initiated their North-South service revision and turned the Normal Park branch into a shuttle operation. A single train of one or two wood cars usually worked the branch back and forth between 69th and Harvard stations. Transferring to Normal Park trains at Harvard required going down from the outbound platform to the mezzanine and back up the other side, as Normal Park trains loaded and unloaded from the inbound platform. This continued until the Normal Park branch was eliminated in January 1954.

The station had survived numerous service revisions, but it was closed in the service purge of February 9, 1992 and demolished during the Green Line reconstruction of 1994-1996. The CTA was considering constructing a new station complex where they'd demolished the old one; then-CTA President Robert Belcaster had hoped to tap a special fund earmarked for projects that reduce air pollution to create a large new 63rd Street facility, including a park-n-ride lot, that would've connected to the 63rd Dan Ryan station and created a large transit center. Unfortunately, this never came to be (and as a result, there is a mile and half between stations on the Englewood branch).