History: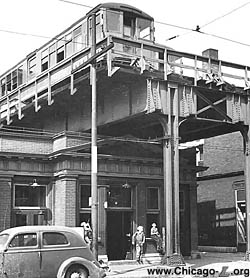 The Normal Park branch of the Englewood line, which was less than one mile long, left the main line at Harvard and went six blocks due south. Opening in 1907, the only major traffic generator on this line was the Chicago Normal School, a teachers' college near the 69th Street terminal.
The design on the station house is similar to that of the Racine station on the Englewood branch, indicating that Racine architect Earl Nielson may also be responsible for this structure. It was constructed of brick with copper and wood trim, stone sills and limestone column bases executed in the Greek Revival style. The articulated cornice, triglyphs and pilasters resembled a Doric temple.
At 69th station, only the east platform was used for loading and unloading, with the other track for lay-ups. There was a tower at the north end of the east platform at one point, but it is questionable how often it was manned, especially in later years. Later, there were just two crossovers, with one being equipped with a spring switch.
Service to and from the Normal Park Branch was varied and changed throughout the line's 47 year existence. During the South Side Elevated's time, Normal Park cars were coupled onto Englewood trains at Harvard for the trip north. This practice continued even after crosstown service began in 1913 and Englewood/Normal Park trains were through-routed to Wilson. On February 23, 1931, the CRT revamped crosstown service. Englewood/Normal Park trains were routed to the Ravenswood during rush hour and terminated in the Loop during off-peak times. Upon it's opening in 1943, these trains were through-routed at all times via the State Street Subway.
On August 1, 1949, the CTA® initiated their North-South service revision and turned the Normal Park branch into a shuttle operation. A single train of one or two wood cars usually worked the branch back and forth between 69th and Harvard stations. 69th station had its agent eliminated in 1949. Afterward, conductors collected fares at all times on the branch, except at the Harvard transfer point. Because of the need to secure 69th Street station at night due to the cars stored on the stub tracks above, the station was heavily modified. Most of the doors were permanently bolted shut and the others had switch locks put on them. One door was left for access. It was originally an exit door, but instead of installing a handle on the outside so that it could also function as an entrance, a nail was hammered into the top of the door so it couldn't close all the way and passengers had to slip their fingers in the crack and pull the door open. Not very inviting!
The short branch was abandoned in January 1954 as hopelessly unprofitable and having no real future for improvement.