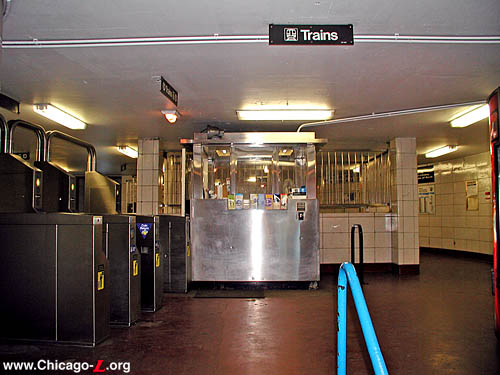 The Grand mezzanine, seen here looking northwest on November 8, 2004, is symmetrical, bisected by the escalator between the mezzanine and platform (inside of the low wall in the background). There were originally dual agent's booth flanking both sides of the escalator enclosure, though in later years the east booth was disused. When the station was reopened, both original booths were removed and the west booth, where the fare controls are located, was replaced with a stainless steel model of similar design. For a larger view, click here. (Photo by Graham Garfield)
Grand (500N/800W)
Grand Avenue, Milwaukee Avenue and Halsted Street, West Town
Service Notes:
| | |
| --- | --- |
| | Blue Line: Milwaukee-Dearborn Subway |
| | Owl Service |
Quick Facts:
Address: 502 N. Milwaukee Avenue
Established: February 25, 1951
Original Line: Milwaukee-Dearborn Subway
Previous Names: none


Skip-Stop Type:

Station (1951, A/B service annulled after one AM rush period)

Station (1958-1995)

Rebuilt: 2019-20 (renovation)
Status: In Use
History:
Grand is typical of the Milwaukee-Dearborn Subway stations outside of downtown. The architecture of the station was streamlined Art Moderne with some Art Deco elements, simple and austere compared to earlier subways in New York, London, Paris or other systems but very much in the style and fashion of the period in which it was designed. At street-level, the entrances were very simple, consisting of stairs down from the sidewalk surrounded by simple tubular railings with a smooth identification pylon at the back with Deco rings around the top.
The fare controls were at a lower mezzanine level beneath the intersection of Grand and Milwaukee avenues and Halsted Street. Because the mezzanine was below one of Chicago's many "six-corners" intersections and there would potentially be a multitude of streets to cross to get to an entrance, a number of passageways were excavated from the mezzanine to different corners of the intersection, providing five street entrances in all. This assured that an individual had to cross no more then one street, if any, to get to a stairway.
The station mezzanine had broadly curving walls clad in off-white glazed ceramic tile, which served to both reinforce the Moderne, streamlined architectural style employed in the Initial System of Subways stations as well as to direct passenger flow through subtle design cues. The interior had smooth concrete floors and ceilings, red for the former and a neutral color for the latter. The fare control booths had a square shape -- simplified versions of the angled, lozenge-shaped Deco-designed booths of the downtown stations -- and were made of stone walls with a small ventilation grate near the bottom and glass windows on all four sides, allowing for maximum visibility of the mezzanine for the station agents. Turnstiles were steel. The mezzanine also had several amenities for the use of passengers, such as public phones, lockers, and restrooms.
The island platform had red no-slip concrete floors, curved, barrel-vaulted concrete ceilings and a row of I-beam steel columns along each platform edge. Unlike some of the more ornate subways in other cities, the walls along side the tracks in the stations were left as unfinished concrete rather than tiled. To aid in station identification, each station had a color scheme that was used in the accents like tile borders, platform column color, and signage lettering and background. The colors blue, red, green, and brown were rotated in sequence beginning up at Division & Milwaukee. Grand's accent color was green. A specially-designed Futura typeface was used throughout the subway on metal, tile, and backlit glass signs. Fluorescent lights and illuminated station signs hanging from the ceilings finished the decoration.
Though much of the structural work of the Milwaukee-Dearborn Subway was concurrent with that of State Street's (which was begun in 1938 and opened in 1943), construction on the Dearborn line was suspended in 1941 due to wartime materials shortages. Even after the war was over, it was another several years before work was resumed. Finally, the Milwaukee-Dearborn Subway was completed and opened on February 25, 1951, eight years after the State Street tube was inaugurated. This is when Grand station opened.
Closure and Reopening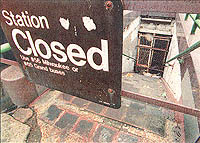 The stairways down to Grand's mezzanine station were closed and locked when the station closed in 1992. Garbage collection was a problem in the abandoned uncovered stairwells. For a larger view, click here. (Photo by Phil Velasquez for the Chicago Tribune)

As a result of declining ridership, Grand was closed nights and weekends starting in 1982. The station was fully closed in 1992. According to an article in the Chicago Tribune, it was due to cost cutting, a victim of a budget crisis and due to the station serving only 850 riders a day. Shortly after its closing, garbage collecting in the five abandoned uncovered stairwells from the street became a problem. According to the September 7, 1998 edition of the Chicago Tribune,
"Peer down from the sidewalk down the stairwells and you'll see heaps of rubble containing an array of empty beer and soft drink cans, discarded newspapers, paper bags, an assortment of paper and foam cups, round pieces of cardboard that once held pizzas, a drained Gordon's vodka bottle, an old boot, a glove, and even a couple of wet socks.

'There's a bad odor down there, and couple of people have seen rats,' said Chris Bekas, the owner of Chris' Grill, one of three restaurants on the intersection. 'I called the CTA three times, and I haven't gotten any satisfaction."
Presumably, the problem was taken care of. The platform was repainted around 1994 due to excessive graffiti, but there didn't seen to be problems with graffiti afterward.
CTA planners had been investigating reopening some closed stations for quite some time when the CTA Board approved the reopening of Grand/Milwaukee on Tuesday April 20, 1999. The area bounded by the Union Pacific Railroad, the Kennedy Expressway, the North Branch of the Chicago River and Chicago Avenue has seen a great deal of growth recently, especially of young professionals. The CTA saw these a great source of new ridership and wanted to actively pursue them as potential riders. Many of these potential customers were not taking transit at the time, so CTA felt that reopening the station wouldn't draw passengers from Chicago/Milwaukee or other nearby services.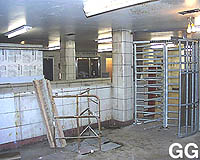 The Grand mezzanine after closure, while CTA crews were busy cleaning and overhauling the station for its 1999 reopening. The new CA booth is being installed on the left, while the removed booth formerly would've been in the foreground. For a larger view, click here. (Photo by Graham Garfield)

At a cost of approximately $1.3 million, the station received a nice, modest overhaul. Down in the mezzanine, one of the old agents' booths was removed and the other was replaced with a stainless steel and Plexiglas model of a design similar to the original. On that side are the TransitCard turnstiles while on the other are exit-only rotogates. New lighting and public phones were installed, along with new signage, schedules, and lighting. The walls and floors received a power washing and one of the old washrooms (long since closed off to the public) became CTA offices.

Also as part of the rehab, three of the five original street-level entrances were blocked off and filled in, leaving only two (on the northwest corner of Grand & Milwaukee and on the northwest corner of Milwaukee & Halsted) in operation. The two long hallways leading these three stairwells were blocked off in the mezzanine with cinderblocks covered with gray tile that somewhat match the original 1951 ceramic wall surfaces. A door on each sealed wall allows CTA access to the old halls, which are used for storage, and soda vending machines sit against the walls outside.

On the platform, the outer tube walls were given several coats of white paint and sealant and they were so bright when the station reopened that they reflected the light from the fixtures! The steel I-beams were likewise painted white, with a blue stripe denoting the Blue Line. New Green Line Graphic Standard-style symbol signs were installed on the columns and name signs were installed on the outer walls, with a Navy Pier pictogram in the blue tabs to the right and left of each sign (geographically, Grand/State is closer to Navy Pier than Grand/Milwaukee). The original hanging backlit Moderne station signs were unfortunately removed, but several power-washings of the floor with a highly-pressurized water spray revealed the red cement floors that were once nearly unrecognizable with grime. Architectural details in the original tile, like borders, pilasters, railings and the station name depressed into the wall in green highlights, were repainted blue to, again, evoke the Blue Line.

The station reopened on June 25, 1999 at 0600 hours.

Later Changes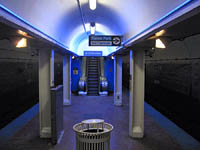 This view looking southeast on the Grand platform in February 2007 shows various types of prototype lighting installed by CDOT for testing purposes. For a larger view, click here. (Photo by Tony Coppoletta)
Grand was included in the CTA's "Front Door Program", an initiative to add amenities and make aesthetic improvements to station entrances throughout the rail system. At its June 4 , 2003 monthly meeting, the Chicago Transit Board approved a $569,973 contract for Chicago-based Camp Dresser & McKee, Inc. (CDM) to design and prepare construction bid documents for the Front Door Program, which includes seven stations (Grand included). Upgrades at the seven stations were to include station identification signage, new fencing, reconfigured turnstiles, improved lighting and heating systems, benches/street furniture, improved bus waiting areas and bus information panels, landscaping and windbreaks, though not all seven locations were to receive all of these improvements. Funding for this contract was provided by the FTA and the Regional Transportation Authority (RTA). The improvements were designed but never performed, with the project funds diverted to other needs.
Beginning in late January 2007, various types of experimental lighting were installed on the Grand platform. First, different types of blue lighting was installed along the bottom edge of the center vault over the platform. Some sections have blue-colored LED light tubes (similar in appearance to neon, but a different technology), while others have lights that cast tinted illumination put onto the center vault. Later, in February, new lights were installed under the soffit of the colonnades along the platform edges, alternating between various fixture types. This is evidently a Chicago Department of Transportation (CDOT) project, not CTA's , to test various lighting technologies for future subway station renovation projects. CDOT, as owner of the downtown subways, is responsible for large-scale capital improvement projects in these subways.
Your New Blue: Station Improvements
On December 5, 2013, Mayor Rahm Emanuel and Governor Pat Quinn announced a comprehensive improvement plan for the Blue Line O'Hare Branch (including the northern portion of the Dearborn Subway), an overhaul that will provide faster travel times and updated stations while creating more than 1,300 jobs.
The $492 million plan, called Your New Blue, includes several track and station improvement projects along a 12.5-mile stretch of the Blue Line between the Grand and Cumberland stations, as well as upgrades to the signal system between the Jefferson Park and O'Hare stations. The overall Your New Blue program, beginning construction in 2014 and planned to last four years, is a package of several discrete projects ranging from station improvements to track renewal, signal replacement, traction power upgrades, and subway tunnel water mitigation efforts.
Grand is one of the stations planned to receive improvements under the program. The scope of these improvements -- identical to those also planned for the Chicago and Division stations in the Dearborn Subway -- include street-level entry stairway improvements, including new entry kiosks at each stair opening, new granite stair treads and risers, new glazed wall tiles, repainted ceilings, and new lighting. The mezzanine is planned to receive an epoxy finish on concrete floor, new plaster ceilings, new, high-efficiency lighting, and new stainless steel exit rotogates, while the stairs to platform will see the installation of new granite stair treads and risers, repainted ceilings, and replacement lighting. The escalator between the platform and the mezzanine is to be replaced. Planned improvements on the platform include new granite flooring, new stainless steel over concrete block walls, replacement of painted doors with stainless steel, new light fixtures in a steel shroud over platform, and new furniture.1 As part of CTA's enhanced Safe & Secure security upgrades throughout its system, new HD cameras will be installed on both the mezzanine and platform levels, along with new audio speakers on the platform.2
In 2015, $4 million in tax-increment financing was allocated to go toward repairs to the Grand Blue Line stop, according to a proposal introduced at the January 2015 City Council meeting. At the time, the renovations at the Grand station were projected to total $13 million.3
On August 15, 2018, the CTA Board approved a $30 million project to renovate and modernize the Grand, Chicago and Division Blue Line stations. The CTA board awarded the Grand-Chicago-Division Blue Line renovation contract to F.H. Paschen, S.N. Nielsen & Associates, LLC. Paschen is an industry leader in infrastructure construction and rehab projects, and has extensive experience in heavy rail transportation, including mass transit, several CTA projects among them.4
To perform the renovation work at the Division, Chicago and Grand stations, some service impacts were required. All stations remained open during the construction period, except for nine weekend-only closures, three at each station. There were also some weekends when one track or the other was closed to accommodate work, requiring trains to run in both directions on the same track through all three stations (the nearest crossovers are north of Division and south of Grand), as well as dozens of such occurrences during overnight periods.

To allow construction and renovation of the spaces within the stations while keeping them open, work was staged to close only sections at a time. The mezzanines were closed off and renovated a portion at a time, along with each street-to-mezzanine stairway and entrance, each of which closed for 42 days each. To carry out the platform renewal work, each station's platform was closed half at a time, longitudinally down the middle. Trains bypassed the side of the platform being worked on, which was barricaded from passenger access to allow the floor topping to be removed and replaced; during these periods, passengers had to "back-ride" (riding to the next stop, exiting and boarding a train back in the opposite direction) or use alternate existing bus services.  The original plan for for each half-closure and bypass period to last 3-4 weeks, and while this was the case at Division (the first of the three stations to have the platform deck renewed), it was decided to rearrange the work to allow for shorter periods of back-riding at Chicago and Grand to alleviate crowding and congestion issues that occurred during Division's back-rides.

At 9am, Monday, September 16, 2019, the north street-to-mezzanine entrance stairway at the Grand Blue Line station, on the northwest corner of Halsted Street and Milwaukee Avenue, temporarily closed for renovation. It reopened at 9am, Monday, October 28. The west street-to-mezzanine entrance stairway, on the northwest corner of Grand Avenue and Milwaukee Avenue, temporarily closed for renovation along with the southwest portion of the mezzanine, at 7am, Monday, October 28, reopening just before 5am, Monday, December 9.

The weekend of November 8-11, 2019, from 10pm Friday to 4am Monday, the Grand station temporarily closed. Passengers were directed to use the adjacent station at Chicago, a free bus shuttle between the Grand and Chicago stations, or the #56 Milwaukee bus. Grand closed again from 10pm Friday to 4am Monday the weekends of November 22-25, 2019, and January 24-27 and February 21-24, 2020, with the same alternate service available.

Grand station's platform renewal began with the O'Hare-bound side of the platform, which closed from 4am, Monday, November 11 to 4am, Wednesday, November 13, 2019, requiring passengers to back-ride. There were then nightly back-rides, with  O'Hare-bound trains bypassing the station, on the nights of Wednesday through Friday, November 13-15, and Monday through Thursday, November 18-21, from 10pm each night to 4am the next morning. After the aforementioned weekend closure on November 22-25, work moved to the Forest Park-bound side of the platform, which closed for two days from 4am, Monday, November 25 to 4:30am, Wednesday, November 27, 2019, requiring passengers to back-ride. Nightly Forest Park-bound bypasses and back-riding followed, from 10pm each night to 4am the next morning, Monday, Wednesday and Thursday nightly the week of December 2.
In mid-January 2020, each street-to-mezzanine stairway closed again, for shorter three-week durations, for the installation of the new entrance enclosures. Work included preparing the foundations for the kiosk structures, including rebar installation and concrete pours. Then, the new steel enclosure was delivered pre-fabricated and installed on-site. At Grand, the north street-to-mezzanine stairway, on the northwest corner of Halsted Street and Milwaukee Avenue, temporarily closed at 9am, Monday, January 13, and reopened at 2pm, Thursday, February 6. The west street-to-mezzanine entrance stairway, on the northwest corner of Grand Avenue and Milwaukee Avenue, temporarily closed at 9am, Monday, March 23, reopening at 9am, Friday, May 15.
Installation of new glazed block wall finishes was performed throughout winter 2019-20, taking place at mezzanine level largely as sections were temporarily closed off in conjunction with stair closures as described above. Installation of finishes in the mezzanine and on the platform were largely completed by the end of February 2020, with tunnel wall repainting completed in mid-March 2020.
The south street-to-mezzanine entrance stairwell, on the south side of Grand Avenue west of Halsted Street, and corridor connecting it to the mezzanine reopened permanently at 9am, Friday, May 8, 2020.
Paschen had to briefly close individual stairs and sections of mezzanine for brief periods in spring and summer 2020 to complete additional work: from 9am, Monday, May 18 to 9am, Saturday, May 23, 2020, the north street-to-mezzanine stairway, on the northwest corner of Halsted Street and Milwaukee Avenue, closed for work. The three street-to-mezzanine stairwells were again closed at various times between 9am, Tuesday, June 9 and 9am, Friday, June 19 for additional work, though only one street and platform stairwell was closed at a given time. All three street-to-mezzanine stairwells were again closed, one at a time, between 7am, Monday, August 17 and 7am, Saturday, August 22, 2020, for additional work.
In early summer 2020, the station was bypassed overnight twice in each direction, while contractor crews closed half of the platform at a time to clean and seal the new platform deck topping. O'Hare-bound trains bypassed Grand from 10pm to 4am the next morning on Monday night, June 22 and Tuesday night, June 23; Forest Park-bound trains bypassed Grand from 10pm to 4am the next morning on Monday night, June 29 and Tuesday night, June 30.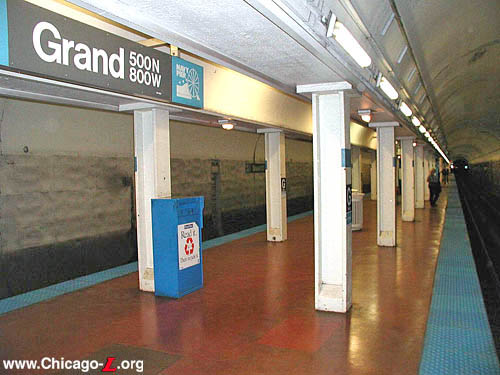 The Grand island platform, looking northwest from the south end on October 13, 2003, is typical of construction on the Initial System of Subways. with its triple barrel vault ceiling, dual rows of I-beams lining each platform edge, and the unadorned concrete walls. The gray Current Graphic Standard signs were added when the station reopened in 1999. For a larger view, click here. (Photo by Graham Garfield)
---

grand-milwaukeeSign2.jpg (28k)
A Grand/Milwaukee symbol sign from before the station closed in 1992, while A/B skip-stop service was still in effect on the West-Northwest Route. Because the word "southeast" is used (due to the diagonal route of the subway), the typical direction-specific "-bound" verbiage (i.e. "southbound") is omitted, as on all Milwaukee Subway symbol signs of the era. (Sign from the Andrew Stiffler Collection)

grand-milwaukee02.jpg (52k)
Finishing touches are being applied to the newly cleaned platform area at Grand/Milwaukee about a month before reopening in 1999. (Photo by Graham Garfield)

grand-milwaukee05.jpg (177k)
This entrance on the northwest corner of Grand and Milwaukee, seen looking east on October 13, 2003, is one of two remaining stairways of the original five. The stairway, with its granite base and simply tubular railings, remains as-built in 1951. At the back is an identification pylon with Deco rings around the top and a backlit vertical sign reading "SUBWAY", the latter two of which are obscured by the box containing a standard CTA station entrance sign and revenue advertisement. (Photo by Graham Garfield)

grand-milwaukee07.jpg (139k)
This distinctive pylon is on the west side of Milwaukee Avenue, just north of Grand Avenue. Seen looking southeast in December 2006, it is a source of curiosity for many passersby. The Art Deco-influenced object is an "exhaust vent post", as it is referred to in the design drawings. Its purpose is to vent air from the restrooms and other exhaust vents in the station. Such pylons were installed at Grand and at Chicago on the Milwaukee-Dearborn Subway. (Photo by Tony Coppoletta)

grand-milwaukee09.jpg (121k)
CDOT's experimental "up-lighting" at Grand casts an eerie blue tint on the station's center vault over the platform, seen in February 2007. (Photo by Tony Coppoletta)

grand-milwaukee10.jpg (107k)
Sections of LED light tubing, installed on an experimental basis by CDOT, provide spot of color in the Grand subway station in February 2007. The tubing is similar to lighting used at Miami heavy rail stations. (Photo by Tony Coppoletta)

cta2893-HolidayTrain2013c.jpg (236k)
Passengers board and alight the Holiday Train at Grand on the Blue Line on December 14, 2013. Some came out specifically to meet and ride the train, whole others were just regula passengers who happened upon a very special train for their trip. (Photo by Tony Coppoletta)

| | |
| --- | --- |
| | |
1. "Your New Blue." CTA website, accessed January 11, 2014.
2. "CTA Awards Contract for Modernization of Grand, Chicago and Division Blue Line Stations." CTA press release, August 15, 2018.
3. Swartz, Tracy. "Mayor: Use $9M in local funds for Blue Line stop fixes." Red Eye, January 21, 2015.
4. "CTA Awards Contract for Modernization of Grand, Chicago and Division Blue Line Stations," ibid.