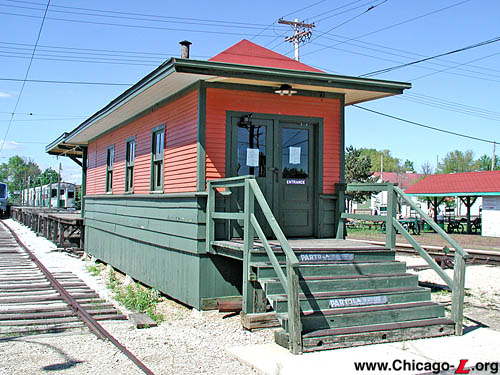 This view of the 50th Avenue station house shows the diminutive size of the ground-level wood frame depot, typical of at-grade stations on several West Side branches. At the time of this May 15, 2004, the building was closed for renovation. For a larger view, click here. (Photo by Graham Garfield)
50th Avenue (5000W/2130S)
50th Avenue and 21st Place, Town of Cicero
Service Notes:
| | |
| --- | --- |
| | West-Northwest Route, Douglas branch |
Quick Facts:
Address: 2133 S. 50th Avenue
Established: August 16, 1910
Original Line: Metropolitan West Side Elevated, Douglas Park branch
Previous Names: none


Skip-Stop Type:

Station (1951-1958)

Station (1958-1978)

Rebuilt: n/a
Status: Removed, Preserved at Illinois Railway Museum
History:
50th Avenue was built as part of the 1910 extension of the Douglas Park branch to 52nd Avenue (Laramie). The station resembled those at Laramie and Oak Park: a wood-frame clapboard structure set in the middle of the tracks and opening onto a relatively short wooden island platform with an even shorter canopy. The exterior featured a hipped roof with eaves that extended out about a foot. The front featured one set of double doors, while the sides are broken up by several double-hung sash windows. The interior was floor-to-ceiling tongue-in-groove paneling, wood floors and paneled ceilings with a small ticket booth near the entrance, benches along the walls, a boiler stove for heat and incandescent lights for illumination. In the 1920s, the station was painted orange, yellow and green to match the livery of the "L" cars at that time.
In December 1951, the CTA instituted A/B skip stop service on the Douglas branch, though it changed several times between 1951 and 1958, in which time 50th was an an A station (1951) and finally a B station (1958), which it remained. The station survived decades into the CTA's reign (unlike many of its Douglas Park brothers). The station closed in one of several service purges in 1973, but reopened in January of 1974 with an unusual service schedule: the station was exit-only from 1400-1800 hours Monday-Friday, with boarding and alighting at all other times. Four years later, on January 18, 1978, the station closed for good when an auxiliary entrance to the new Cicero station was opened one block east at 49th Avenue.
At this point, something rare in Chicago rapid transit preservation history occurred: the 50th Avenue station -- building, platform, lights and all -- was disassembled, neatly cataloged and stored, and taken to the Illinois Railway Museum in Union, Illinois. There, it was reassembled, given a new paint job and the inside was restored. Historic maps and artifacts from the "L" decorate the interior, while the platform is adorned with authentic lights, reproduction blue and white enamel station signs, and a CTA transfer stamp machine. The island platform is flanked by two tracks, which often have various "L" cars on them for additional effect (and convenient storage). We highly recommend a visit to the IRM to visit this preserved treasure.
This May 15, 2004 view of the rear of the 50th Avenue station house shows the short 1-car canopy that these ground-level stations tended to have. Note that the back door is actually off-center and the presence of the transfer stamp machine, ubiquitous on the "L" from 1935 to 1974. The platform section on the right was being rebuilt at the time of the photo. For a larger view, click here. (Photo by Graham Garfield)
---

50th01.jpg (102k)
The last 40 2000-series cars delivered were assigned to the West-Northwest Route (Milwaukee-Congress-Douglas). On December 6, 1964, shortly after their arrival, 2149-2150 approaches 50th Avenue on their way to Cicero-Berwyn Terminal. (Photo by Roy G. Benedict)

50th-P-8_50sSignWB.jpg (252k)
This "symbol sign", as CTA calls them, from the westbound side of the 50th Avenue island platform is of a type implemented beginning in the mid-1950s. The artwork for this sign from the CTA Staff Engineer's Office is dated October 30, 1964; the signs were likely fabricated and installed not long after. Typically, these signs had a large first letter of the station name with the full name underneath. However, the name of the station was dropped when the station name was a numbered street, leaving just the numerals with no ordinals in large lettering, presumably because it was felt that writing the "full name" of the station (which would likely just been the number with ordinals, since none of these signs at other statons including "Street", "Avenue", etc. in the name) was unnecessarily duplicative. Other elements standard to the design are the skip-stop letter on a color-coded band (green used for 'B' stations on through-routed services) in the middle; and an arrow pointing in the direction of travel with the direction and destination at the bottom. (Sign in IRM Collection, photo courtesy of Bill Wulfert)

50th02.jpg (107k)
The 50th Avenue station house in June 1998, restored to an early paint scheme, reassembled at the Illinois Railway Museum in Union, Illinois. The sign to the right of the door is typical to many "L" stations and reads "Look Where You Step." The signs on the stairs are old ads for Partola throat lozenges. The train on the left is of the 2000-series, also part of the museum's collection. (Photo by Graham Garfield)
| | |
| --- | --- |
| | |