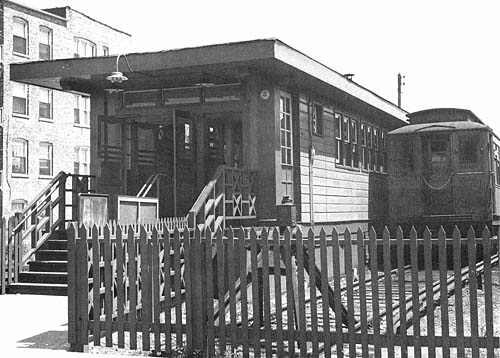 Oak Park Avenue, Berwyn, was as far as the Douglas Park branch got. As can be seen on the right, the trains stopped at the bumper at the end of the track. The simple frame station house was typical of grade-level Douglas Park stations. For a larger view, click here. (Photo from the Charles E. Keevil/Chicago Transit Authority Collection)
Oak Park (6800W/2200S)
Oak Park Avenue and 22nd Street, City of Berwyn
Service Notes:
| | |
| --- | --- |
| | Douglas Line |
Quick Facts:
Address: TBD
Established: March 16, 1924
Original Line: Metropolitan Division, Douglas Park branch
Previous Names: none


| | | |
| --- | --- | --- |
| Skip-Stop Type: | | Station |

Rebuilt: n/a
Status: Demolished
History:
The Oak Park Avenue station was one of the terminal of a short extension of the Douglas Park branch from 62nd Avenue in 1924, one of several piecemeal extensions of the branch westward as the surrounding territory developed. Property was also purchased to extend the tracks another half mile west to Harlem Avenue, but was never built on. Oak Park Avenue would end up being as far west as the Douglas Park branch would reach.
The terminal building itself was of simple frame design, typical of station houses built along the Douglas branches grade-level running. The station was a small, wood frame station house set between the two tracks. The exterior used clapboard siding and a peaked roof with eaves that extended out about a foot. The front features two sets of double doors topped by a three pane transom, while the sides are broken up a row of double-hung sash windows. The rear opens out onto the island platform. The interior was most likely floor-to-ceiling tongue-in-groove paneling, wood floors and paneled ceilings with a small ticket booth near the entrance, benches along the walls, a boiler stove for heat and incandescent lights for illumination.
As part of the plan to economize, streamline and speed up service on the Douglas branch, the CTA® proposed in mid-1951 to institute A/B skip-stop service and close 20 stations, including abandonment of service west of Cicero Avenue. The CTA® modified their plan to retain a few of the stations proposed for closure and moved the proposed western terminal to 54th Avenue, planning to institute the service changes on December 9, 1951. However, the suburbs of Cicero and Berwyn obtained a court injunction to stop the CTA® from abandoning service west of 54th in Cicero and Berwyn. The other service changes went ahead on December 9, 1951, but "L" service continued into Berwyn while the issue went to the courts. However, by early 1952 the issue was resolved in the CTA's® favor. On February 3, 1952, Douglas service west of 54th Avenue was abandoned, including the closure of Oak Park station, substituted with bus extension service.
Today, the old Douglas at-grade right-of-way is a parking lot.