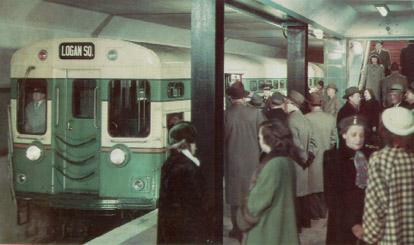 Division station on February 23, 1951. Here, a VIP tour of the new subway is being lead on newly-delivered car 6101-6102. The man facing right at the foot of the stairs is George DeMent, Commissioner of Subways and Superhighways and later a CTA chairman. (Photo from the George Krambles Collection.)
Division (1200N/1600W)
Division Street, Ashland Avenue and Milwaukee Avenue, Wicker Park/Noble Square (West Town)
Service Notes:
| | |
| --- | --- |
| | Blue Line: Milwaukee-Dearborn Subway |
| | Owl Service |
Quick Facts:
Address: 1200 N. Milwaukee Avenue
Established: February 25, 1951
Original Line: Milwaukee-Dearborn Subway
Previous Names: none


Skip-Stop Type:

Station (1951, A/B service annulled after one AM rush period)

Station (1958-1995)

Rebuilt: n/a
Status: In Use
History:
Division/Milwaukee is typical of the downtown Dearborn and State Street subway stations. Described at the time as of a "modern design" (really somewhere between art deco and art moderne), the mezzanine station has smooth concrete floors and ceilings and white glazed tile walls (sometimes referred to as "structural glass"). The fare control booths are made of stone walls with a small ventilation grate near the bottom and glass windows on all four sides. Turnstiles were steel.
The island platform has red no-slip concrete floors, curved concrete ceilings and I-beam steel columns. Fluorescent lights and illuminated station signs hanging from the ceilings originally finished the decoration. When compared to the ornate subways of New York, London or Paris (built at least several decades before), these stations and their simple, deco-style designs may seem starkly utilitarian but they are very much a product of their era. Though much of the structural work of the Dearborn Subway subway was concurrent with that of State Street's (which opened in 1943), the Dearborn line's was held up until 1951 due to wartime materials shortages. Even then, it was only open at the north end, with cars forced to turn around at LaSalle/Congress until the south end's completion years later.
The walls at Division are squared rather than rounded because of how the tunnels were excavated there. Most of the subway tunnels, including those at the stations, were excavated with large circular cutting shields, which are what gives the tunnels their round shape. However, as the tunnels got closer to the surface where they joined the elevated, the tunnels were excavated from the ground down then covered over, a method called cut-and-cover. Cut-and-cover construction tends to create a large box shape because of how its dug and reinforced with a steel structure. All of the tunnels have a rectilinear shape near their portals to the surface. However, Division (and Roosevelt on the Red Line) station is close enough to the portal and thus the surface that the station platform was also excavated cut-and-cover, resulting in the different shape. You may also notice that the I-beam columns along the platform are not quite as thick as those at other stations. This is because they are supporting less weight since the tunnels are closer to ground level there.
In September 2004, Dunkin' Donuts, the coffee and baked goods chain, broke ground on seven new concessions in CTA stations around the "L" system. One such new concession was located at Division station. "This is the first major concerted effort to open a significant number of Dunkin' Donuts stores in CTA stations," said Mike Lavigne, director of development for Dunkin' Donuts. All new Dunkin' Donuts CTA station stores were scheduled to be full-service. The new concession opened in 2005.
Your New Blue: Station Improvements
On December 5, 2013, Mayor Rahm Emanuel and Governor Pat Quinn announced a comprehensive improvement plan for the Blue Line O'Hare Branch (including the northern portion of the Dearborn Subway), an overhaul that will provide faster travel times and updated stations while creating more than 1,300 jobs.
The $492 million plan, called Your New Blue, includes several track and station improvement projects along a 12.5-mile stretch of the Blue Line between the Grand and Cumberland stations, as well as upgrades to the signal system between the Jefferson Park and O'Hare stations. The overall Your New Blue program, beginning construction in 2014 and planned to last four years, is a package of several discrete projects ranging from station improvements to track renewal, signal replacement, traction power upgrades, and subway tunnel water mitigation efforts.
Division is one of the stations planned to receive improvements under the program. The scope of these improvements -- identical to those also planned for the Chicago and Grand stations in the Dearborn Subway -- include street-level entry stairway improvements, including new entry kiosks at each stair opening, new granite stair treads and risers, new glazed wall tiles, repainted ceilings, and new lighting. The mezzanine is planned to receive an epoxy finish on concrete floor, new plaster ceilings, new, high-efficiency lighting, and new stainless steel exit rotogates, while the stairs to platform will see the installation of new granite stair treads and risers, repainted ceilings, and replacement lighting. The escalator between the platform and the mezzanine is to be replaced. Planned improvements on the platform include new granite flooring, new stainless steel over concrete block walls, replacement of painted doors with stainless steel, new light fixtures in a steel shroud over platform, and new furniture.1 As part of CTA's enhanced Safe & Secure security upgrades throughout its system, new HD cameras will be installed on both the mezzanine and platform levels, along with new audio speakers on the platform.2
On August 15, 2018, the CTA Board approved a $30 million project to renovate and modernize the Grand, Chicago and Division Blue Line stations. The CTA board awarded the Grand-Chicago-Division Blue Line renovation contract to F.H. Paschen, S.N. Nielsen & Associates, LLC. Paschen is an industry leader in infrastructure construction and rehab projects, and has extensive experience in heavy rail transportation, including mass transit, several CTA projects among them.3
| | |
| --- | --- |
| | This Chicago-L.org article is a stub. It will be expanded in the future as resources allow. |
---
division-milwaukee_signSB.jpg (68k)
Circa the 1980s, when Division station received KDR-type signage, the platform columns received these "symbol signs". This sign contains several things that are now out-of-date, including mention of A/B skip-stop service and the former names of the two terminals (changed in the 1990s). (Sign from the Andrew Stiffler Collection)
1. "Your New Blue." CTA website, accessed January 11, 2014.
2. "CTA Awards Contract for Modernization of Grand, Chicago and Division Blue Line Stations." CTA press release, August 15, 2018.
3. Ibid.