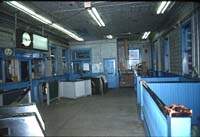 The interior of the Madison/Wells Outer Loop station house, looking south in 1993. Except for the paint scheme, fare controls, and some signage, the interior has changed very little since it was built a century before. To see an enlarged view, click here. (Photo by John Smatlak)

Frontage signatures (required from business owners on the street to allow construction) for the Wells leg of the Loop were obtained in the name of the Northwestern Elevated Railroad from Michigan [Hubbard] Street to Harrison Street, a distance of one mile. Many businesses along Fifth [Wells] at this time were factories who were eager for the "L" to be built, offsetting the retailers who resisted the structure's presence. On June 24, 1895, the City Counsel granted the Northwestern a 50-year franchise to build on Fifth Street. Rights south of Lake Street were immediately reassigned to the Union Elevated and construction began on August 31.

Madison/Wells station was completed in 1897 and opened for business October 3rd. Very similar to Quincy/Wells, Madison was basically of Palladian design with ornate, almost Baroque window surrounds, Corinthian pilasters and cartouches along the roof line and was constructed of sheet metal. The interiors of both the Inner and Outer Loop station houses featured wooden floors, pressed tin walls and tongue-in-groove wooden paneling. Stairs from the mezzanine led into the station houses, where customers paid the ticket agents. It was likely designed by architect A.M. Hedley in 1896.

In the late-1920s, the CRT embarked on a project to lengthen all Loop station platforms and by 1930, it had been lengthened to the point that it and Randolph/Wells had one continuous platform. An overhead transfer bridge had also been installed. It seems that by the mid-1950s, the CTA had returned the Loop stations to individual, noncontiguous facilities.

The Inner Loop (east) station house caught fire on Friday, May 11, 1984 from causes unknown.

The stop was closed Sunday, January 30, 1994 and demolished so that work on the Washington/Wells station could begin. On Friday, February 4th, the Outer Loop (west) station house was damaged by fire as well. Washington replaced it, opening in July, 1995.