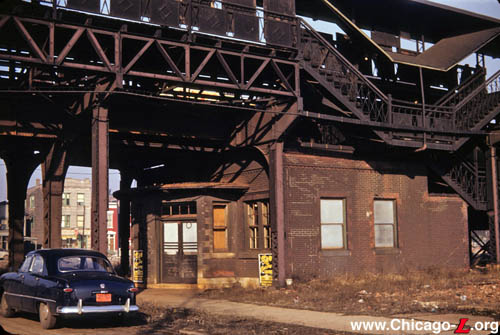 The Hoyne station house on the Garfield Park branch is seen looking northeast on January 27, 1952. The Queen Anne-style design of the station house is typical for many Met "L" Garfield Park, Logan Square, and Humboldt Park stations. The condition of the facility speaks to the challenges that faced the nascent CTA when they took over the Chicago Rapid Transit Company system. The station would be closed 20 months later to the day. For a larger view, click here. (Photo by Henry M. Stange, courtesy of the Krambles-Peterson Archive)
Hoyne (2100W/400S)
Hoyne Avenue and Van Buren Street, Near West Side
Service Notes:
| | |
| --- | --- |
| | Garfield Line |
Quick Facts:
Address: 419-21 S. Hoyne Avenue
Established: June 19, 1895
Original Line: Metropolitan West Side Elevated, Garfield Park branch
Previous Names: none


| | | |
| --- | --- | --- |
| Skip-Stop Type: | | Station |

Rebuilt: n/a
Status: Demolished
History:
The Hoyne station was opened in 1895 as part of the initial stretch of the Met's Garfield Park branch.
Hoyne station consisted of a station house at street level and dual side platforms at track level. The station house was typical of the Met designs on the Northwest and Garfield Park branches. Constructed of red pressed brick with stone sills and foundations, their vernacular style might best be described as Queen Anne-influenced with some Romanesque features. The stations' original design was highlighted by a semicircular bay/portico, a lattice pattern in the brick cornice, extensive terra cotta work including the word "entrance" above one door in the portico and "exit" above the other, dentals above the doors' story lights, and carved wooden beads flush with the building between the wooden brackets which support a wooden canopy over the portico.
The stations' dual side platforms had canopies and railings typical of all Met stations: Designed into the railings were larger cast iron square plates with a stylized diamond design. Each platform had a short canopy in the center of the platform, covering the stairs and a small waiting area. The canopy frame was iron, with arched latticed supports and bracketed rafters, and hipped roofs of corrugated tin.
In 1953, the Garfield Park branch was rerouted via temporary grade-level trackage east of Sacramento Avenue along Van Buren Street due to construction of the Congress [Eisenhower] Expressway, returning to the old elevated main line at Aberdeen, a block east of Racine. Hoyne station was one of several stations that closed on September 27 that year, allowing the old Met elevated to be demolished between Sacramento and Aberdeen.
A replacement station entrance -- the Damen entrance to Medical Center, one block east -- was opened on the Congress Line in 1958.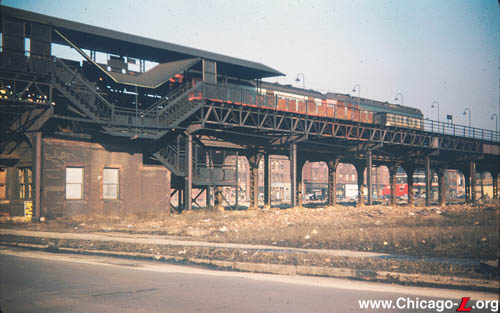 A two-car Chicago Aurora & Elgin interurban train passes through Hoyne station, looking northeast on January 27, 1952. The CA&E did not stop -- the interurban served Marshfield two stops east for most of its service life, and stopped at Ogden, one stop east of Hoyne, during the CTA era. This view shows the platform canopy and decorative railings that were typical of Met stations. The later platform extensions are evident by the simpler iron railings on the right. We are afforded such a good view of the station because land clearance has already commenced for the construction of the Congress (Eisenhower) Expressway. The project would claim the Hoyne station as well later the next year. For a larger view, click here. (Photo courtesy of the Krambles-Peterson Archives)