| | |
| --- | --- |
| | |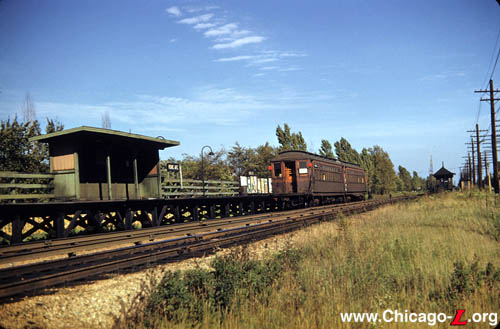 A two-car Garfield Park train of wood motor cars heads west, pulling into Home station on September 23, 1951. Home station had an unusual arrangement, with the platforms on different sides of Home Avenue: the outbound platform (seen in the foreground) was on the west side of the street, while the station house and inbound platform (visible in the distance) was on the east side of the street. The outbound platform had no fare controls, so any collection of fares had to be performed onboard trains by conductors. However, in practice, there was little outbound boarding at Home. The station is painted in hues of green and yellow/cream, reflecting the railcar livery of the 1920s. This was common in the Rapid Transit Co. era, to paint stations in the same scheme as the rolling stock, but the fact that the station still bears this paint scheme in the 1950s when the trains haven't for over a decade explains the station's shabby, well-worn appearance. For a larger view, click here. (Photo by Henry M. Stange, courtesy of the Krambles-Peterson Archive)
Home (1000W/900S)
Home Avenue and Harrison Street, Village of Oak Park
Service Notes:
| | |
| --- | --- |
| | Garfield Line |
Quick Facts:
Address: TDB
Established: March 11, 1905
Original Line: Metropolitan West Side Elevated, Garfield Park branch
Previous Names: none


| | | |
| --- | --- | --- |
| Skip-Stop Type: | | Station |

Rebuilt: n/a
Status: Demolished
History:
The Aurora Elgin & Chicago interurban began service from Aurora and Wheaton to a connection with the "L" at 52nd Avenue (Laramie) on August 25, 1902. Included on the AE&C's main line was a station at Home Avenue. The AE&C's (later reorganized as the Chicago Aurora & Elgin) service to stations on this segment of their main line was short-lived, as the Metropolitan "L" assumed local service between 52nd Avenue and Desplaines Avenue on March 11, 1905, relieving the AE&C of this unwanted chore. The extension of Garfield Park service to Desplaines and the Met's servicing of the local stations between was part of the reciprocal trackage agreement that allowed the AE&C to extend to downtown Chicago and the Fifth Avenue Terminal over the Metropolitan Elevated.
The Home station was a simple facility located at ground level, as the Garfield Park line ran at-grade west of Cicero station. The station consisted of wooden dual side platforms with a fare control facility on the inbound platform. One interesting aspect of Home station's arrangement was that the platforms were on different sides of Home Avenue: the inbound platform was on the east side of the street, while the outbound platform was on the west side of the street.
During the 1950s, the City of Chicago and Cook County undertook construction of the Congress Superhighway [Eisenhower Expressway] along the general alignment of the Garfield Park "L" line. Part of the project also included the new new Congress "L" Line to replace the Garfield Park. Home closed on September 20, 1953. Home was not yet in the way of the construction project but was closed due to its low patronage to speed up service on the Garfield Line, which had slowed due to a temporary grade-level trackage along Van Buren between Sacramento and Aberdeen with multiple street crossings.