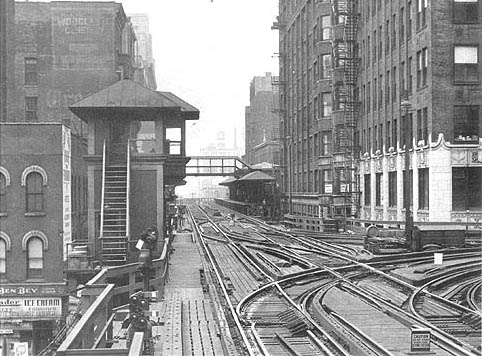 Almost all of the trackage of the Union Consolidated Elevated Railroad can be seen in this view, looking west out Van Buren Street at Tower 8 from the west end of the LaSalle & Van Buren Outer Loop platform. The Franklin & Van Buren station can be seen in the background, with its transfer bridge looming overhead. (Photo from the Bruce G. Moffat Collection)
Franklin/Van Buren (300W/400S)
Franklin Street and Van Buren Street, Loop
Service Notes:
| | |
| --- | --- |
| | Garfield Line |
Quick Facts:
Address: TBD
Established: October 11, 1897
Original Line: Metropolitan West Side Elevated
Previous Names: none


| | | |
| --- | --- | --- |
| Skip-Stop Type: | | Station |

Rebuilt: n/a
Status: Demolished
History:
The Franklin & Van Buren station was built by the Union Consolidated Elevated Railroad Company (one of two companion companies responsible for the construction of the Loop) in 1896 on the short two block leg needed to connect the Loop with the Metropolitan Elevated tracks. Interestingly enough, it was located a mere 1/2 block from the Met's original terminal at Franklin Street, 1/2 south of Jackson Street.
The design of the station was most likely the same as the other Van Buren stations, which had a uniform design unique to the south leg of the Loop. Although hardly high-style architecture, these stations' rectangular form, gable roof with small dormers, smooth Tucson posts, fluted pilasters, large double-hung windows, and unique ornamentation in the pediment lend it to the Colonial Revival style. This architectural style can not be found anywhere else on the "L" and is unusual for its execution in sheet metal and tin. This station was activated October 11, 1897 when the Metropolitan West Side Elevated rerouted its trains from the Franklin Terminal onto the Loop.
The station was closed on October 11, 1955 -- 58 years to the day after opening! -- when Garfield Park trains were rerouted to the Loop via trackage extended through the old Wells Street terminal, connecting with Loop elevated just south of Quincy, replacing the old Loop connection via Van Buren at Tower 8 (Wells/Van Buren). This section of elevated was demolished shortly after.
---

tower8a.jpg
Tower 8 controlled the only entry point to the Loop that no longer exists, at Van Buren and Wells. Looking north in the summer of 1937, a Ravenswood Shoppers Special turns east onto Van Buren from Wells. The tracks continuing west away from the photographer were used by the trains of the Metropolitan Division to enter the Loop until October 1955. The Franklin/Van Buren station is in the background. (Photo from the Krambles-Peterson Collection)