.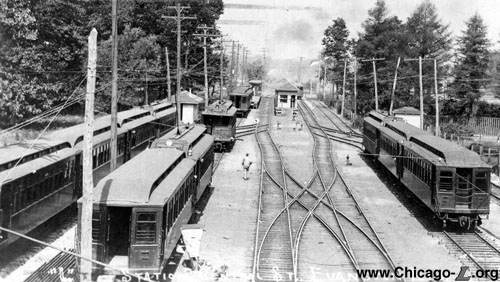 The Central Street yard is seen looking north circa 1910, probably from the Ridge Avenue overpass. The Central station is visible in the background. For a larger view, click here. (Photo from Graham Garfield Collection)
Central Street Yard
Central Street and Girard Avenue, City of Evanston
Service Notes:
Located:

Northwestern Elevated Railroad, Evanston branch
Quick Facts:
Address: TBD
Established: May 16, 1908
Yard Area: unknown
Rebuilt: n/a
Status: Demolished
"L" service was extended north of Wilson in Chicago's Uptown neighborhood to Central Street in north Evanston over the electrified tracks Chicago, Milwaukee & St. Paul Railroad. The St. Paul had built the line, under the auspices of the Chicago Evanston & Lake Superior Railway, as a commuter line to Chicago Union Station and began service in 1889. They'd hoped to continue north along the lake and meet the St. Paul main line near Sulphur Glen (Rondout). But this never happened, traffic never developed (thanks, in large part, to the parallel and competing Chicago & North Western commuter line) and the St. Paul began looking for ways to dump the service. The Northwestern Elevated answered that call and took over operation of the line to Central Street, Evanston on May 16, 1908.
The Central Street terminal consisted of a simple high-level wooden island platform and small headhouse at the north end of the platform near the street. The tracks and station were at ground-level, as was the entire Evanston extension of the Northwestern, as the "L" simply electrified the existing ground-level steam railroad's tracks.
A small yard was built at Central Street, south of the station, for car storage. The switches were not interlocked and there was no tower, so all switches were manually operated. There were just four storage tracks, so capacity was modest -- the yard was primarily used to store cars between rush periods. Because of the limited capacity, the primary car storage location continued to be at Wilson Yard; the lack of a shop or even open-air inspection pit meant that any maintenance or repairs also continued to be handled at Wilson.
By 1912, the Northwestern had outgrown its terminal at Central Street. There were also new riders to be had in the nearby suburb to the north, Wilmette, and a larger storage yard was needed at the north end of the line. In February 1912, Northwestern President Britton I. Budd notified Wilmette officials of his extension intentions and, despite opposition that quickly developed, the line was extended on April 1, 1912. The new terminal at Linden included a new, larger car storage yard. The Central Avenue yard was soon closed and the station's island platform was eventually replaced with a set of side platforms.
---

1913 - Central Street Yard track map (67k): From Instructions to Trainmen in Connection with Through Routing: "At Central Street there are four storage tracks, and at this point cars are added and cut from Evanston trains, in either direction, during the A.M. and P.M. rush periods. Switches at this point are operated by hand, green and white signals being displayed on switch stands."
Instructions to Trainmen in Connection with Through Routing, issued by CER to employees (1913) and reprinted in 1967 as Chicago Elevated Railroad: Consolidation of Operations, 1913. Graham Garfield Collection