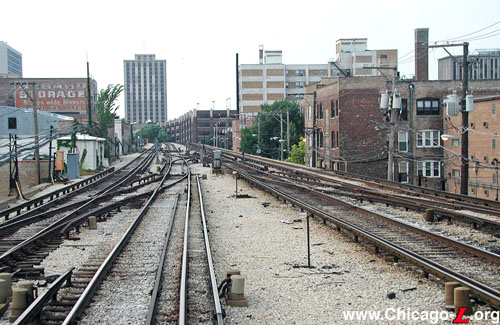 Granville Interlocking is seen looking north on July 26, 2003. The tower is located on the left side of the tracks. For a larger view, click here. (CTA Photo)
Granville Tower
Granville Avenue and Broadway, Edgewater
Service Notes:
| | |
| --- | --- |
| | North Side Main Line |
Quick Facts:
Established: circa 1922
Original Line: Northwestern Elevated Railroad
Rebuilt: n/a
Status: Decommissioned, partially demolished
Profile: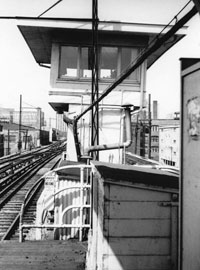 The original Granville Tower, located just beyond the north end of the Granville station platform, is seen in its last years in 1971. Tired and settling in its old age, it earned the nickname the "Leaning Tower of Granville". For a larger view, click here. (Lou Gerard photo)
Granville Tower was installed as part of the elevation of the North Side Main Line from Lawrence to Howard, which was completed in 1922. The tower, located between Tracks 2 and 3 north of Granville station, controlled a right-hand crossover from Track 2 (local) to Track 1 (express) and a left-hand crossover from Track 4 (express) to Track 3 (local). This interlocking was commonly used to switch Loyola Express and, in the CTA era Evanston Express trains, which stopped at Loyola for many years, between the local and express tracks. A right-hand crossover was also located between Tracks 2 and 3, but these were a hand-throw switches that were not controlled by Granville Tower.
On November 24, 1936, one of the "L"'s worst accidents occurred at Granville Interlocking when, contrary to normal practice, the Granville towerman held a northbound Loyola Express on Track 4 that normally was switched onto Track 3 in front of a scheduled local. Letting the local instead proceed on Track 3, a speeding North Shore Line train (which expected the Loyola Express to have switched tracks, as usual) slammed into the rear of the standing "L" express train. Nine "L" passengers died immediately in the accident; a tenth passed away the following day from injuries sustained. Many were taken to area hospitals, 36 with serious injuries.
Amid a broader reconstruction of the four North Side Main Line tracks from Lawrence to Howard, Granville Interlocking was altered in the mid-1970s. On December 23, 1974, a new automatic interlocking was placed in service at Granville for Tracks 3 and 4 only. On February 10, 1975, the automatic interlocking was placed in service for Tracks 1 and 2 as well. A local control panel in a wayside relay house controlled the new interlocking and was staffed when Evanston Express trains needed to be sorted. This allowed the old Granville tower to be closed effective February 10, 1975. By early 1976, a diamond hand-throw crossover between Tracks 2 and 3 replaced the old right-hand crossover there. A right-hand hand-throw crossover was also installed north of Loyola from Track 3 to Track 4.
The need to route Evanston Express trains to the express tracks southbound leaving Loyola in the morning and onto the local tracks approaching Loyola northbound in the evening through the new interlocking turned out to be short-lived. On December 20, 1976, the Evanston Express stops at Morse and Loyola were discontinued and the expresses began to use Tracks 1 and 4 at all times between Howard and Wilson.
Still, the installation of the new Granville Interlocking proceeded. On August 27, 1977, with Track 2 returned to service north of Granville to Thorndale following reconstruction, a new interlocked left-hand crossover between Tracks 1 and 2 was placed in service at Granville Interlocking, south of Loyola station. On April 10, 1979, a new right-hand crossover between Tracks 1 and 2 was placed in service, replacing an older right-hand crossover at the same location and controlled by Granville Interlocking.
Replacement with Thorndale Interlocking
As part of the CTA's Red-Purple Modernization Program (RPM), a new interlocking is planned to be installed at Thorndale. RPM's Lawrence to Bryn Mawr Modernization (LBMM) project includes replacement of the four-track embankment between Leland Avenue (south of Lawrence station) and Ardmore Avenue (between Bryn Mawr and Thorndale stations) with a new elevated structure, which would be built in halves (referred to as Stage A and Stage B by the project) so that two tracks can remain in service through the construction zone at all times. To achieve this, new interlockings are needed at the north and south ends of this zone to merge and sort trains transitioning between the 4-track and 2-track zones.
The interlocking at the north end of the LBMM area will be at Thorndale Avenue, south of the station. The new interlocking includes three diamond crossovers -- a pair between tracks 1 and 2 and between tracks 3 and 4 at the north end of the interlocking plant, and one between tracks 2 and 3 at the south end -- and a new tower.
The plan also includes the decommissioning of Granville Interlocking and removal of the interlocked switches as well as the existing hand-throw switches at that location.
Effective 10pm, Friday, November 13, 2020, the interlocking at Granville was removed from service. However, the elements of the interlocking were decommissioned and removed in stages over a period of time. Immediately, both the interlocked and non-interlocked crossovers were permanently removed from service, as were the route selectors and local control panel in the tower/relay house. However, the associated interlocking home signals and trips remained in service while a new cab signal system was being installed and commissioned through the area and were to be removed at a later date. The crossovers were removed in mid-November 2020, over two weekends when the specialwork was removed during weekend-long reroutes -- the track 3 and 4 switches were removed over November 13-16, followed by the track 1 and 2 switches on November 20-23 -- and replaced with straight rail.
As part of the preparation for reconstruction of the tracks and elevated structure, the North Side Main Line received new bi-directional cab signaling between Montrose and near Loyola to support the 2-track operation and provide new, more stable signal infrastructure for during construction. Installation of the new signal equipment, as well as its testing and commissioning, was an ongoing activity from summer 2020 through spring 2021. New signal bungalows -- relay houses at interlockings, and 'audio houses' at periodic mid-route locations -- were delivered, lifted and installed on specially-build platforms alongside the right-of-way during fall 2020: at Montrose Interlocking on August 28, at Berwyn on September 11, at Thorndale Interlocking on October 22, and at Loyola on October 14. As sections of the new track circuits between nodes (relay or audio houses) came online, the old circuits were turned off and signal equipment retired.
In March 2021, work on the new signal system has progressed such that the signals at the out-of-service Granville Interlocking could be removed from service. On Tuesday, March 23, 2021 at 10:30am, home signals X2R and X2L on Track 1, signals X10R, X4R and X4L on Track 2, and their associated track trips were permanently removed from service. Shortly after 9pm, Saturday, March 27, home signals X2R, X6L, X8L and X8R were deactivated and retired; their official out-of-service date was the next day, Sunday, March 28 at 8pm, when the signals and their associated track trips were permanently removed from service. With their decommissioning, all of the signals at the former Granville Interlocking were retired and bagged; the insulted joints at the signals were still in place but jumpered around to allow the new audio track circuits to operate properly. The relay house at Granville was subsequently decommissioned.
---

cta5298.jpg (275k)
A 95th-bound Red Line train, lead by 5000-series car 5298, is passing through Granville Interlocking on November 3, 2015. A signal maintainer, identifiable by his green safety helmet, is visible next to the train, walking toward the interlocking. (Photo by Graham Garfield)