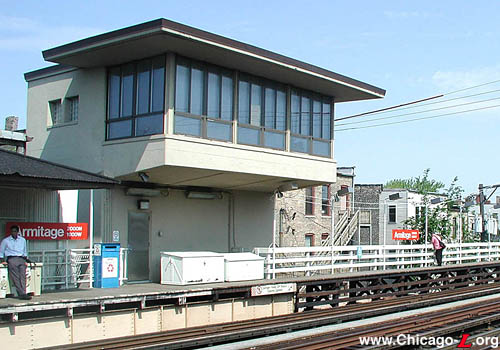 The old Armitage Tower, used to control Armitage Interlocking from 1943 to 1968, is seen looking northwest on June 17, 2003. For a larger view, click here. (Photo by Graham Garfield}
Armitage Tower
Armitage Street and Sheffield Avenue, Lincoln Park
Service Notes:
Services:

Red Line: Howard

Brown Line: Ravenswood

Purple Line: Evanston Express
Quick Facts:
Established: October 17, 1943
Original Line: North Side Division
Rebuilt: 1995-98
Status: In Use
Profile: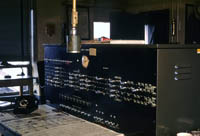 The tower panel inside old Armitage Tower is seen on July 21, 1951. Note that Webster station is still on the panel, though it has been closed for nearly two years. With all the traffic Armitage Tower handled, it's hard to believe the towerman would've had time to read the newspaper. For a larger view, click here. (Photo by B.L. Stone, courtesy of the Krambles-Peterson Archive)
Tower and its associated interlocking were installed in the early 1940s as part of the construction of the State Street Subway. The subway ascended to the surface at Wisconsin Avenue and joined the North Side Main Line just south of Armitage station. To accommodate the new subway, which came up in the middle of the North Side Main Line's four tracks, the main line had to be widened to allow the four elevated tracks to continue past the subway portal uninterrupted, essentially creating a right-of-way six tracks wide. A set of interlocked switches were installed to not only switch trains between the local and express tracks but between the express elevated tracks and the subway (which was exclusively used by express trains when it opened).
An interlocking tower made of cast concrete was erected at the north end of the Armitage station southbound platform to control the new interlocking. The tower is roughly four stories high, stretching from street level to a control room cantilevered over the tracks. Access is provided to the tower building from both street-level and platform-level. The tower room on the top floor features large picture windows on three sides for visibility north and south down the tracks. The interlocking consisted of a set of universal crossovers (a pair of left- and right-hand crossovers) between Tracks 1 and 2 and between Tracks 3 and 4 a block north of Armitage at Dickens Avenue; a diamond crossover between Tracks 2 and 3 at Armitage; and a left-hand crossover between subway Track A and Track 3 and a right-hand crossover between Track 2 and subway Track B south of Armitage, just before the descent into the subway.
After the CTA's North-South service revision, effective August 1, 1949, only Ravenswood and North Shore Line trains were regularly using the North Side Main Line between the Loop and Armitage, with Evanston Express trains added during weekday rush hours. With far fewer trains using this section of track, all trains used Tracks 2 & 3 between Armitage and Chicago towers during non-rush periods. Effective on the same date, Ravenswood trains operated in service only as far south at Fullerton during evenings and overnight, turning from south back north at Armitage Interlocking. On May 18, 1952, Ravenswood service was discontinued south of Fullerton all day Sundays as well, with the turnback performed at Armitage on Sundays as well. This continued until October 29, 1961 when owl and Sunday Ravenswood trains were cut back from Fullerton to Belmont.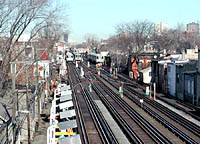 Armitage Interlocking is seen looking north from the old Armitage Tower on December 28, 2001. The number of trains that traverse the North Side Main Line is evident in this view. For a larger view, click here. (Photo by Graham Garfield}

Eventually, it was felt that there were few enough trains on the North Side Main Line between the Loop and Armitage even during rush periods to confine them to one track in each direction. All trains were routed on Tracks 2 and 3 south of Armitage in 1961. On January 21, 1963, the North Shore Line interurban abandoned service, removing the last service that needed to be switched from the express tracks that led into the subway to the elevated express tracks leading to the Loop. With little need to switch trains between the various tracks, towerman coverage at Armitage tower was discontinued on April 12, 1964. Armitage Interlocking was removed from service four years later on April 22, 1968, with the switches converted to hand-throw operation. Under normal operation, Tracks 2 and 3 were kept aligned to bring trains to and from subway Tracks B and A, respectively, which were used by North-South Route trains. Local Tracks 1 and 4 north of Armitage were left aligned for express Tracks 2 and 3 south of Armitage. However, since only Sedgwick station remained between Armitage and Chicago, and Sedgwick had island platforms that could serve all four tracks, the distinction between "express" and "local" tracks south of Armitage became somewhat nullified. Evanston Express trains were kept on Tracks 1 and 4 north of Armitage to avid having to switch them at Armitage Interlocking, although they did not make local stops there. However, all four tracks south of Armitage were kept serviceable for a time. When, on occasion, Tracks 1 or 4 were used to allow maintenance on Tracks 2 and 3, the switches were manually aligned. Finally, on October 18, 1976, Tracks 1 and 4 between Armitage and Chicago were removed from service and all trains were permanently routed as described above.

In the meantime, with the switches converted the manual operation and no need for a tower at Armitage, the old interlocking tower was converted to CTA offices. For many years, the old Armitage Tower housed the North Section district offices where the transportation superintendents had their offices and rail supervisors reported for the North Side "L" routes. In later years, after the districts were dissolved and transportation managers moved to terminals, the old tower became home to the CTA Signal Department.

Armitage Crossover remained the same for nearly 30 years until, in the mid-1990s, work began to renew the switches and covert the Armitage back into an interlocking. On April 4, 1997, the diamond crossover between Tracks 2 and 3 was permanently removed from service. Ten days later, on April 14, 1997, a new diamond crossover between Tracks 2 and 3 a block north of Armitage, at Dickens Avenue, was placed in service. On the same date, a left-hand crossover from Track 1 to Track 2 and a right-hand crossover from Track 3 to Track 4 were placed in service two blocks north of Armitage at Webster Avenue. On July 1, 1998, a new right-hand crossover from Track 1 to Track 2 was placed in service at at Armitage, replacing the old right-hand crossover at Dickens. A similar left-hand crossover at Armitage was also placed ins service between Tracks 3 and 4 around the same time. All of the new crossovers were hand-throw switches for a few years until the new State Street Subway ATC signal system was nearly complete. On May 7, 2001, the new Armitage Interlocking was placed in service, consisting of the above-described two right-hand crossovers, two left-hand crossovers, and one diamond crossover. The new interlocking was not controlled from the old Armitage Tower. Instead, local control was from a relay house located at Webster Avenue.

Brown Line Capacity Expansion Project

As part of the Brown Line Capacity Expansion Project, whose primary purpose was to renovate 16 Brown Line stations to accommodate 8-car trains and provide ADA-accessibility, the signal system on parts of the Brown Line were planned to be upgraded and modernized.

On October 14, 2004, the Chicago Transit Board approved a $45.5 million construction contract for Aldridge -- Mass, AJV (A Joint Venture) to upgrade the signal system. Part of Aldridge's contract was to install a new signal system from Armitage on the south to Addison (North Side Main Line) and Lakewood (Ravenswood branch) on the north. The work on this stretch, which became known as the "Clark Junction Corridor" or simply "the Corridor" during the project, included the installation of 14 new interlocked crossovers at five locations -- Belden, Altgeld, Barry, Clark Junction, and Lakewood-Seminary -- new signals, relay houses, and local control panels, and the rehabilitation of Clark Tower. Work in the Clark Junction Corridor began in late 2004.

Because Armitage Interlocking had only recently been rebuilt, reconstruction of Armitage was not included in the Brown Line signal contract. However, as part of the rehabilitation of Clark Tower, the tower's new master panel has the ability to remotely control all of the interlockings in the Clark Junction Corridor, including Armitage Interlocking. Work at Clark Tower concluded in late 2006.

Funding for the contract was provided by the Federal Transit Administration -- both Full Funding Grant Agreement funds and formula funds -- the Regional Transportation Authority and the Illinois Department of Transportation.
---

cta53c.jpg (127k)
Car 53 leads a fan trip celebrating CERA's 35th Anniversary of Mint Green and Alpine White PCC "L" cars (followed, out of frame, by cars 50 and 6101-6102) at Armitage on May 28, 1973. (Photo by Art Peterson, Collection of Joe Testagrose)

armitage01.jpg (50k)
A 4000-series train passes Armitage. The control tower above the canopy was added later, early in the 1940s when the subway was built. Note the old-style station sign on the left. The destination sign on the front of the train is for the Evanston Express. (Photo by Joe Testagrose)

armitage02.jpg (133k)
Car 2160 leads a six-car train of North-South Route 2000s painted in the platinum and black scheme past Armitage in 1982. (Photo by Leon Kay)

cta6158.jpg (118k)
A southbound 8-car Jackson Park-Howard "B" train is led by 6158 as it passes Armitage on August 20, 1970. (Photo by Joe Testagrose)

cta2611b.jpg (100k)
Rocketing past the "local" station at Armitage, a southbound Red Line train led by car 2611 heads toward the State Street Subway portal on track 2 on June 10, 2001. (Photo by Mike Farrell)

cta2829.jpg (102k)
Passing the Brown Line stop at Armitage, a Red Line train led by car 2829 heads to downtown on the inside express track, looking northwest on June 10, 2001. (Photo by Mike Farrell)

cta3324.jpg (123k)
Car 3324 leads a two-car Brown Line train -- a typical Sunday consist -- stopped at Armitage station on June 10, 2001. Armitage Tower is now an office for a signal supervisor, the tower controls for Armitage Interlocking having been transferred to the new Webster Tower. (Photo by Mike Farrell)

armitage03.jpg (187k)
The old Armitage Tower is seen on the right in this view looking south from the Armitage station southbound platform on June 21, 2001. In later years, the old tower has housed offices of the CTA Signal Department. For many years, signal foreman Peter Vesic kept "L" car destination sign boxes with mylar roller curtains in the north windows, setting them to a different (often unusual) reading each day. (Photo by Graham Garfield)

armitage04.jpg (177k)
Purple bunting was hung on the front of Armitage Tower in honor of CTA South Side signal foreman Peter Vesic following his sudden passing on June 29, 2002. Pete was not only a longtime CTA employee and signal expert, but also an avid railfan and historian, volunteering at the Illinois Railway Museum and instrumental in saving several "L" cars for preservation. Pete is missed by his friends and colleagues at the CTA and in the transit community. This view looks southwest on July 6, 2002. (Photo by Graham Garfield)

armitage15.jpg (212k)
This view of Armitage looking north on the outbound platform on July 23, 2007 shows the old platforms in their final hours before being blocked off for renovation. The old Armitage Tower is seen in the background. (Photo by Tony Coppoletta)
| | |
| --- | --- |
| | |