SOAC (State-of-the-Art Cars)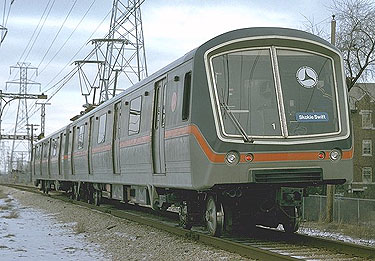 The State-of-the-Art cars operate on the Skokie Swift line, approaching Main Street on January 19, 1974. (Collection of Joe Testagrose)
Specifications:
Built by: St. Louis Car Division, General Steel Industries
Year: 1972
Length: 74'-8.5"
Width at Floor: 9'-7.25"
Width at Windows: 9'-9"
Height over Roof: 11'-8.5" to 12'-1.5"
Trucks: ?
Truck centers: 33'-8"
Truck wheelbase: 7'-6"
Coupler: ?
Wheel diameter: ?
Seats: 62 (Car 1), 72 (Car 2)
Weight (w/o passengers): 90,000 lbs.
Motors per car ?
Free speed: 80 mph
History:
In the early 1970s, the U.S. Department of Transportation and the Federal Transit Administration (FTA) sponsored a program to demonstrate the concept of a state-of-the-art "standard" subway car that could be manufactured to cheaply modernize the nation's transit systems. Requests for proposals (RFPs) for the State-of-the-Art Car (SOAC) were issued in July 1971 to five companies: The Budd Company, Pullman-Standard, Rohr Industries, St. Louis Car, and Vought Aeronautics. Evaluation of the three proposals received from Pullman, Rohr, and St. Louis Car resulted in Boeing's recommending and the Urban Mass Transportation Administration's (UMTA's) approving award of the subcontract in September 1971 to St. Louis Car Division of General Steel Industries for two cars.
The cars were designed, fabricated, functionally tested, and delivered to the Pueblo, Colorado, Transportation Test Center (TTC) in August 1972, 11 1/2 months after the subcontract award. The then-significant current technology incorporated the following features into the SOACs:
Carpeted floors
Forced air constant flow motor ventilation with inertial separators
High flow capacity AC air conditioning system
Human-engineered motorman's console
Human-engineered passenger-oriented interior
Impact-resistant windshield
Lightweight air suspension truck with chevron primary springs
Reduced noise level
Removable, retractable pantograph
Separately excited field DC motors
Solid state DC chopper control
Stainless steel body construction
Styled exterior
Tinted tempered safety glass windows
Following a preliminary test and adjustment phase, the SOAC vehicles underwent extensive testing at TTC. In addition to confirming vehicle performance characteristics, the SOAC tests established an engineering data baseline for future programs and for comparing various transit property track characteristics to the Rail Transit Test Track. A delay in testing and evaluation was caused by a collision in August 1973, necessitating major repairs to one of the two cars. After these repairs were completed in December 1973, systems testing was partially repeated and completed in April 1974. Testing included 10,219 miles of simulated demonstration operation: 4,197 car miles before and 6,022 car miles after the accident.
The operational demonstration and evaluation phase of the SOAC program started when the cars arrived in New York City on April 18, 1974.
The cars came to Chicago in early 1975. The SOACs were based, in part, on the then-current New York "B" Division car, making them too long and too wide to clear most of the CTA "L" system. Therefore, a test was set up on the Skokie Swift, where there were no intermediate stations to clear and no sharp curves. Still, the platforms at Howard and Dempster were too wide to accommodate the SOACs. To handle the cars, one platform at Howard and both platforms at Dempster were fit with motorized flaps that dropped when the SOACs pulled in, making a wider berthing zone for then trains. A single-track was operated between Howard and the Ridge Avenue crossover, also specially installed to accommodate the SOAC. The cars ran on the Skokie Swift for thirteen days in January 1975.
The demonstration ended with the completion of the Philadelphia demonstration on April 30, 1975.
An extension of the SOAC demonstration program to provide approximately 9 months of revenue service on the Port Authority Transit Corporation (PATCO) High-Speed Line between Lindenwold, New Jersey, and Philadelphia, Pennsylvania, was arranged at PATCO's suggestion. Initiation of the service was delayed until August 12, 1976, due to necessary vehicle modifications and a protracted negotiation for liability insurance coverage. Several problems resulted in only 23 days of intermittent service and subsequent termination on January 24, 1977. The vehicles were then stored at Boeing Vertol awaiting induction into the Advanced Subsystem Development Program. In May 1979, one was shipped to The Budd Company and the second to TTC, where both will be involved in a separate contract test program of ASDP trucks and brakes.
SOAC successfully demonstrated modern transit car technology to transit authorities and the riding public in five major cities. Incorporating features and improvements based in part on operational evaluation of BART vehicles, the SOACs were well-received. The riding public was impressed with the smooth ride, low noise, air conditioning, interior appointments, and high light level, while the motormen assigned to SOAC found the smooth response, fine control, and automatic speed-maintaining system particularly desirable.
The SOAC program developed data to better define the rail rapid transit environment. Differences between the trackage at the properties and the TTC were pointed up by the engineering test data and by the differing maintenance requirements encountered.
The DC-to-DC chopper technology demonstrated on SOAC and used on BART influenced the decision to use this technology on Light Rail Vehicles (e.g., Boston, San Francisco, Cleveland, and Philadelphia) and heavy rapid rail vehicles (Atlanta, Baltimore, and Miami).
Additional deployment of SOAC concepts on new transit vehicles includes:
Motor-alternator with AC auxiliaries for reduced maintenance (CTA and SEPTA).
Forced-air traction motor ventilation (CTA, MARTA, SEPTA, and MBTA).
Self-cleaning inertial filters (MBTA and MUNI).
Acoustical design to reduce wayside and interior noise by 10 to 15 dBA (all new rail vehicles).
Improved-ride quality air-suspension truck (MARTA, MBTA, MUNI, and WMATA).
SOAC City Demonstration Statistics
.

NYCTA
New York

MBTA
Boston

CTS
Cleveland

CTA
Chicago

SEPTA
Philadelphia

Total

Revenue Service Days

30

22

15

13

24

104

Round Trips Made

86

176

85

149

121

617

Car Availability (Percent)

70

99

88

100

95

92

Estimated Passenger Count

100,000

125,000

20,000

7,500

60,000

312,000

Miles in Service

5,680

4,730

4,217

1,968

3,000

19,595
---