A single-car train stops at Western. The station changed little in its 50-year existence. For a larger view, click here. (Photo by Joe L. Diaz)
Western (2400W/1600N)
Western Avenue and North Avenue, West Town
Service Notes:
| | |
| --- | --- |
| | Humboldt Park Line |
Quick Facts:
Address: TBD
Established: July 29, 1895
Original Line: Metropolitan West Side Elevated, Humboldt Park branch
Previous Names: none
Skip-Stop Type: n/a
Rebuilt: n/a
Status: Demolished
History:
In 1895, the Metropolitan West Side Elevated Railroad completed its branch of the Northwest branch to Humboldt Park. This line, terminating at Lawndale Avenue, left the Logan Square line just after the Robey (Damen) stop and went due west just north of North Avenue, passing just north of scenic Humboldt Park. Western was the first stop on the line.
The station house was typical of Met designs on the Northwest and Garfield Park branches. The stations were designed by the engineering staff of the Metropolitan company. Constructed of red pressed brick with stone sills and foundations, their vernacular style might best be described as Queen Anne-influenced with some Romanesque features. The station's original design was highlighted by the semicircular bay/portico, a lattice pattern in the brick cornice and extensive terra cotta work including the word "entrance" above one door in the portico and "exit" above the other (although there is nothing to force ingress from one and egress from the other).
The station had dual side platforms, with canopies and railings typical of all Met stations: Designed into the railings were larger cast iron square plates with a stylized diamond design. The stairs and platforms were constructed of wood on a steel structure. Each platform had a short canopy in the center of the platform, covering the stairs and a small waiting area. The canopy frame was iron, with arched latticed supports and bracketed rafters, and hipped roofs of corrugated tin.
In the early 1930s, the entire length of Western Avenue was widened. This expansion required the demolition of a number of buildings along the thoroughfare and resulted in the "L" station being trimmed back to a new building line. At that time, it was given a new front of glazed terra cotta. The tan and green addition, typical in design of 20s/30s art deco architecture, stood in stark contrast to the dark brick original building, which could still be seen on the sides and in back. The words "L • Rapid Transit • L", executed in green terra cotta, were a prominent and impressive feature. Nearly identical fronts were also put on the Western Avenue stations at the Douglas Park, Garfield Park, and Logan Square Met stops. (The Lake Street "L" crossed Western, but had no stop. The Western station on the Ravenswood branch had a new front added in the late 1920s and was apparently untouched.)
The CTA® abandoned the Humboldt Park branch on May 4, 1952, citing it as hopelessly unprofitable.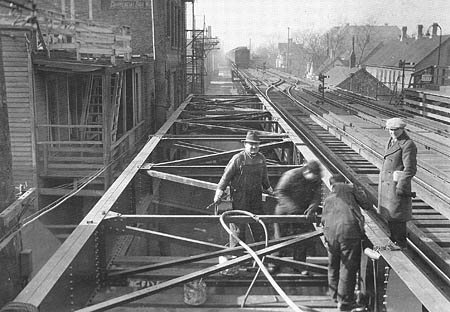 CRT workers complete a platform extension at Western in early 1931. The train in the background is parked, as the eastbound track on the Humboldt Park branch between Western and California was often used for storage off-peak. For a larger view, click here. (Photo from the Chicago Transit Authority Collection)