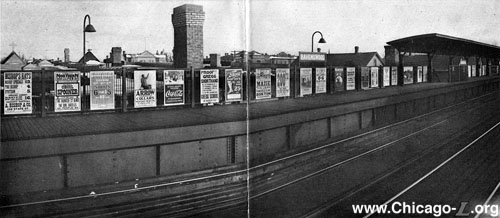 One of the platforms at Ravenswood station is seen circa the 1910s. The photo was included in the brochure Bird's Eye View of the Elevated Railroads, Parks and Boulevards of Chicago, issued by the Chicago Elevated R.R. Advertising company to promote poster advertising along the elevated system, which explains the abundance of advertising posters in this view. For a larger view, click here. (Photo from the JJ Sedelmaier Collection)
Ravenswood (4600N/1800W)
Wilson Avenue and Ravenswood Avenue, Ravenswood
Service Notes:
| | |
| --- | --- |
| | North Side Division, Ravenswood branch |
Quick Facts:
Address: 4530 N. Ravenswood Avenue
Established: May 18, 1907
Original Line: Northwestern Elevated Railroad, Ravenswood branch
Previous Names: none
Skip-Stop Type: n/a
Rebuilt: n/a
Status: Demolished
History:
Ravenswood opened with the initial construction of the Ravenswood branch of the Northwestern Elevated, which was placed into service May 18, 1907. In most respects, the Ravenswood station was typical of the elevated stations built for the Ravenswood branch except for how the station was sited. Rather than being located at a cross-street with the station house under the elevated structure fronting on the perpendicular thoroughfare, the station was located mid-block, south of Wilson Avenue. The station was most likely located here because the Ravenswood station on the Chicago & North Western Railroad was originally located south of Wilson Avenue, across from the "L" station's location; the Northwestern Elevated probably saw the steam railroad's station as a potential traffic generator. (The Ravenswood station, with commuter service now operated by the Union Pacific on behalf of Metra, was later relocated two blocks north to between Leland and Lawrence.) The station house was under the elevated structure, but faced Ravenswood Avenue, the street paralleling the elevated line. Because the "L" structure was adjacent to the alley between Ravenswood and Wolcott avenues, the station house was set back from the street approximately 110-feet rather than fronting the property line, requiring a long walkway connecting the station house to the sidewalk.
The headhouse was of a modest size and scale, relating to its role as a modest neighborhood station. The building's exterior was constructed of dark brick and had a fairly simple design. The walls were largely unadorned, except for simple ornamentation around the cornice, belt rail, and in the hood over the front entrance, all of which was executed in the same brick as the rest of the exterior. The doors had multi-pane windows. The interior of the station was similarly modest. As built, there were two open areas on either side of the doors at the front for circulation and concessions. The interior then narrowed into the fare control with agent's booth in the center. The interior walls were clad in glazed brick. A large, bracketed, heavy wood beam ran across width of the interior in the center, relating a Craftsman-influence to the simple design.
The original canopies, which were typical of the 1907 Ravenswood branch stations, featured a gently curved roof with latticed support columns and framing. The platform railings consisted of flat panels alternated with thin balustrades and sunflower rosettes.
Ravenswood survived the CTA's 1947 takeover, but was one of 23 stations closed in their North-South Route service revision August 1, 1949. The concept of "local" stations, of which Ravenswood's low usage was only suited, was not a part of the A/B skip stop concept and the station was closed.