| | |
| --- | --- |
| | Construction of the North Water Street terminal is nearly finished in this blurry picture looking east from Wells Street in 1908. (Photo from the Bruce G. Moffat Collection) |
North Water Terminal (350N/100W)
North Water Street (Carroll Avenue) and Clark Street, Near North Side
Service Notes:
| | |
| --- | --- |
| | North Side Division |
Quick Facts:
Address: TBD
Established: November 17, 1908
Original Line: Northwestern Elevated Railroad
Other Names: North Water Stub
Skip-Stop Type: n/a
Rebuilt: n/a
Status: Demolished
History:
By 1907 the Loop had already reached capacity, requiring the original three lines to reopen their stub terminals at Congress, Market and Wells, which were closed when the Loop opened. Though the Northwestern Elevated, unlike the other three lines, always ran into the Loop, they too saw the wisdom in a terminal for rush hour overflow just outside the Loop. The city council approved a franchise July 17, 1908 and the Northwestern got the terminal built and opened in just four months! The station was only used during rush hours, with trains going to and from Ravenswood, Wilson and Howard (express to Argyle then local to Howard).
The North Water Terminal was located on a short branch off the North Side Main Line (today's Brown Line) just north of the Chicago River. Just south of the Kinzie Avenue station (and the Merchandise Mart station, after it opened in 1930), a two-track main branch off the to east over North Water Street (later renamed Carroll Avenue), which was little more than a glorified right-of-way in which the Chicago & NorthWestern Railway ran. The two-track branch ended in a three-platform terminal -- a side platform for each track, plus mutual access to a center island platform -- that stretched between Clark and LaSalle. It is unclear whether there was ever really a station house to speak of; most likely, there was a mezzanine fare collection facility of some type. Later, all three platforms were extended across LaSalle Street and after the Merchandise Mart station opened, a elevated pedestrian bridge was built between the two nearby stations.
With the large-scale service revisions brought on by the CTA®, the station was closed July 31, 1949. It was not, however, demolished for some time. The station and tracks were closed to passenger service, but were retained for specials, charters, equipment storage, and emergencies. In 1952, the northbound Merchandise Mart platform needed to be extended south, so a cleverly-designed 70 foot movable platform extension was built that could be swung out of the way of the branch tracks when access to North Water Terminal was needed. In 1963, North Water Terminal was finally closed and the switches were removed. The structure and station were demolished shortly thereafter.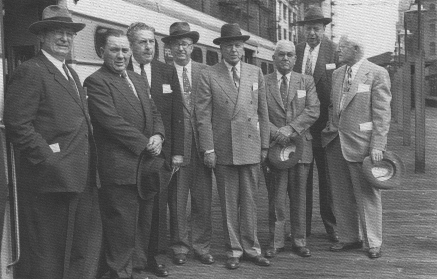 After North Water Terminal closed to passenger traffic, it was used for specials, charters, lay-ups, and emergency equipment storage. About to enjoy a test run on the prototype high-performance 6000-series cars are (left to right) CTA Chairman Virgil Gunlock, Mayor Richard J. Daley, Alderman J.E. Egan, CTA Board members W. W. McKenna, P. W. Collins, and J. R. Quinn, Alderman O. F. Janousek, and CTA Board member J. Holmes on October 3, 1955. (Photo from the Krambles-Peterson Collection)
---

north water terminal03.jpg (174k)
The right-of-way of the former North Water Terminal above "Carroll Avenue" (really just an open easement with old freight tracks), as it appeared on April 4, 2002 from the Merchandise Mart station, 53 years after the station's closure as a revenue service facility and 38 years after its removal. (Photo by Graham Garfield)
(Thanks to J.J. Sedelmaier for the tidbit on North Water's year of demolition.)