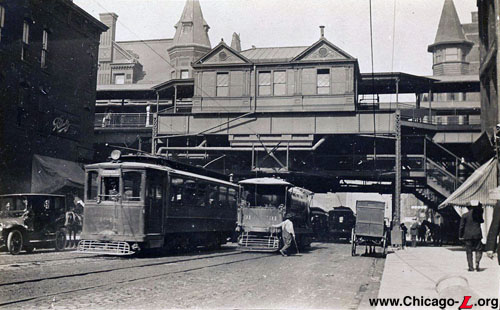 The Kinzie station's east station house is seen looking west on Kinzie Street in this rare postcard view. The Chicago & North Western railroad terminal is visible in the left background behind the "L" station. For a larger view, click here.
Kinzie (400N/200W)
Kinzie Street and Wells Street, Near North Side
Service Notes:
| | |
| --- | --- |
| | Northwestern Elevated Railroad, Main Line |
Quick Facts:
Address: TBD
Established: 1900
Original Line: Northwestern Elevated Railroad
Previous Names: none
Skip-Stop Type: n/a
Rebuilt: n/a
Status: Demolished
History:
Kinzie station was built as part of the original Northwestern Elevated Railroad. Designed by architect William Gibb, who designed the stations on the Northwestern Elevated's first segment from the Loop to Wilson, the station had two platform-level station houses, one in each direction of travel, connected by a mezzanine over the street. Each station house handled passengers only for one direction of travel. The station houses featured decorative pilasters, large double-hung windows, bay windows and unique ornamentation in the pediment, giving the structure a Colonial Revival feel. The station had dual side platforms.
Kinzie station served the original Chicago & North Western Railway terminal on Wells Street until its closure in 1911. The Merchandise Mart stands on the site of the C&NW terminal today.
Kinzie station was closed in 1921, replaced by Grand station a few blocks north. The Merchandise Mart station opened in 1930 on roughly the same site that Kinzie station had earlier occupied.