.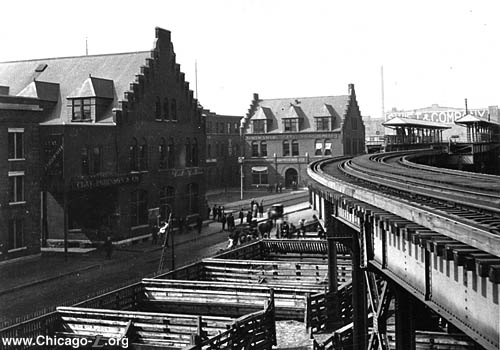 This view looking southwest shows the corner of Morgan and Exchange in the Union Stock Yards, with the Exchange Building in the background and livestock pens below. The Exchange "L" station is visible on the right. For a larger view, click here. (Photo courtesy of the Historic Architecture and Landscape Image Collection, Ryerson and Burnham Archives, The Art Institute of Chicago)
Exchange (4100S/1000W)
Exchange Avenue and Morgan Street, Union Stock Yards (New City)
Service Notes:
| | |
| --- | --- |
| | Stock Yards Line |
Quick Facts:
Address: TBD
Established: April 8, 1908
Original Line: South Side Elevated Railroad, Stock Yards branch
Previous Names: none
Skip-Stop Type: n/a
Rebuilt: n/a
Status: Demolished
History:
Many of the stations on the Stock Yards branch -- and three of the four in the yard itself -- were named not for streets but for the meat packing companies whose plants they were near and served. Exchange was an exception, named for Exchange Avenue, an east-west thoroughfare.
Since trains operated in a one-way loop around the yards, most stations had a single side platform. Exchange, however, was one of the few stations on the two-track truck line that connected the Stock Yards branch's loop around Packingtown to Indiana station. As such, Exchange was a traditional dual side platform station, with wood deck platforms on a steel structure. The platforms were each covered by a peaked-roof canopy of steel supports down the middle of the platform with a gently-curved bracket and intricate latticework supporting a hipped corrugated metal roof. Fare control was most likely located in a small, simple station house.
By the mid-1950s, it was becoming apparent that falling ridership and increasing deterioration of the Stock Yards line and its cousin, the Kenwood line, would require some sort of immediate action. Plans were formulated for how to continue service, but no agreement could be reached with the lessor Chicago Junction Railway (from whom CTA rented some of the property on which the Stock Yards and Kenwood lines were located). Other factors also sealed the Stock Yards branch's fate: Due to changes in the meat packing industry, the Union Stock Yards became redundant and outdated. Now with its main purpose waning, the Stock Yards branch, and Exchange station, closed October 7, 1957 and was demolished thereafter.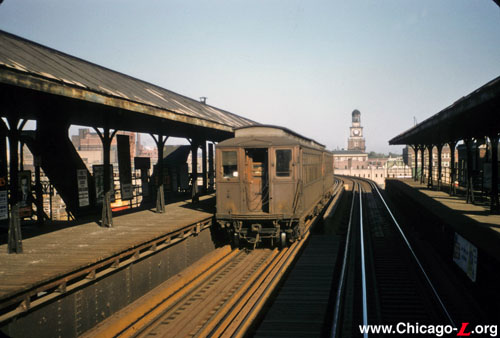 Car 2858, a 1906 Pullman product built for the Metropolitan West Side Elevated, leads a two-car train of well-worn wood cars heading westbound toward Packingtown. The train is stopped at Exchange station on September 30, 1957, looking east. Car 2858 was among the last of this series of cars to be scrapped, in October 1958. For a larger view, click here. (Photo by George Krambles, courtesy of the Krambles-Peterson Archive)
---

exchange02.jpg (149k)
A two-car train of ex-Metropolitan "L" wood cars departs Exchange on its way to Indiana station, looking east on September 16, 1957. The Stock Yards branch made a slight jog to the north just east of Exchange station. The bridge in the background crosses one of the many branches of the Chicago Junction Railroad around the Stock Yards complex. (Photo by George Krambles, courtesy of the Krambles-Peterson Archive)

cta205.jpg (84k)
A single Jewett, car 205, leaves Exchange station on the Stock Yards branch in this undated view. After the end of the Wilson-Kenwood through service in July of 1949, several cars from this series remained on the South Side to operate the Kenwood, Normal Park and Stock Yards shuttle services. The last of the 181-250 series cars were retired during 1951. (Photo from the Jeff Obarek Collection)