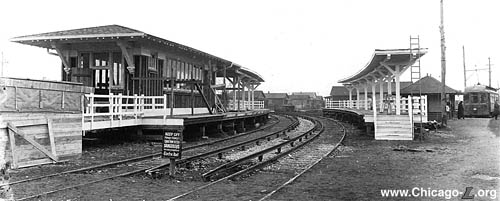 Work on the Bellwood Avenue station nears completion in this February 1926 view. North Shore Line car 27, borrowed by the CA&E for use on the Mt. Carmel shuttle, is visible at the CA&E's Bellwood station on the right. For a larger view, click here. (Photo from the Louis Gerard Collection)
Bellwood (3800W/700S)
Bellwood Avenue near Madison Street, Village of Bellwood
Service Notes:
| | |
| --- | --- |
| | Metropolitan Division, Westchester branch |
Quick Facts:
Address: TBD
Established: October 1, 1926
Original Line: Metropolitan West Side Elevated, Westchester branch
Previous Names: none
Skip-Stop Type: n/a
Rebuilt: n/a
Status: Demolished
History:
The Westchester branch, originally conceived to be a high-speed bypass route for Chicago Aurora & Elgin interurban trains, was designed to leave the CA&E main line just east of their existing Bellwood station at Bellwood Avenue. The branch, which was made the responsibility of the Chicago Rapid Transit Company to operate, left the CA&E main line just east of Bellwood Avenue, crossed the street, then turned into a sharp curve to the south. A new Bellwood station for the "L" was built in this curve on the west side of Bellwood Avenue, just feet away from the CA&E's own Bellwood station on the main line.
The Bellwood "L" station featured dual side platforms with a station house on the inbound platform. The station house, largely similar if not identical to the Westchester terminal built at Roosevelt one mile south, was a largely vernacular design with strong influences from the Prairie School style and some Craftsman elements. The building had stucco exterior walls topped with a hipped roof with wide, overhanging eaves supported by heavy wood brackets. Its low massing, banded casement windows, and horizontal lines gave it a vaguely Prairie School feel. Both platforms featured canopies with flat roofs and a row a center wooden posts with heavy angled brackets.
The Bellwood station remained largely unchanged for the next 25 years. The station closed on December 9, 1951, when Westchester "L" service was withdrawn and the CTA replaced the branch with bus service. The station was demolished shortly after.