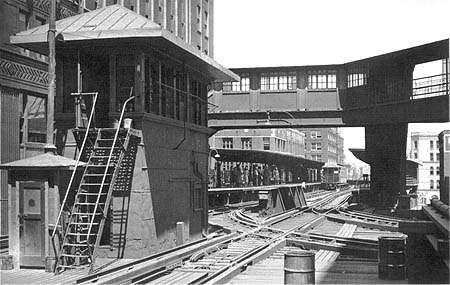 North Water Tower, controlling the switches connecting the North Side Main Line with the short branch to North Water Terminal, as well as the Wells Street Bridge, is seen looking north. The overhead transfer bridge connects the station platforms with the Merchandise Mart building and the North Water Street station. (Photo from the CTA Collection)
North Water Tower
North Water Street (Carroll Avenue) and Wells Street, Near North Side
Service Notes:
Services:

North Side Main Line
Quick Facts:
Established: 1908
Original Line: Northwestern Elevated Railroad
Rebuilt: n/a
Status: Demolished
Profile:
North Water Tower was installed as part of the construction of the North Wester Stub branch and station, which was completed and opened on November 17, 1908. The tower, located on the south side of the double-track turnout from the North Side Main Line to the North Water Stub and, after 1930, immediately south of Merchandise Mart station, controlled the junction, as well as the "L"'s switches and signals associated with the Wells Street Bridge.
On July 31, 1949, the CTA instituted its North-South Route service revision, which included discontinuance of scheduled service out of the North Water Terminal. The stub was retained for emergencies and other non-revenue purposes, however.
By the 1950s, there were two different interlocking machines in the tower. The machine controlling the Wells Street Bridge was a United Switch & Signal (US&S) Model 14 electro-pneumatic machine, of generally the same type as used at many locations throughout the "L". The other machine was a General Railway Signal Co. (GRS) Model 5 electric machine -- possibly the only one of this manufacturer anywhere on the "L" system -- controlled the North Water Junction and the crossovers in front of the North Water Terminal station. The switch machines and other equipment were electric, while most other "L" interlocking up to his point were powered by compressed air. The Congress Line, which opened in 1958 (two years after North Water Tower was removed from service), was the first broad use of electrically-powered interlocking switches on the "L". The use of a GRS machine at North Water Tower was unusual at a time when the rest of the system pretty much exclusively used US&S equipment until the Congress Line opened.1
North Water Tower was closed on August 10, 1956, with the operating controls for the Wells Street Bridge being transferred to Tower 18. Hand-throw switch stands were installed at the switches leading into North Water Terminal and the tower was subsequently demolished.
North Wester Stub was closed on June 21, 1963 and the switches were removed.
Correspondence with Kendrick Bisset, former CTA Director, Power and Way Engineering, 2011 April 29-30.