Ocean's Eleven
The 2001 release of Ocean's Eleven is a remake of the 1960 Rat Pack heist movie, with George Clooney taking up the Frank Sinatra part as recently-paroled con man Danny Ocean. Here, Ocean rounds up a gang of eleven associates to stage simultaneous heists of three major Las Vegas casinos -- Bellagio, The Mirage, and the MGM Grand -- during a popular boxing event. All three are owned by suave control freak Terry Benedict (Andy Garcia), who also happens to be dating Ocean's ex-wife, Tess. None of the other characters from the 1960 film are reused, with the other parts going to contemporary stars Matt Damon, Andy Garcia, Brad Pitt , Julia Roberts, Casey Affleck , Scott Caan, Elliott Gould, Don Cheadle, Bernie Mac, and Carl Reiner.
The casino robbery will occur in one night and require the talents of a crew of skilled thieves. At the beginning of the film, we see each of them in action as Ocean prepares to recruit them, including the Chicago pickpocket, Linus Caldwell, played by Matt Damon. We are introduced to Caldwell as he rides the "L"TM on the Orange Line, practicing his craft.
(All clips and pictures are © 2001 Warner Brothers Pictures)
---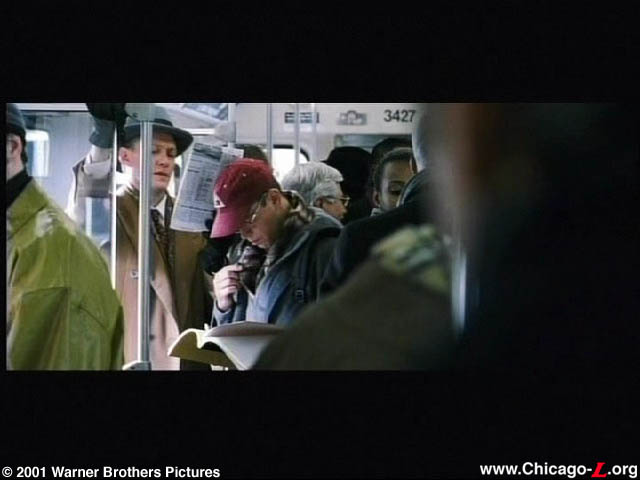 Linus Caldwell (Matt Damon) riding the "L" in Ocean's Eleven. For a larger view, click here. (Screenshot copyright 2001 Warner Brothers Pictures)
Pictures
Thanks to Scott Coleman for providing these screenshots.
Facts about the movie
The car seen in the film is car 3427, a Brown Line-assigned 3200-series unit, although its presence on the Inner Loop at Library would seem to indicate it was an Orange Line train (of course, the movie doesn't really address or care what line it was...). Since their delivery to the system, the 3200-series cars have been the most commonly used units for film making.
Linus Caldwell gets off the train at the Library-State/Van Buren Inner Loop platform.
Matt Damon's part as pick pocket Linus Caldwell was meant for Mark Walhberg.