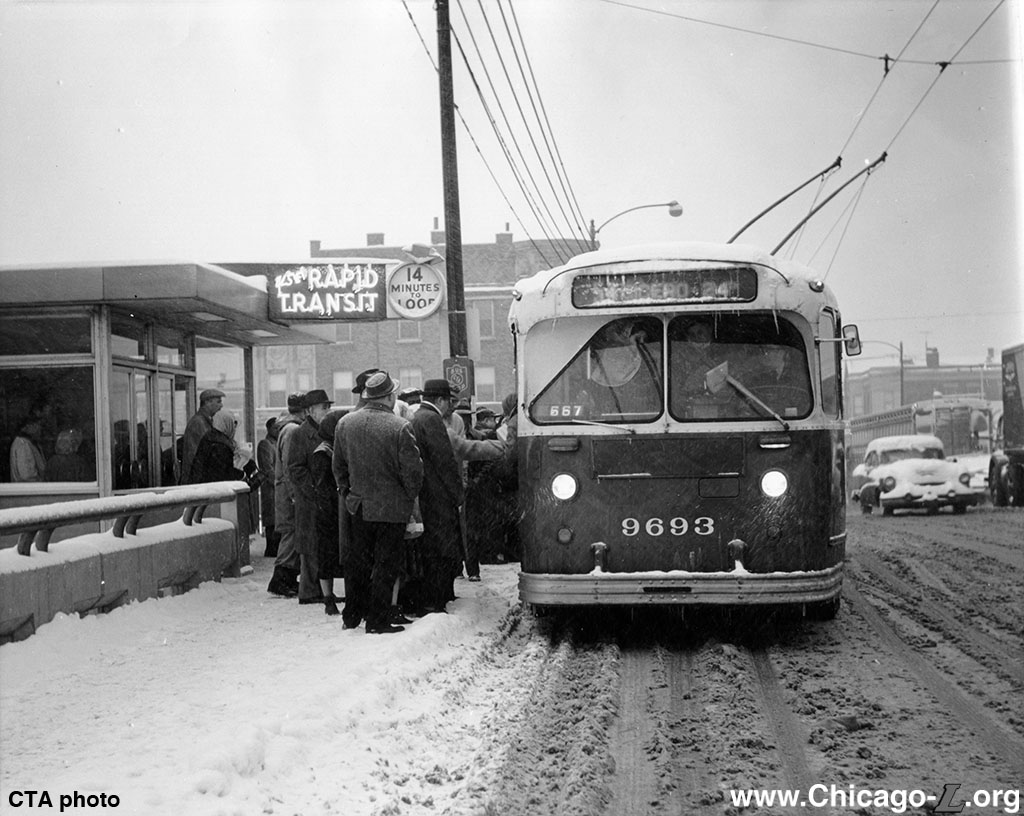 Passengers leave the Cicero "L" station, transferring to a Marmon-Herrington-built trolley bus, on December 20, 1960. The neon sign was standard on Congress "L" stations; besides its removal, the station has been altered little. The #24 Cicero bus route was relatively short (only 7 3/4 miles), but was always well served by the many industrial plants that lined its route. (Photo from the Chicago Transit Authority Collection)
Cicero (4800W/720S)
Cicero Avenue and Eisenhower Expressway, Austin
Service Notes:
| | |
| --- | --- |
| | Blue Line: Forest Park |
| | Owl Service |
Quick Facts:
Address:

720 S. Cicero Avenue (Cicero entrance)

720 S. Lavergne Avenue (Lavergne entrance, abandoned)

Established: June 22, 1958
Original Line: West-Northwest Route, Congress Line
Previous Names: none


| | | |
| --- | --- | --- |
| Skip-Stop Type: | | Station |

Rebuilt: n/a
Status: In Use
History:
In the mid-1950s, this station was constructed, replacing the Garfield Park Line's Cicero station, demolished to make way for the Congress Street Expressway and the replacement Congress "L" Line.
Cicero is nearly identical to every other station built in the Eisenhower Expressway, including an island platform, a small station house on Cicero's overpass containing only a ticket booth and turnstiles and a long, enclosed, sloping passageway/ramp connecting the two. A brochure, published by the City of Chicago to commemorate the initiation of service June 22, 1958, describes the stations this way:
Each station platform in the expressway right-of-way is the island type, 600 feet long and canopied throughout its entire length. Supported by structural aluminum columns, the canopy extends beyond the platform edge and over the roofs of cars....
Station design here is somewhat unique, resulting from a compromise between the historic concept of closely spaced stations (favored by aldermen) and widely spaced stations, coordinated with bus feeder routes (preferred by eager CTA planners anxious to improve transit service and system productivity). The fare collection building is about 42 ft x 21 ft. The more important stops (like this one) are located between two cross bridges separated by about 1/4 mile and there is a station house and access ramp at each end.
On Cicero's east end is its namesake street; on the west is Lavergne (really just a pedestrian bridge that connects to Lavergne at each end). The agents booth in the Lavergne entrance was destroyed by fire in 1972, but the Lavergne station was reopened as an exit on Monday September 4th. This entrance had originally been built for passengers transferring from the Laramie buses. As an economy move, on Monday May 16, 1977, the Lavergne exit was closed as well. While there are obvious disadvantages to the long ramp concept, the compromise design did avoid the additional stops the CTA planners hoped to get rid of.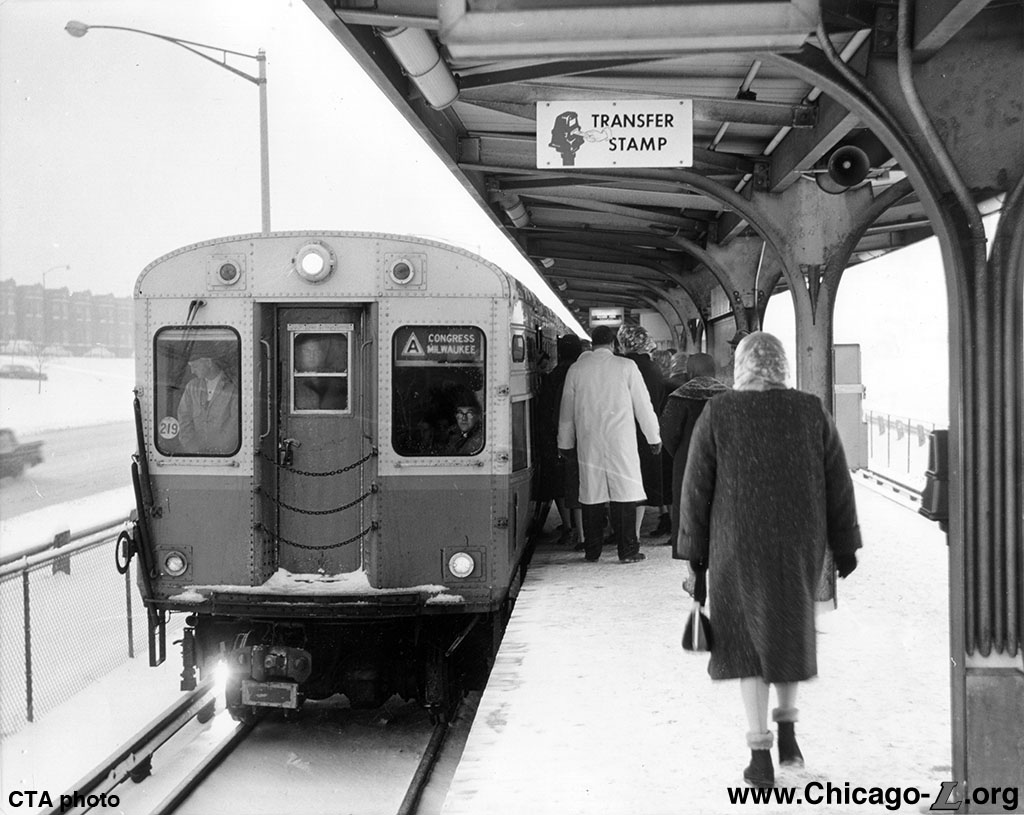 Here, riders can be seen boarding a Loop-bound St. Louis-built 6000-series train on the Congress-Milwaukee A run in 1960. Passengers disembarking at Cicero (or any other station) wishing to transfer to a bus or streetcar had to have their paper transfers stamped by red time stamper machines mounted on poles at most "L" platforms. (Photo from the Chicago Transit Authority Collection)
---

Cicero_Blue-FP.wav (55k): "This is Cicero." (Sound courtesy of Tony Coppoletta)
.
Cicero_Blue-FP_doors.wav (281k): "Doors open on the left at Cicero. Priority seating is intended for the elderly and passengers with disabilities. Your cooperation is requested." (Sound courtesy of Tony Coppoletta)