.
Chicago's 1999 Summer Public Art Exhibition was Cows On ParadeTM, an enchanting exhibit in which an army of artists transformed life-sized fiberglass cows into enchanting works of art.
Nearly 300 cows were exhibited along Michigan Avenue between Oak and Balbo, in the Loop and River North, near museums, in Grant Park and on the "Moo-seum" campus. The public art exhibition was presented by the Public Art Program of the Chicago Department of Cultural Affairs. Cow ParadeTM was created by Beat Seeberger-Quin for presentation in Zurich, Switzerland, where 800 cows were displayed during the summer of 1998. Cow ParadeTM was exported to the United States and made its North American debut in Chicago under the auspices of the Government of Switzerland and Chicago's Swiss Consul General Eduard Jaun.
Chicago businessman Peter Hanig, who was captivated by Swiss cows during his vacation in Zurich last summer, may be credited with spearheading the private sector effort that made this exhibition one of this city's most successful private/public partnerships. As co-chair of the Cows On ParadeTM Committee, Hanig, joined by co-chairs Michael Christ of Tiffany and Co. and Daniel Nack of Salvatore Ferragamo, led a volunteer sales committee of cowhands that guaranteed the financial success of the exhibition.
Hundreds of artists and artisans from the fine and applied arts were invited to submit cow proposals that would demonstrate their imagination and artistic talents. The cattle call, which included community outreach through the Chicago Artists' Coalition, Chicago Coalition of Community Cultural Centers, and the Chicago Cultural Network, produced a diverse variety of proposals.
The Chicago Transit Authority commissioned four cows to be made to represent the "L". One, Visual Cacophony in 6 Mooovements, was placed on North Michigan Avenue and was made of photographs. Another, Elevated Train, was located on Randolph & Michigan outside the Cultural Center and was a painted map of the "L" system.
Two more were put on display in late August-early September, Take the Moo Train, and Get on the Bus. They were both designed by Gallery 37.
Elevated Train was auctioned off in November 1999, but the other three are in storage while repairs are awaited to the ears and horns.
---
Visual Cacophony in 6 Mooovements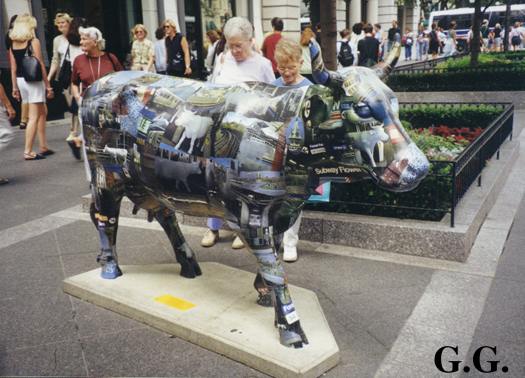 Artist: Kermit Berg
Patron: Chicago Transit Authority
Location: 736 N. Michigan Ave.
This delightful cow, located on North Michigan Avenue just south of Chicago Avenue and Water Tower, is made of photographs printed in a film covering the fiberglass cow. The film is the same material used by the CTA in their advertisements wraps on trains and buses.
The images adorning the cow are perhaps its most endearing feature. Before Visual Cacophony in 6 Mooovements was put together, the artist took the cow around the "L" system in its natural state (plain white fiberglass). He photographed it doing the things that daily commuters do on a regular basis: waiting on an "L" platform, going through a fare control turnstile, boarding a train, looking out an "L" train window. Then, the photos were taken, transferred onto a thin film and applied to the cow.
The result is a whimsical, charming ode to the "L"!
---
mooovements1.jpg (340k)
An enlarged view of the above scene, showing Visual Cacophony in 6 Mooovements looking northwest on Michigan Avenue in August 1999. (Photo by Graham Garfield)

mooovements2.jpg (340k)
A close-up of a scene of a cow going through a TransitCard turnstile. (Photo by Graham Garfield)

mooovements3.jpg (340k)
A close-up of a scene of a cow boarding Orange Line car 3289. (Photo by Graham Garfield)
---
Elevated Train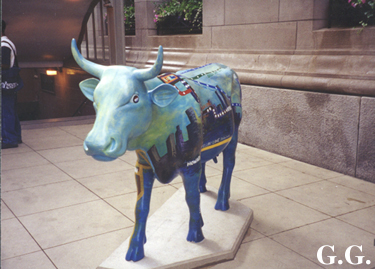 Artist: Gallery 37 Apprentice Artists
Patron: Chicago Transit Authority
Location: 77 E. Randolph St.
Elevated Train, the first CTA-sponsored cow to appear on the streets, is a simple design executed by artists from Chicago's famous Gallery 37. The cow features a painted skyline of Chicago with a painted map of the "L" superimposed over it.
The Elevated Train cow was auctioned off for $28,000 at the cow auction in November 1999.
In September 2006, the owners tried to auction Elevated Train on eBay (item number 110032872462) with a starting bid of $500, but there were no takers and the auction ended without a bid.
---
elevated2.jpg (204k)
Three-quarters view of the front of Elevated Train, looking southeast. An enlarged view of the above image. (Photo by Linda Garfield)

elevated3.jpg (272k)
Profile view of Elevated Train, looking northeast at the corner of Randolph & Michigan. (Photo by Linda Garfield)

elevated4.jpg (340k)
A three-quarters view of Elevated Train, looking west on Randolph Street. Graham Garfield is standing in the upper left corner. (Photo by Linda Garfield)

elevated5.jpg (136k)
Profile view of Elevated Train, looking southwest (same profile as elevated3.jpg, but it was swiveled around 180 degrees at some point) at the corner of Randolph & Michigan. (Photo by Mike Farrell)