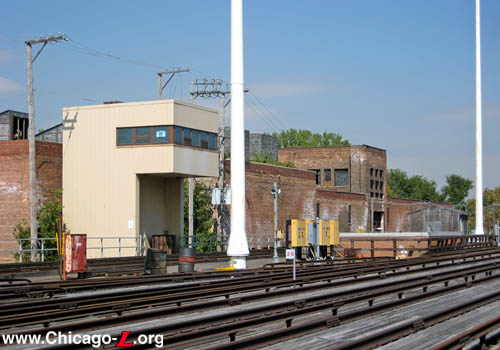 The simple, utilitarian 61st Tower is seen looking northwest on September 18, 2009, looking out over the yard whose connection to the Jackson Park branch mainline tracks it controls. The band of windows provides the towerman, whose panel faces the yard, a animatronics view of the yard, the mainline, and the interlocking between the two, as well as the ramp down to 63rd Lower Yard. For a larger view, click here. (Photo by Graham Garfield)




61st Tower
61st Street and Prairie Avenue, Washington Park

Service Notes:
Services:

Green Line: East 63rd
Quick Facts:
Established: 1893
Original Line: South Side Elevated
Rebuilt: 1990
Status: In Use
Profile: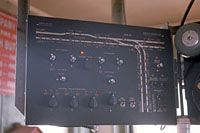 A remote control panel for 59th Jct was provided in 61st Tower, seen on March 18, 1965. Although 59th was intended to normally operate automatically, if manual control was needed it was intended to typically occur from 61st Tower, which was always staffed. For a larger view, click here. (George Krambles photo, courtesy of the Krambles-Peterson Archive)
61st Tower was put in service in 1893 to control the entry into the new 61st Street Yard on the Jackson Park branch.
As part of a new automatic interlocking put in service at 59th Junction in 1964-65, a remote control panel was installed in 61st Street Tower, suspended from the ceiling on the second floor of the tower. The auxiliary control panel, approximately 12" x 18" in size, allowed the towerman to manually operate the interlocking from the 61st Tower two blocks south of the junction. Two-way transmission is provided by telephone cables connecting the 61st Tower and the interlocking equipment at 59th Street. For more information about the 59th Junction automatic interlocking and the 61st Tower remote control, see the 59th Junction profile.
In 1990, 61st Street Yard was renovated, including the construction of a new interlocking tower. On May 17, 1990 the old 61st Tower closed and the new 61st Tower went into use.
61st Tower can still remotely control 59th Junction. The tower also controls access to the 63rd Lower Yard.
| | |
| --- | --- |
| | This Chicago-L.org article is a stub. It will be expanded in the future as resources allow. |
---

61stYard03.jpg (201k)
Passing the 61st Yard on April 6, 1986, cars of various series are seen stored between trips. Note the semaphore signals along the main line and on certain yard tracks. (Photo by David Wilson)
61stTower02.jpg (177k)
61st Tower, which controlled access in and out of 61st Yard on the left and the ramp down to Lower 63rd Yard beyond, is seen looking south from the main line tracks on April 6, 1986. Note the hand lanterns hung from the window where the towerman would work, to allow signals to be given at nighttime in the event of interlocking failure. (Photo by John Smatlak)
ROW@63rdYardRamp01.jpg (233k)
The ramp down to the Lower 63rd Yard, visible in the distance, is seen looking south from the Jackson Park main line tracks on April 6, 1986. (Photo by John Smatlak)
61stYard06.jpg (187k)
61st Yard is seen looking south from the main line tracks looking south from the home signal at the switch to the yard lead on June 28, 1992. The yard has recently been renovated, as evidenced by the new, tidy and orderly appearance of all the fixtures and equipment, and a new interlocking tower and signals installed. Despite this, the yard is actually in its last couple years of serving passenger cars. (Photo by David Wilson)

61stYard12.jpg (199k)
This view looking south on the East 63rd (Jackson Park) branch on September 18, 2009, shows the 61st Yard on the left, the angled yard leads that cut diagonally across the yard and the connection to the mainline in the right foreground, the connection to the Lower 63rd Yard in the background behind the inbound Green Line train, and in the right middle the 61st Tower that controls the interlocking protecting it all. Note the double slip switch where the south lead and the inbound mainline track cross. (Photo by Graham Garfield)
| | |
| --- | --- |
| | |