.
Orange Line: Midway branch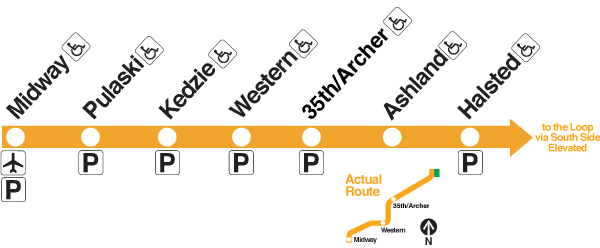 Legend:
| | | | | |
| --- | --- | --- | --- | --- |
| | Current Line w/Station | .. | | Accessible Station |
| | | .. | | Park'n'Ride lot |
Click on a station name to see that station's profile (where available)
---
Service Notes:
Hours of Operation: 3:30am-1am, Mon-Fri; 4am-1am, Sat; 4:30am-1am, Sun
Length of Route: 9.2 miles
Number of Stations: 7 stations
Car Types Assigned: 2600-series (see Car Assignment sheet for latest car assignments)
Brief Description:
Southwest Chicago had long been neglected by rapid transit. The Douglas Branch of the Metropolitan "L" served what was then the southwest side in 1895, but the city soon grew far south of 22nd Street and west of the South Side "L"'s tracks, leaving a significant quadrant of the city unserved. As far back as the 1940s, when the State Street and Dearborn Street subways were being planned and constructed, the city proposed an elaborate system of subways to expand the "L" system, including a southwest route from the Loop to Municipal (now Midway) Airport. (See proposed subway map) For the next fifty years, various plans continued to be put forth. When the Stevenson Expressway was constructed, space was left in much of its length for a median rapid transit route (as was done in the Congress, Dan Ryan, and Kennedy Expressways), though this was never utilized. This may have been for the best: putting an "L" line in the median of an expressway often isolates it from the neighborhood it's supposed to serve.
Unfortunately, the citizens of this area would have to wait another fifty years before rapid transit would reach them, and then was on an "L", not in a subway. In 1980, Mayor Byrne announced the plans for the new Southwest Route using money from the canceled Crosstown Expressway, but a lack of federal funding assistance stalled the plan. Finally, in 1986, President Reagan entered into a funding deal with Mayor Harold Washington as a political favor to Representative William Lipinski (D-Ill.) for a vote cast on a critical issue and planning got underway on the $500 million Southwest Transit Project.
The Midway (Orange) Line begins at a terminal at Midway Airport (actually at 59th/Kilpatrick, across the street from the airport; this was done to allowing easier extension of the line), then follows the Belt Railway of Chicago, 49th Street, Leavitt Avenue, Archer Avenue, and the Stevenson Expressway to a connection with the former Dan Ryan elevated trackage at 18th/Federal. At this point, the Orange Line follows the South Side main line to the Loop, where it terminates clockwise on the inner track. The route has seven stations approximately one mile apart (an eighth was planned but never built at California/49th) on the nine mile line, plus a new station at Roosevelt/Wabash to serve Orange and Green line trains. The Midway terminal also includes a spacious yard and modern inspection shop, plus a layout conducive to extension south to Ford City (something planned in the early stages of the Southwest Route, but as yet unrealized).
The line predominantly follows current or former freight railroad right-of-ways, an approach that gained popularity in the 1980s for new rail transit projects as a way to keep costs down by using existing alignments that were already largely clear and often under-utilized. The railroad rights-of-way that were used for the Orange Line, by section of the Midway branch route from north to south, are (railroad name at time of "L" construction given first; former and current names given after, where applicable):
Chinatown area to Ashland: Atchison, Topeka and Santa Fe Railway
Ashland to Western/Archer: Illinois Central Gulf Railroad (originally Alton Railroad, formerly Gulf, Mobile and Ohio Railroad, now Canadian National Joliet Subdivision)
Archer to 48th: Conrail (originally Pennsylvania Railroad Panhandle Line; formerly Penn Central; now CSX Blue Island Subdivision)
Oakley/49th to Homan/49th: Conrail (originally Grand Trunk Western Railroad; now CSX Elsdon Subdivision)
Homan/49th to Kilbourn/53rd: Belt Railway of Chicago-Elsdon Line
55th to Midway: Belt Railway of Chicago-Kenton Line
On October 31, 1993, the Orange Line began operation at 0730 hours between Midway and the Loop. The line was unusual in several ways, a harbinger of things to come on the CTA rapid transit system. The line opened entirely equipped with brand-new 3200-series cars, which had full-width cabs, allowing one-person train operation (OPTO). Only the Yellow Line also had OPTO, which had been a feature since its opening in 1964; in two years, it would begin spreading to the rest of the system. Every station on the line was ADA-compliant, all but Kedzie, Ashland and Roosevelt had park'n'ride lots (Kedzie had one added in 1999), and all had bus bays and turnarounds to facilitate intermodal transfers. The line also began operation without owl (late night) service, running only Monday through Saturday from 0500 to 2300 hours and Sundays/Holidays from 0730 to 2330 hours. But ridership proved better than expected and more trips were soon added. Today, the Orange Line serves as an integral part of the CTA's rapid transit system.
.
| | |
| --- | --- |
| | This Chicago-L.org article is a stub. It will be expanded in the future as resources allow. |