Appleton Trolley Museum Seeks
Funds for Car Restoration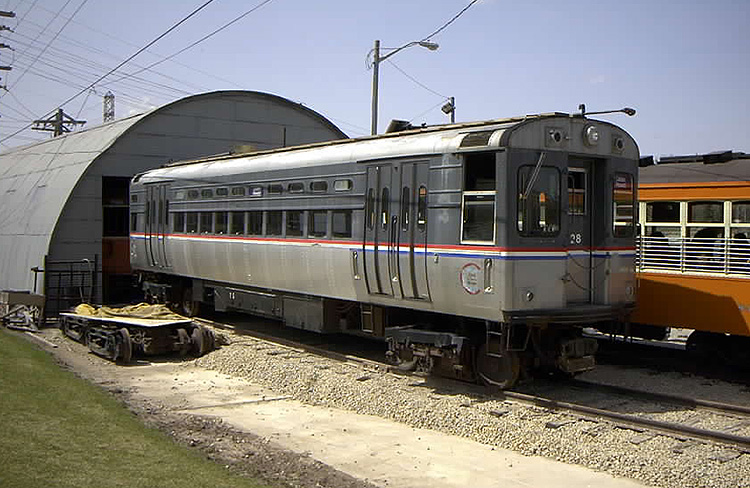 Car 28 sits in front of the Quonset Hut which houses cars 846 and 978. The current paint job was enhanced by graffiti 2 years ago but has since been painted over, we need help to restore 28 to its 1960-vintage car looks. Click here for a larger view. (Photo by Patrick Schaeffer-Wicke)

In December 1998, the Appleton Trolley Museum added a new piece to their electric traction collection, it was 1960-vintage St. Louis Car Company-built 1-50 series car 28. Like many of its 1-50 series brethren, car 28 was equipped with trolley poles and served in both single- and multiple-car operation on the Evanston Line. The car lost its poles during a work train detail on the red line in 1994 when it went under a low clearance bridge resulting in a total loss of its roof boards and trolley apparatus. Luckily the cables to connect the poles were saved and placed inside the roof of 28 for a future restoration of its trolley capabilities. In 1985, cars 5-50 were sent to Morrison-Knudsen for a mid-life rehabilitation. Car 28 was used mostly in later life as a mule car at the Skokie Shops. In 1998, the CTA bidded the car out and Trolley Car '86 acquired 28 and relocated it to Appleton, WI.

The Appleton Trolley Museum would like to do a cosmetic makeover on this car. Already, roof boards and trolley poles have been reinstalled. The museum would like to paint car 28 in the Alpine White and Mint Green of the mid-60's and restore the doors which have rusted at the bottom, as well as other restoration work to help return this car to its classic appearance. The cost of this work is $1500, but this amount is significant to a nonprofit volunteer-run institution like the Trolleycar '86. If you would like to help us restore car 28 to working condition and a vintage appearance, donations will be accepted at:

Trolleycar '86, Inc.
Car 28 Restoration Fund
P.O. Box 2
Appleton, WI 54912-0002

All donations are tax deductible. For more information about the museum and its restoration efforts, check out the museum web site, or call them at (920) 831-1978.