Not just president, he's also a client:
CTA's Kruesi wants 'to feel riders' pain'
Jon Hilkevitch
TRIBUNE STAFF WRITER
Column: Getting Around
Date of Publication: September 21, 1998
Source: Chicago Tribune
So there I was, slightly uncomfortable about having traded my trusty reporter's notebook for a television mike, interviewing CTA President Frank Kruesi for Tribune owned CLTV last week on the crowded platform of the State\Lake rapid-transit stop downtown.
I was trying to get Kruesi, who talks in chapters, to give me a usable sound bite explaining why the CTA will soon close two "L" stops in the Loop. He suddenly stopped in mid-syllable, his attention riveted to a stretch of railing overlooking State Street, and excused himself momentarily.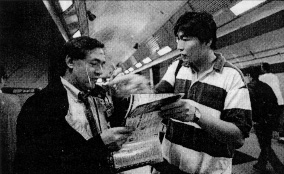 CTA President Frank Kruesi (left), who says he uses public transportation every day, stops to give another rider directions.

"This just drives me completely nuts," Kruesi mumbled, looking every bit like Felix Unger as he picked up several paper coffee cups and a candy wrapper from the railing and tossed' them into a waste bin. Three uniformed CTA employees, whose job it is to assist customers and keep the gateway Loop station tidy, watched Kruesi from a distance.

Was this an opportune publicity stunt aimed at impressing a reporter--and 0.0000025 percent of his 12,000 employees--that "safe, clean and reliable service" is more than an advertising jingle for the CTA?

You betcha!

But Kruesi comes by it honestly.

Unlike many of his chauffeur-driven predecessors, the CTA's 48-year-old boss rides the system every day. He has taken the Red Line to work during his 11 months on the job, and when Kruesi and his wife move to a new house this week, his commute will consist of trips on a bus and a Brown Line train.

"I have meetings outside the office virtually every day, and I'm always either walking taking a bus or a train" Kruesi said.

"I don't think it's possible to understand the system without using it," he explained.

Some on his own staff question whether "the Billion-Dollar Man" (the CTA's annual budget is about $13 billion) should be spending so much energy on such "minor" points as talking to employees, giving travel directions to visitors and telling his bus drivers to buckle their seat belts - especially when the mayor has given Kruesi the responsibility to "reinvent" the CTA.

Is Kruesi, an ex-mayoral aide and a former assistant transportation secretary in Washington who took over the CTA Oct. 6, guilty of 4 sweating the small stuff?

The answer is yes, because his boss, the mayor, does too.

Last week, an extreme example of what might be called micro management involved a decal on a Pepsi machine recently instated at a CTA station. The eye-catching message began in bold letters: "Stop thief!" The decal went on to explain that money is removed from the machine every day.

The decal is already history, thanks to eagle eyed Frank.

"It's entirely inappropriate signage," Kruesi said. "The message is that if you are on the CTA, you must be a thief."

One Kruesi brainstorm resulted in a fun "Customer Alert". The fliers taped to CTA train windows usually warn of an inconvenience to riders. On an Red Line trains this weekend, the alert, referring to activity at the Addison Street "L" stop, was decidedly upbeat:

"RED LINE RIDERS: There may be slight delays while Sammy Sosa's at bat. Watch for flying base balls. Watch history happen." A buffs eye with the CTA logo in the center hung from the roof of the Addison station, offering free rides home for everyone at Wrigley Field if Sammy hit the target.

And this week, Kruesi win go to Cook County Circuit Court to testify against someone accused of being an aggressive panhandler whom Kruesi confronted on a Blue Line train. The CTA president chased the perpetrator to another train, then to a bus and finally into the arms of a Chicago officer.

In the meantime, he'd keep plying the CTA's 2,054 bus-route miles and 224 rail miles
"I want to feed and I want my employees to feed the riders' pain," Kruesi said. "We're not where we need to be yet, but I win know it when we get there."