CTA's new line cut from different cloth
By Jon Hilkevitch
TRIBUNE TRANSPORTATION WRITER
Date of Publication: October 4, 1999
Source: Chicago Tribune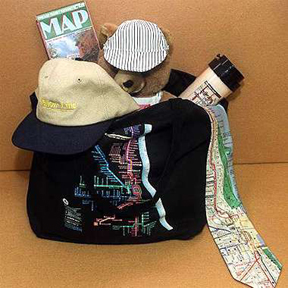 A canvas tote, a stuffed bear wearing a train engineer's overalls and cap, a baseball cap and an imported silk scarf are also accessories the CTA is selling. (Tribune photo by Phil Greer)

The Chicago Transit Authority unveiled a new line Thursday, but it wasn't the proposed rail line to Schaumburg or to the Ford City or Old Orchard shopping centers. And this one won't require all that nettlesome arm-twisting in Washington for federal funding.

Defying any perception that they're a quart low on fresh ideas, officials of the nation's second largest transit agency are introducing a new line of "fashion" accessories and souvenirs, including token cuff links, imported silk scarves emblazoned with a map of the transit system and T-shirts reading "One 'L' of a ride!"

CTA officials declined to predict how well the scarf, created by designer Josh Boch and a bit pricey at $65, will sell among the babushka crowd waiting for the No. 53 Pulaski bus.

Some clientele may prefer the transit map silk necktie, which sells for $38 and will be available by phone, fax and at upscale businesses around the city.

Among the about 20 other themed items are leather transit card pouches, pewter bus and train business card holders and thermal beverage mugs--even though drinking of any type is officially strictly prohibited on the CTA.

"We feel there is a real interest in CTA items among our 1.4 million daily customers, tourists, visitors and CTA employees," said CTA president Frank Kruesi, who modeled a CTA map necktie with his black business suit for reporters on Thursday.

Kruesi said the effort is not the equivalent of a bake sale on behalf of the cash-strapped CTA. The agency's initial outlay is $30,000, and officials said they expect a modest profit from the enterprise.

The marketing campaign follows similar initiatives in New York City and Washington.

Kruesi maintained, however, that it is actually an outgrowth of the Loop centennial celebration two years ago, when CTA T-shirts and posters sold out "in two hours," he said.

The CTA chief said he authorized the merchandising move, not coincidentally, at a time when the CTA has made strides and can be proud of the service it is providing after overcoming a series of painful service cuts that occurred when Mayor Richard Daley appointed him in 1997.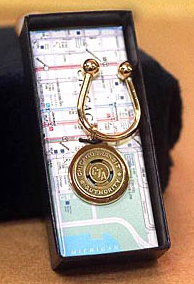 Merchandise, such as this token key chain, makes use of retired CTA tokens. Other token-based gifts include cuff links and tie tacks. (Tribune photo by Phil Greer)

"This is all part of our campaign to let the public know that there is something new and exciting and good going on at the CTA," Kruesi said.

If scarfs or ties aren't your bag, the CTA is also selling a canvas tote ($17.50) and a stuffed bear ($22.50) wearing a train engineer's overalls and cap.

While tokens haven't been accepted on trains or buses since June, the CTA will gladly take MasterCard and Visa orders for cuff links made out of tokens ($39 antiqued in silver, $58 for a set in a 22-carat goldplate bezel setting).

Cindy Kaitcer, the transit agency's general manager of market development, said she couldn't estimate what percentage of CTA riders wear the French cuffs necessary for cuff links. But she did say more items will be added.

Who in the world would buy such kitsch?

"Ooooh, the stationery set is pretty neat," said Red Line rider Ruth Ann Goldberg as she browsed through a "CTA Gift Express" brochure provided by a reporter. "It screams Chicago," she said about the map-wrapped writing set, which was recycled from actual CTA route maps, apparently the few that weren't marked up with graffiti.

Soon to debut will be model O-gauge CTA trains for hobbyists including a 3200 Series rail car with audio announcements--though presumably not the garbled conductor messages to which Chicagoans are accustomed. The train sets, manufactured by Mike's Train House, will sell for $280, or $200 without the sound-effects, Kaitcer said.

And CTA sunglasses that say "cta" on one lens and "take it" on the other--using the same filmy material that is used to wrap CTA trains and buses in advertising--may be offered, she said.

Internet orders will be accepted in December, although transit buffs and shopaholics in general can take a peek at the "CTA Gift Express" merchandise on the agency's Web site, www.transitchicago.com. A free catalog can be obtained by calling 1-888-YOURCTA.

yellow_shirt.jpg (204k) - A bright yellow t-shirt with a CTA logo is one of about 20 items the CTA will be selling to customers and visitors. (Tribune photo by Phil Greer)
.
glasses.jpg (204k) - CTA worker William Mooney models the new CTA sunglasses and baseball cap. The sunglasses will not be for sale unless there is a public demand, said CTA spokeswoman Deanna Zalas. (Tribune photo by Phil Greer)