City's big idea: 2nd transit loop:
Train links, stations seen aiding Near West Side
By Greg Hinz
Date of Publication: April 22, 2002
Source: Crain's Chicago Business
City Hall is mapping plans for a "massive upgrade" of the downtown public transportation system, one that would add a new subway line, underground busways and other improvements to serve hundreds of thousands of new jobs expected to be added in the Loop in the next two decades.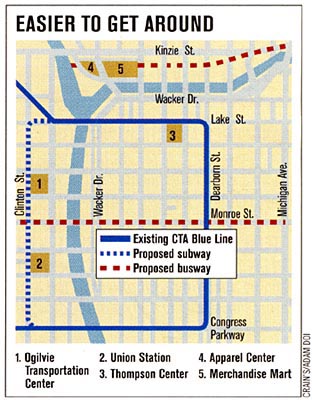 The Chicago Transit Authority (CTA) and commuter railroad systems would get major boosts under the proposal, which was outlined to civic, business and government leaders at a briefing Friday and is scheduled to be formally unveiled this week.
Much of the work is proposed for the fast-growing Clinton Street office corridor -- site of downtown's two main commuter rail stations -- which the city envisions as the "new main street" of the Near West Side.
Sources familiar with the plan say implementing just its top-priority elements would cost more than $1 billion over the next 20 years. To cover that cost, the city is floating the idea of reinstating a special central-area property tax that was implemented, but later dropped, several years ago for a proposed downtown trolley system.
Proposing bold action
While the far-reaching proposal could change, business and civic leaders who have been regularly briefed on key details -- but who declined to be quoted for this story -- say the proposal appears solid enough to warrant city taxpayers' support.
A draft of the proposal made available to CRAIN'S argues strongly that nothing less than a huge makeover of the central area's transit network will suffice if downtown is to reach its economic potential.
"All of the core improvements will eventually be required as the expanded loop approaches full build-out, " the draft states. "It is not possible to have one without the other."
CTA officials have previously put forward less-extensive ideas, such including an express train line to O'Hare International Airport in the pending airport expansion proposal. Such plans are referenced in the city proposal, but are given a lesser priority.
Both Planning and Development Commissioner Alicia Berg and Department of Transportation Commissioner Miguel D'Escoto -- whose departments, in cooperation with the CTA, prepared the transit plan -- declined comment on its contents.
The proposal starts with the premise that downtown Chicago can and should add about 40 million square feet of office space by 2020, an increase of one-third (CRAIN'S, Jan. 7). That's the main conclusion of the soon-to-be released central-area plan and accompanying rewrite of the city's zoning code.
The transit proposal calls for the city to:
Construct a second downtown train loop -- but underground, rather than elevated, and partially west of the Chicago River.
The new loop would be formed by building a mile-long subway under Clinton Street, connecting to the existing Blue Line subway at two points: near Milwaukee Avenue, where it comes in from the Northwest Side, and where it heads west along the Eisenhower Expressway. Those links would allow Blue Line trains to circle in a new loop, picking up suburban commuters at new stops beneath Union Station and the Ogilvie Transportation Center. It also would give city commuters a way to reach the Near West Side, which is now underserved by CTA trains.
The draft notes that the Old Main Post Office, located at the south end of the proposed new train leg, is being eyed as a site for a high-seed Amtrak terminal, and that the Blue Line already runs to O'Hare. Officials hope the potential to link different modes of transportation will appeal to federal transit funders, city sources say.
Develop two new busways: one under Monroe Street, from Clinton Street east to Michigan Avenue, and the other on land formally used for a small freight railroad along the north bank of the Chicago River, from Wolf Point east to Michigan Avenue.
On Monroe, the pavement would be demolished and a bus-only route built underground. The street then would be decked over, much like Wacker Drive. On the north bank of the river, a little-used right-of-way known as Carroll Street that runs under the Merchandise Mart and Marina City also would be dedicated for use by express buses.
Resurrecting routes
Both routes have been included in the former trolley plan. While that proposal collapsed because of lack of funding in the early '90s, city officials have tried to keep utilities and other obstructions from the right-of-way.
If funds become available, both routes could be used for rail rather than buses, the draft says. The Carroll Street stretch also could be extended east to Streeterville and west to the new Clinton Street subway if a bridge is built over the river at Wolf Point.
Ban new parking garages downtown. While new office towers might be allowed to include some parking for tenants, downtown land is too valuable to use for parking only and streets already are congested, the draft states.
.
Shift south and southwest commuter trains to LaSalle Street Station from crowded Union Station. LaSalle Street Station also would get a new, multimodal bus transfer station, and additional tracks would be added at Union Station.
.
Upgrade signals on the CTA' Red and Blue lines to allow trains to be operated at two-minute intervals, rather than the current three minutes.
.
Open a high-tech traffic management center from which engineers could controls all downtown stop lights using a network of computer street sensors and video cameras.
The city plan also discusses several lower-priority "opportunity projects," for which funding is not yet currently available. They include developing limited-stop express train service to both O'Hare and Midway airports, and extending the Orange Line to Ford City and the Blue Line to Schaumburg.
The report says adding such "long-haul" capacity would help the Loop attract more office jobs.