CTA floats Circle Line plan
By Robert C. Herguth
TRANSPORTATION REPORTER
Date of Publication: March 11, 2002
Source: Chicago Sun-Times
The CTA is planning another "Loop," a billion-dollar-plus circular rail line that would connect to existing L and Metra routes while winding through Chicago's downtown, and neighborhoods as far away as several miles, the Chicago Sun-Times has learned.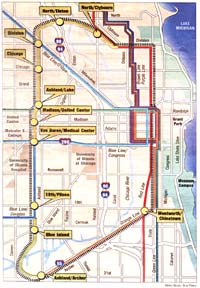 The CTA wants to create a 13-mile rail circle that would run as far west as the United Center, as far north as Old Town and as far south as Bridgeport. The Circle Line, with 6.6 miles of new elevated and subway track, would link with existing L and Metra routes. New track is shown in gold. The entire ring is in black. Other L lines are shown as they currently exist. For a larger view, click here. (Map by Greg Good for the Chicago Sun-Times)

Called the "Circle Line"--although the shape more closely resembles the state of Indiana than a perfect ring--it includes 6.6 miles of new subway and elevated track, and another 6 or so miles of existing track.

The route would cut through downtown and go as far south as Bridgeport, as far north as Old Town and as far west as the United Center. It would link with every L line except the Skokie Swift and, if Metra agreed to the CTA's concept, all Metra lines.

"It's not a downtown-centric plan," CTA President Frank Kruesi said. "It's beneficial to the whole region. It connects everything to everything."

What that might mean for travel times:
A flight attendant living in Lincoln Park and wanting to get to O'Hare Airport could board a southbound Red Line train at Fullerton and, instead of going all the way downtown to catch an O'Hare-bound Blue Line train, transfer to the Circle Line at North/Clybourn to reach the Blue Line at Division. Estimated time savings, according to the CTA: 10 minutes.
.
A Naperville mother wanting to visit Water Tower could take Metra's Burlington Northern Santa Fe Line to a new Metra station in Pilsen, rather than continue to Union Station and take a bus to her destination. She then could walk to the nearby, and perhaps attached, Circle Line station at 18th Street in Pilsen and swing around to the North Loop. Potential time savings: 20 minutes.
But for some there would be little if any benefit. For instance, the same flight attendant wanting to get to Midway Airport would save only 2 minutes by taking the Circle Line.

But CTA officials said the Circle Line wouldn't just provide more options for commuters. It effectively draws a new boundary to which the downtown area could grow, serving as a huge catalyst for development, and hopefully prompting more drivers to leave cars at home, they said.

Downtown Chicago "developed around the L," Kruesi said. "The development patterns have been set for generations because of that. This has the opportunity to do the same for the 21st Century in ways that will be profound."

There would be 22 Circle Line stations; half would be new or rebuilt. The plan also calls for several new Metra stations at possible transfer points.

The entire CTA project would top $1 billion, CTA officials said, but by how much isn't yet clear. Many details still need to be worked through, but CTA leaders are confident enough in the Circle Line concept that they said it might be among those projects for which funding is pursued next year when the federal government's main transportation funding package is revisited.

"It's not a downtown-centric plan," CTA President Frank Kruesi said. "It's beneficial to the whole region. It connects everything to everything."

Under the current six-year package, which expires in 2003, the CTA secured a full-funding grant agreement for the reconstruction of the Blue Line's Douglas Branch and is expected to receive one for a Brown Line overhaul. Such agreements cover huge portions of projects and are extremely tough to get. Often, recipients' projects are on drawing boards--and regional long-range outlooks--for years.

That's not the case here. Kruesi is coy about whether he'll seek another grant agreement, or pursue another avenue. But any funding solution, because of the size of the Circle Line endeavor, would involve the next two federal transportation packages, he said, adding he doesn't see the project "having any impact at all on fares."

The idea has been explored since the middle of last year when CTA officials, looking ahead to the completion of the Douglas Branch work, began discussing how to add trains on the West Side. A logical point to examine was the Paulina Connector, a towering stretch of track just east of the United Center that's used to shuttle out-of-service trains between the Blue Line and the rest of the system.

Under the CTA's plan, which would be completed in three phases over 10 to 15 years, restoring regular service to the connector is the first step, said Jeffrey Sriver, a transportation planner and assistant to Kruesi.

CTA officials envision inbound trains--starting in this initial phase--traveling on the Douglas Branch over the connector and along the Green Line. When they reached downtown, trains could turn south on Wells rather than go straight along Lake. They would start acting like Brown Line trains.

Another possibility: Purple Line trains south of Fullerton could be moved into the State Street subway, so they would share the tunnel with the Red Line. Also, the Orange Line could continue north from downtown following the current Brown Line route all the way to Kimball.

The second phase calls for connecting the Douglas Branch to the Orange Line. CTA officials envision Purple Line trains continuing south from downtown onto Orange Line tracks, eventually turning north toward the United Center, where they would turn around. "All the other changes of Phase 1 would continue" during this second stage, Sriver said.

The final phase would complete the loop, and be the most expensive and complicated, officials said. It calls for building a subway--or, less likely, elevated tracks--from Ashland/Lake to North/Clybourn, which would become a "super station" serving the Circle, Red, Purple and Brown lines and, possibly, the Orange Line. Stations at Armitage and Sedgwick would remain elevated, "but everything in between them would become subway," Sriver said. The Circle Line, when the loop is finished, would operate as an independent line, circling in both directions and serving an estimated 40,000 riders every weekday for starters.

There are other circular lines. London and Osaka, Japan, have them. Of course, Chicago already has another Loop: elevated tracks, built in 1897, bounded by Lake, Wabash, Van Buren and Wells.

Kruesi briefed Mayor Daley on the Circle Line, and the mayor "is interested in having this explored," Kruesi said. Daley was a supporter of a controversial but now-dead transit proposal, the Central Area Circulator light rail system, for which Congress cut off funding in the mid-1990s amid a political feud.

The L system was last expanded in 1993 when a subway connector between the Red Line's north and south branches opened. The Orange Line opened that same year.

The Circle Line "enhances the attractiveness" of other planned L expansions, including express train service to O'Hare and Midway, CTA officials said, adding the project would be "subject to board approval and public comment."

Because the idea has not been floated before, transportation experts had little information by which to judge the plan.

Robert Paaswell, a former CTA chief who is now director of the University Transportation Research Center at the City College of New York, said "The idea of a circumferential route is a good one. Metra has thought of that,'' he said. But he cautioned, "It's expensive,'' and suggested the CTA enlist creative financing, perhaps even some private dollars, rather than rely largely on federal money.