Loop tragedy was second major crash in 13 months
By Wesley Hanzell
Date of Publication: February 5, 1977
Source: Chicago Tribune
THE PLUNGE OF A CTA train from the tracks at Lake Street and Wabash Avenue in Friday evening's rush hour was the second major accident involving the city's rapid-transit lines in 13 months.
On Jan. 9, 1976, also during rush hour a train crashed into the rear of another at the Addison Street station of the Jefferson Park line. Two passengers were killed and 310 hurt in the accident.
Major accidents have plagued the elevated lines since they began operating shortly after the World's Columbian Exposition here in 1893.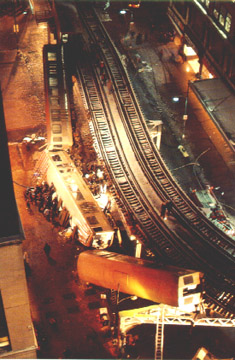 Looking down at the 1977 "L" accident from the downtown offices of the Central Electric Railfans' Association. (Photo by M. Charnota)

A CTA spokesman said Friday, however, that there have been only six derailments in the elevated lines' history in which cars fell to the ground. And in most cased he said they involved only one or two cars. Two occurred in 1896 and another in 1908.

THE FOLLOWlNG IS a list of some of the major accidents involving elevated trains in more modern times:
On Nov. 24, 1936, 10 persons were killed and 234 injured on the Howard Street line when a Chicago, North Shore & Milwaukee Railroad interurban train smashed into the rear of a rapid-transit train at the Granville Avenue station.
On Nov. 8, 1956, 8 persons were killed and 635 injured when a CTA train on the Howard line collided with a standing North Shore interurban train at the Wilson Avenue station.
On Dec. 7, 1956, one person died and 34 were injured when a wooden CTA train caught fire and burned at the Howard Street station.
On Dec. 7, 1966, 2 persons were killed and 25 injured when two cars of a CTA train derailed and fell to the ground near 40th Street and Indiana Avenue.
On Sept. 18. 1969, 300 persons were injured when a CTA train rammed another on a curve on the elevated line near 40th Street and Calumet Avenue.
On April 7. 1972, 46 persons were injured when two rapid transit cars plunged from the elevated structure at 40th Street and Wabash Avenue.
On Nov. 2, 1973, 27 persons aboard a special CTA train were injured when the Evanston line train they were riding hit the rear of another at the South Boulevard station in Evanston.
On May 10, 1974, 225 persons were injured when a CTA train smashed into the rear of another on the Englewood elevated line at 29th and State streets where one of the trains had stopped because of an equipment malfunction. It was the fifth elevated train accident of 1974. Two of them involved injuries to 50 persons, and three were derailments. None of the trains involved fell to the ground.
ONE OF THE worst CTA accidents, however, did not involve the rapid transit system. It occurred on May 25, 1950, when 34 persons were killed as a CTA trolley car collided with a gasoline truck and burned at 62d Place and State Street.
The city's worst commuter train accident occurred on Oct., 30, 1972, when an Illinois Central Gulf Railroad train smashed into the rear of another train at the line's 27th Street station, killing 45 and injuring more than 300.