180 are injured as 4 cars plunge to crowded street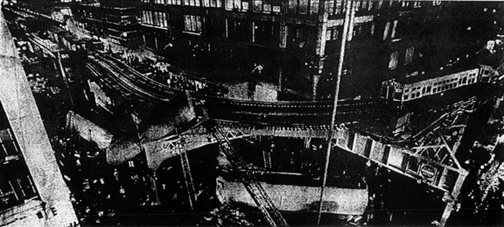 Two cars of a Lake Street train lie in the street and another two dangle from the 'L' tracks after it rammed the rear of a Ravenswood train (right) at Lake Street and Wabash Avenue.
By David Axelrod and Robert Enstad
Date of Publication: February 5, 1977
Source: Chicago Tribune
AT LEAST 12 persons were killed and more than 180 injured Friday as four cars of a Chicago Transit Authority train toppled frown elevated tracks in the Loop and plunged to the street during the evening rush hour.
The dead and injured included pedestrians who were crushed beneath cars that slammed to the pavement at Lake Street and Wabash Avenue.
"I saw a couple of people who were underneath the car trying to run, but they didn't make it," said Renel Conner, 25, an attendant at a nearby parking garage.
The crash was the worst ever involving CTA rapid transit trains.
Seven of the persons killed were identified as Patricia Bowden, 23, of 720 N. Austin Blvd., Oak Park; Robert Ferbracke, 930 North Blvd., Oak Park; Edward Jaross, 464 Mitchell, Elmhurst; Margaret Ann Klug, 28, of 434 Clinton, River Forest; Domingo Panganivn, 3627 S. Rockwell St.; Loretta Wojis, 43, of 4448 W. Cortez Av.; and Gail Wolniewcz, 23, of 7233 Dixon, Forest Park.
Identities of other victims were not available.
AUTHORITIES SAID the crash occurred at about 5:25 p.m. when an eight-car westbound Lake-Dan Ryan train rounded the curve at Lake and Wabash and struck the rear of a Ravenswood train.
The latter train had halted short of the elevated platform at State and Lake Streets, apparently for an Evanston Express train that was in the station. The Evanston Express normally travels in the opposite direction on another set of tracks. A CTA spokesman said earlier switching problems had caused the Evanston train to be switched onto the tracks normally used by the Ravenswood and Lake-Dan Ryan trains. The spokesman said the problem had been corrected 17 minutes before the crash.
JAMES McDONOUGH, CTA chairman, said a cab signaling device should have prevented the Lake-Dan Ryan train "from approaching the Ravenswood train that close."
"Why that didn't work, I don't know," a CTA spokesman said.
The first and third cars landed on their sides in the street. Two other cars were propped against the Loop elevated structure, one end on the pavement below.
"It wasn't a big impact," said Barbara Coats, 35, a passenger in the first car of the Lake-Dan Ryan train, "but it was like we hit something and couldn't go any farther. After the front wheel went off, I was just praying we couldn't fall off - but we did."
MRS. COATS, of 439 N. Lexington Av., said she was reading a newspaper "when our car seemed to bit something.... There was a pause and then it just tumbled.
"I was falling free, and I hit my lower back and elbow. I ended up in the middle of the floor not far from the door. There was a lot of panic- people were screaming."
Another passenger said he held onto a rail when the train started to tip.
"Then it just crashed onto the street. I helped a lady out and got myself through some broken glass. I think my partner [a reference to a friend] is dead," he said.
JERRY NORRINGTON, 26, of 4318 W. Maypole Av., said it seemed like the train was "moving pretty fast" before the crash. The car in which he was riding came to rest on an angle against the elevated structure.
"People were frantic, scared, crying and hollering," he said. "Some people were so scared they wouldn't even move. It was like a madhouse."
Bystanders on the street below were stunned to see cars falling from the tracks.
"I WAS STANDING in a currency exchange in my building talking to a friend when I saw the train tip over and fall," said Richard Borkowski, 35, a commercial artist who works at 203 N. Wabash Av. "It was like a fantasy."
Another witness, Deborah Winfield, 22, of 12608 S. Stewart Av., was on her way to catch the train about 5:30 p.m., when she saw it fall.
"All of a sudden, it came down real hard, like an explosion," she said. "I closed my eyes and hollered."
She said she heard screams from inside the cars as they settled to the pavement.
AS THOSE less injured crawled out from under the wreckage, bystanders rushed to their aid. Some of the injured were taken to nearby buildings and treated.
"I saw about 12 people lying on the sidewalk in front of the Lakeview Restaurant," said Lamond Ware, 23, a student at nearby Loop Community College. "Some were moaning, one dude was bleeding from his mouth, another had his face busted wide open. I saw one leg hanging out of a window of a car, and it was just hanging there, not moving."
Ambulances and police squadrons rushed to the scene in minutes, the ambulances lining up on Lake Street waiting to move the dead and injured.
Another witness said, "People were lying in the streets, asking to be helped up, but the police were telling them to stay down and lie still."
POLlCE AND fire units worked for two hours to free persons trapped in the wreckage, chopping holes in the tops of the elevated cars to extricate victims.
Edward Nelson, 2d battalion fire chief said several of the dead were pedestrians.
"The first victims we saw were sisters who were thrown out of the train and onto the street," said Thomas Drish, Nelson's driver. "One was dead and the other had back, leg and arm injuries and was too shocked to say anything."
Fire Commissioner Robert Quinn called the crash "one of the worst wrecks I've seen."
AMONG THE injured was the motorman of the Lake-Dan Ryan train, identified as Stephan A. Martin, 34. CTA officials said he had been a motorman since 1969.
He was undergoing surgery at Northwestern Memorial Hospital, one of nine hospitals to receive the dead and injured.
The other hospitals were Henrotin, Cook County, Augwtana, Michael Reece, Mercy, Children's Memorial, Presbyterian-St. Luke's, and St. Joseph.
At Henrotin, three bodies were placed in a temporary morgue set up in a public waiting room.
HOSPITALS SET up emergency procedures to handle the injured. At Wesley Pavilion of Northwestern Memorial, Dr. Bernard Feldman, director of emergency services, estimated that a third of those being treated suffered serious injuries.
One squadron rolled in with a severely injured woman, and policemen kept saying "Bad one. Bad one."
Mayor Bilandic joined city officials at the crash scene.
"It's a terrible tragedy," Bilandic said. "All city departments -police, fire, streets and sanitation, public health- everybody is here."
MILTON PIRARSKY, chairman of the Regional Transportation Authority, announced Friday night that he would appoint a panel of national transit experts to investigate the crash.
Pikarsky said the RTA "will exercise its statutory responsibility to investigate the accident, determine why it happened, and work with the CTA to enforce standards of safety so that the CTA may provide the safest practical transit service."
He said the panel which will report to the RTA board, will be headed by Richard D. Buck, a member of the board of directors of the Massachusetts Bay Transportation Authority.
CTA officials also said the National Transportation Safety Board will conduct an investigation of the crash. The CTA is impounding all equipment involved in the collision, officials said.
McDONOUGH SAID workmen will clear the wreckage and load the cars onto flatbed trucks. The wreckage will be taken to the CTA yards on Oakton Street in Skokie. He said CTA officials will meet at 10 a.m. Saturday to go over details of the crash.
He said service "unquestionably" will be restored Saturday because there was minimum track damage.
He said officials could only speculate "at this point" that the second train might have been going too fast. He said both trains were equipped with the automatic warning devices, which include flashing lights and a sound signal.
THE TWO rear cars of the Ravenswood train also derailed.
Jack Ryan, 46, of 5055 N. Wolcott St., a passenger on the Ravenswood train, said he noticed the Lake-Dan Ryan train approaching.
"Some passengers were saying, 'Don't keep coming now.' I couldn't believe it would," he said.
Another passenger on the Ravenswood train, John Aduri, 24, a divinity student at the University of Chicago, said he thought the Ravenswood train would topple off the tracks after the collision.
"A little later, I looked around and I'll never forget the incredible sight- seeing a car hanging down and remembering there were people there with the same feelings I'd had."